Earlier this week, The ASEAN Post published an article regarding the 2020 Budget in Thailand. In that article, a study by the Super Poll Research Centre was cited in which 1,069 people from a wide range of occupations nationwide were interviewed between 15 and 19 October. Among the questions asked was how these respondents would like their government to spend money, and the majority, 65.9 percent of the respondents, placed quality healthcare as their top priority.
This can seem confusing at first glance, especially to people unfamiliar with Thailand's healthcare. The truth of the matter is that Thailand has come a long way in terms of providing quality healthcare. 
In December last year, Joseph Harris, from the Boston University Department of Sociology, wrote that before Thailand's health reform, the country had four different state health insurance schemes, collectively covering about 70 percent of the population. The reform in 2002 consolidated two of those programs and extended coverage to everyone who did not already receive coverage through the country's health insurance programs for civil servants and formal sector workers.
"Thailand's universal coverage policy contributed to rising life expectancy, decreased mortality among infants and children, and a levelling of the historical health disparities between rich and poor regions of the country. The number of people being impoverished by health care payments also declined dramatically, particularly among the poor," Harris wrote.
Meanwhile, just recently in August, CEOWORLD in the United States (US), published its 2019 list of countries with the best healthcare systems in the world. Out of the 89 countries surveyed, Thailand came in sixth place and scored an overall 67.99 on the health care index. Other ASEAN member countries paled in comparison with the next best being Singapore which ranked 24th place with a score of 48.54.
The Health Care Index is a statistical analysis of the overall quality of the health care system, including health care infrastructure; health care professionals (doctors, nursing staff, and other health workers) competencies; cost; quality medicine availability, and government readiness. It also takes into consideration other factors including, environmental, access to clean water, sanitation, government readiness on imposing penalties on risks such as tobacco use, and obesity.
Breaking down Thailand's 67.99 score into categories, the country was given a score of 92.58 for its healthcare infrastructure, 17.37 for professionals' competence, 96.22 for cost, 67.51 for medicine availability and 89.91 for government readiness.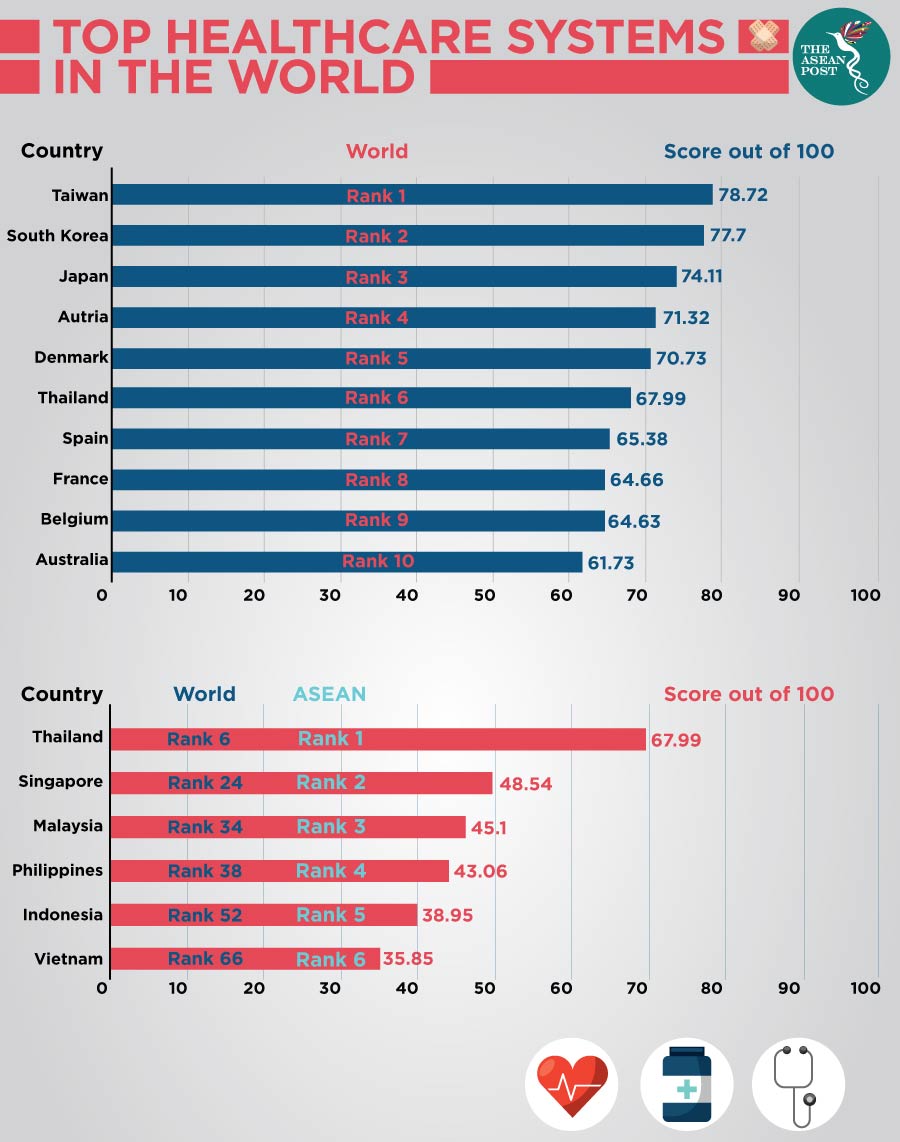 Unsustainable health
With such good healthcare, why are Thais still worried? There could be a number of reasons for this but one might have been brought to light to most Thais by a rock star.
Late in 2017, Thai rock star Artiwara Kongmalai - also known as Toon Bodyslam - undertook a 2,215-kilometre charity run across Thailand to raise donations to buy medical equipment for 11 state hospitals. The mega-marathon drew massive public attention and also sparked public debate on how badly underfunded the country's public health system really is.
For years, healthcare and public finance experts have expressed concerns that public health would become a burden the state wasn't prepared to subsidise. As mentioned earlier, Thais are currently covered by three health insurance regimes, the largest is the tax-funded universal health coverage (UHC), known as the 30-baht scheme, which covers 70 percent of the population – the underinsured or poor at almost no cost.
The UHC costs account for 40 percent of all spending on public health care. Meanwhile, figures from the Thai Health Promotion Foundation shows that public health expenditure in 2014 accounted for 13 percent of the state budget.
"This proportion of spending may not sound alarming. But the sustainability of public healthcare spending has to be questioned given that it has increased by 12 percent a year on average over the last 12 years," wrote Kwankamon Thanadkah and Alongkorn Chaladsook, researchers at the Thailand Development Research Institute (TDRI) in February last year.
The fact that Thailand is an ageing society only serves to further complicate matters.
The researchers continue to add that, at present, the money the state spends on treating non-communicable diseases (NCDs) ranks among the top healthcare costs for chronic diseases. As such, the most logical solution is to focus more on NCD prevention.
Could it be that Thais are aware of a worrisome future where their government might not be able to sustain such quality healthcare?  As such, is this their way of asking the government to not stop its spending on healthcare?
Related articles:
What Thais want to see in 2020 Budget