A recent report which estimates that medical tourism generates at least one-third of private hospitals' revenue in most ASEAN countries is more proof – if needed – of the sector's huge potential.
Noting that private hospitals in Southeast Asia generate major revenue from foreign patients, the report from market research firm Zion Market Research also forecasted the global medical tourism market to generate around US$28 billion in revenue by the end of 2024 based on an estimated compound annual growth rate (CAGR) of around 8.8 percent from 2018.
Key to Southeast Asia's success in attracting medical tourists is its strong base of Joint Commission International (JCI) accredited healthcare centres – considered the 'Gold Standard' in healthcare and patient safety.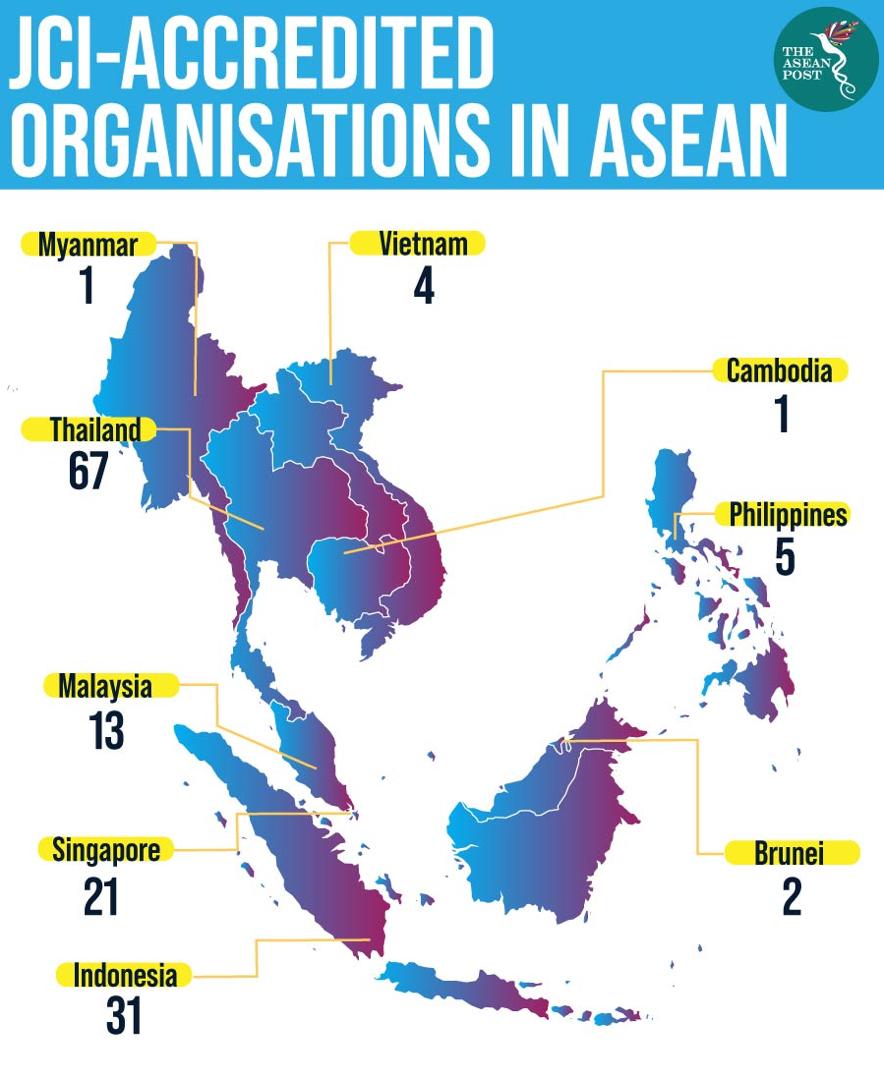 Source: Joint Commission International
Underlining the JCI accreditation are rising income levels, greater awareness of health issues, an increase in non-communicable diseases (NCDs) and cheaper travel and accommodation options – all of which have greatly contributed to the accessibility and affordability of medical tourism among ASEAN's growing middle class.
Southeast Asian healthcare facilities regularly feature in the annual list of the world's best hospitals for medical tourists by the Medical Travel Quality Alliance (MTQUA), an international body which promotes quality medical tourism.
This year's ranking saw three ASEAN hospitals place in the top-10; Bangkok's Samitivej Hospital was fifth, Kuala Lumpur's Prince Court Medical Center was sixth and Singapore's Gleaneagles Hospital was eighth.
Emerging players
Thailand, Malaysia and Singapore lead the field in ASEAN medical tourism – all offering niche markets of their own. However, there are other players slowly gaining a foothold in this lucrative business.
In the Philippines, local media reported that the country had attracted 80,000 to 250,000 medical tourists in 2016 – with Filipino workers and expatriates regularly returning to the Philippines for their medical procedures. 
Vietnam is another growing market for medial tourism – the sector is increasingly gaining attention as part of the country's emerging economy.
Noting that foreigners travelling to Vietnam for medical examinations and treatments stood at over 80,000 people, Vietnamese media recently reported that medical tourism recorded revenue of over US$1 billion as of last year.
"There is a big potential in Vietnam's healthcare, especially in medical tourism," said Tran Quoc Bao, Planning and Marketing Director of City International Hospital in Ho Chi Minh City. "Vietnamese healthcare providers offer relatively good quality medical care and the cost is also very affordable, compared to neighbouring countries."
While developed markets such as Europe, United States (US) and the Middle East have traditionally made up the bulk of medical tourists travelling to the region, medical tourism is rapidly expanding to lower-income nations.
Cambodia is a good case in point, where the number of its citizens travelling abroad to tend to their medical needs rose from 1.2 million in 2015 to 1.4 million the following year – a sizable figure in a country of just 15.8 million people.
Malaysia's Health Minister Dr Dzulkefly Ahmad recently noted that 60 percent of medical tourists in Malaysia last year were from Indonesia – meaning around 670,000 Indonesians sought medical treatment in Malaysia in 2018.
Staying ahead of the game
Even with such a strong reputation, hospitals across the region are constantly innovating and aggressively marketing themselves in order to maintain their hold on the global medical tourism market.
Earlier this month, Thailand's Bumrungrad International Hospital (BIH) introduced a 'Medication Tourism' program that provides patients with access to high-quality speciality pharmaceuticals, vaccines and treatments at discounts of up to 80 percent.
One of the largest private hospitals in Southeast Asia, BIH serves over 1.1 million patients annually, including over 520,000 international patients from over 190 countries. 
"Travel to Thailand to have prescriptions filled and authentic specialty drugs expertly administered at a fraction of the cost resolves a major problem for all patients and US-based self-insured employers who are forced to ration care or deny coverage to keep high specialty drug costs from overrunning their operations," said David Boucher, BIH chief business transformation officer.
This month, the Singapore-Massachusetts Institute of Technology Alliance for Research and Technology (SMART) launched a national initiative in Singapore which focuses on ways to produce living cells as medicine delivered to humans.
Promising treatment of ailments such as tissue degenerative diseases and even cancer, it is initiatives such as these that will continue to cement Southeast Asia's growing reputation as a medical tourism hub.
Related articles:
Thailand's monks battle weight problems
Medical tourism booming in Southeast Asia