The Malaysia Healthcare Travel Council (MHTC) is targeting several new ASEAN markets and the Middle East as it continues to establish Malaysia as a leading global destination for healthcare.
An agency under Malaysia's Ministry of Finance, the MHTC is tasked with promoting Malaysia as a medical tourism destination under the 'Malaysia Healthcare' brand and has seen healthy growth in both the number of tourists visiting Malaysia to attend to their healthcare needs and the revenue generated by these visitors. 
From 643,000 arrivals in 2011 when the MHTC was privatised, Malaysia attracted 1.2 million arrivals last year thanks to its affordability and easy access to world-class quality healthcare facilities and services. Meanwhile, revenue generated by those arrivals during that period has surged from US$127 million to US$362 million. 
While Indonesia, United Kingdom (UK), India, the Philippines, China, Singapore, Australia, Japan and United States are among the main sources of medical tourism arrivals in Malaysia, MHTC CEO Sherene Azli told The ASEAN Post that the council is actively promoting its 79 member hospitals to Vietnam, Myanmar, Cambodia and Brunei – as well as Bangladesh – and several countries in the Middle East such as Qatar, Oman and Saudi Arabia. 
The medical tourism sector in Malaysia has recorded a compound annual growth rate (CAGR) of 16 to 17 percent over the last five years – well ahead of the global average of 10-12 percent and Asia-Pacific's 12-14 percent. Competing in a medical tourism industry estimated to be worth US$180 billion globally by 2023, Sherene knows that Malaysia has to expand its reach if it is to maintain its impressive growth rate.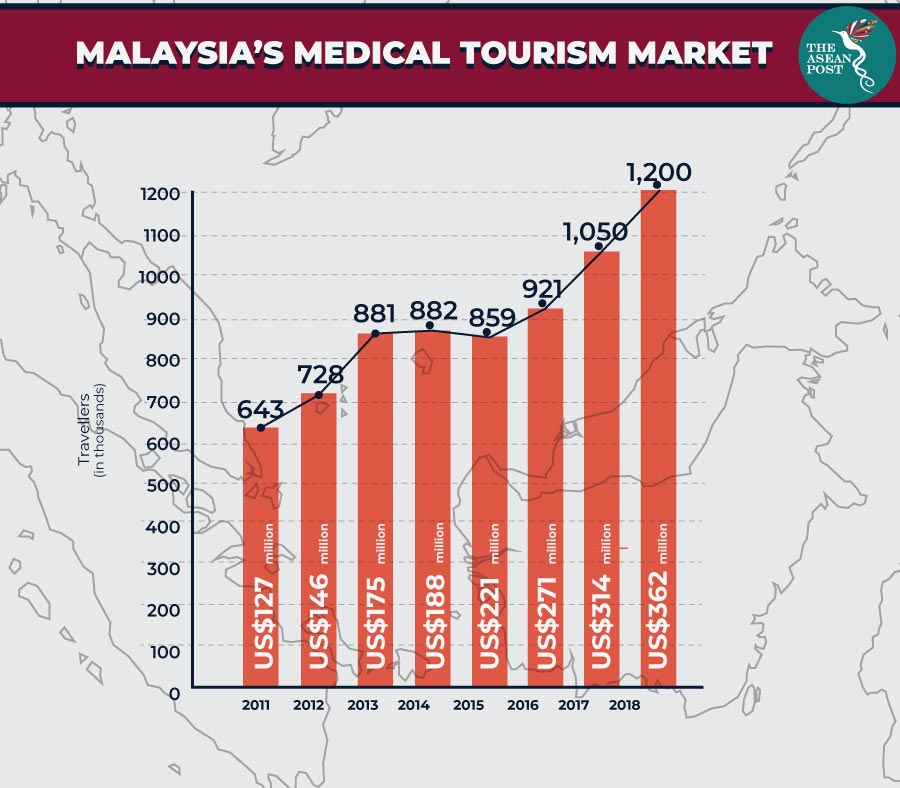 "We now have offices in Myanmar and Vietnam and we are in talks with Brunei and Cambodia to encourage more medical tourists," said Sherene. 
"Malaysia is recognised in the Middle East as a global halal (permissible by Islam) hub, so we are trying to capitalise on that and are looking to collaborate with Qatar and sign agreements with Saudi Arabia and Oman," she added.
With a string of accolades to its name, Malaysia's private healthcare system has a strong reputation which helps it attract patients from across the globe. Malaysia has been recognised as the 'Best Country in the World for Healthcare' from 2015 to 2017 and 2019 by US-based International Living, a magazine and online portal which caters to seniors. The UK-based International Medical Travel Journal has also named Malaysia as 'Destination of the Year' for healthcare travel from 2015 to 2017, the same year medical tourism arrivals reached the one million mark (1,050,000) in Malaysia for the first time.
Singapore and Thailand are also strong players in the ASEAN medical tourism industry, but while Singapore was once the go-to destination for those seeking treatment abroad – especially from Southeast Asia – Malaysia now offers the same services at a quarter of the price. Singapore, though, is still regarded to have more skilled doctors and cutting-edge medical technology. Malaysia's biggest competitor in the ASEAN medical tourism market is Thailand, which attracts more medical tourists per year than Malaysia – an estimated two million international patients went to Thailand in 2017 out of its 35 million overall tourist arrivals. Positioning itself as a 'Medical and Wellness' destination, Thailand is a global leader in cosmetic surgery and treatment as well as wellness and traditional medicines.
Malaysia, meanwhile, is promoting itself as the 'Cardiology and Fertility Hub of Asia' thanks to its renowned National Heart Institute, and the 33 centres which support it. Its strong in-vitro fertilisation (IVF) success rates are also above the global average.
With the healthcare industry at the forefront of many technological advances, Sherene said Malaysian hospitals and clinics are already using Fourth Industrial Revolution technologies for more accurate diagnostics and to facilitate easier transfer of medical records from international patients. 
"Technologies such as artificial intelligence (AI) and big data will help us improve a patient's experience, which is key for us," noted Sherene.
With a healthy medical tourism ecosystem providing a seamless healthcare travel journey for its patients, Malaysia is sure to remain a popular destination for international patients for years to come.
Related articles:
Medical tourism booming in Southeast Asia
Enhancing the tourism industry in ASEAN