Yesterday, the United Nations Economic and Social Commission for Asia and the Pacific (ESCAP) released the 'Asia and the Pacific SDG Progress Report 2020'. The report outlines the region's performance in achieving the 2030 Agenda for Sustainable Development Goals (SDG) designed to be a "blueprint to achieve a better and more sustainable future for all."
Data for countries in the Asia-Pacific (APAC) region were drawn from the Global SDG Indicators Database maintained by Statistics Division of the United Nations Department of Economic and Social Affairs (DESA).
Many of the countries assessed are showing positive progress on improving the quality of education as well as providing access to clean energy. However, the report singled out Southeast Asia for a declining share of renewable energy.
"Our analysis finds that the Asia-Pacific region has struggled the most with two Goals: advancing responsible consumption and production, and climate action. In fact, the region is not even moving in the right direction," said United Nations Under-Secretary-General and Executive Secretary of ESCAP, Armida Salsiah Alisjahbana.
The report underlines a crucial concept of progress which cannot only rely on economic growth. For instance, although the APAC region's real gross domestic product (GDP) per capita more than doubled compared to the world average in 2017, to achieve sustainability, it needs to be coupled with human well-being and a healthy environment – an aspect that is severely lacking in the APAC region.
At this rate, the report states that the region is expected to "miss all measurable SDG targets related to other forms of poverty, hunger, gender equality and reduced inequalities within and between countries by 2030." Nonetheless, improvements recorded in the aspect of food security, women's role in decision-making and access to basic sanitation services could provide a strong foundation for countries to implement measures for future acceleration.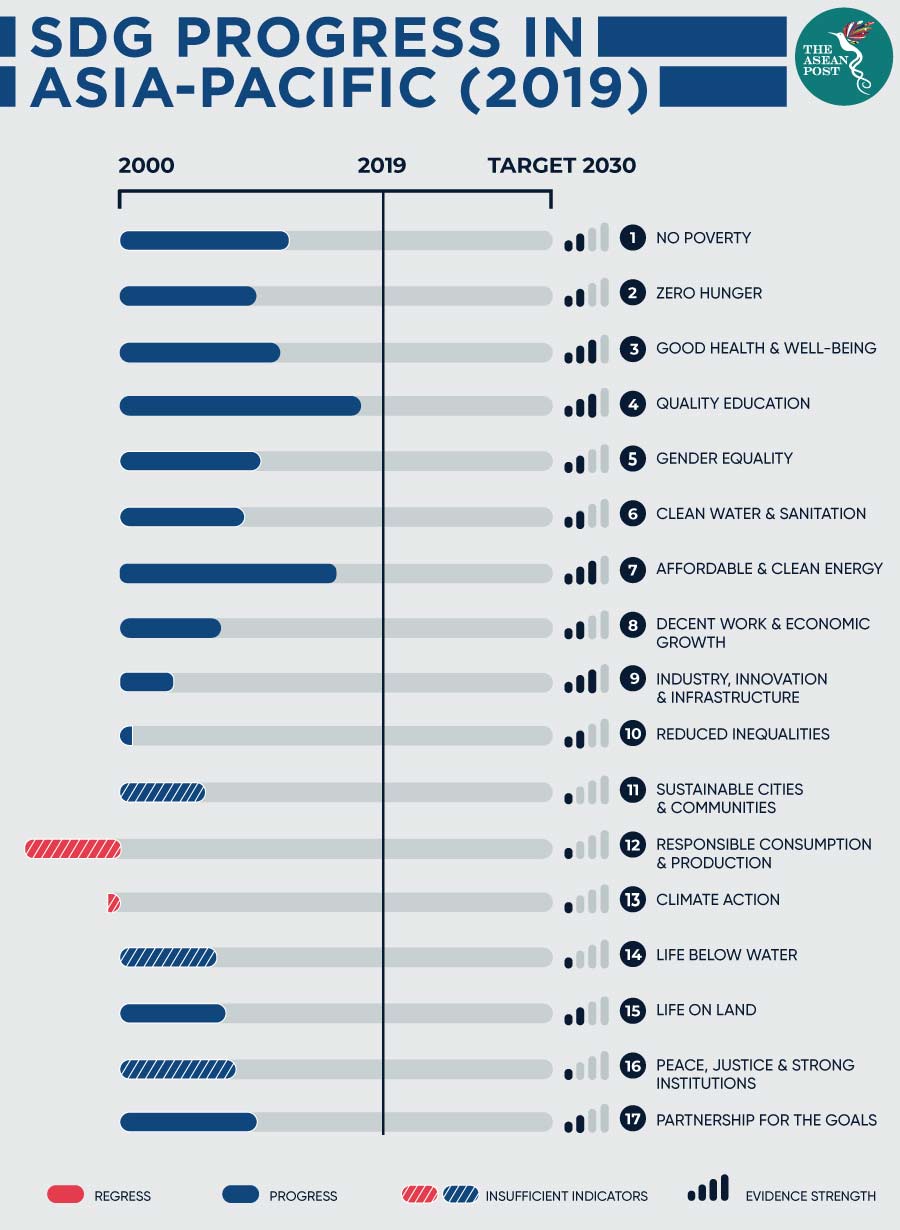 Environmental indicators
While overall share of forest area in the APAC region has increased slightly since 2000, 35 percent of countries reported a continuous loss of forests – all in Southeast Asia. Despite boasting the largest proportion of forest area (48 percent), it is the only region with a declining share of forest area; namely in Cambodia, Myanmar, Indonesia, and Timor-Leste. 
Air pollution is also a critical issue in the ASEAN region with high concentration of airborne particulate matter (PM) 2.5 – also known as fine particle pollution – which can enter the bloodstream through the lungs and has been linked to asthma attacks, heart attacks and respiratory problems.
In addition, the volume of hazardous waste generated in the ASEAN region has increased fivefold between 2000 and 2015, reaching nearly 40 million tons.
"These findings sound the alarm for the region to urgently foster sustainable use of natural resources, improve the management of chemicals and wastes, increase its resilience against natural disasters, and adapt to the adverse impacts of climate change through integrated policies," added Armida. 
These are some of the aspects in which the Southeast Asian region is lagging behind. As we are only 10 years away from the SDG target year, ASEAN countries could risk losing their prominence in the global arena if efforts to achieve sustainability is side-lined for other interests that would not contribute to a national and regional movement towards sustainability.
ESCAP also warned that without concerted and extra efforts from all concerned, the region remains unlikely to meet any of the 17 SDG targets by 2030.
It also highlighted the crucial role of trade as a means for the region to achieve SDG targets. Southeast Asia has received around 30 percent of all APAC aid-for-trade funding over the past five years. Not to mention the large benefit from personal remittances, which represents 2.8 percent of GDP in 2017 (over US$60 billion). This indicates that resources could be allocated more efficiently in order to better implement steps towards achieving the SDG targets by 2030.
Stakeholders such as government officials, regional analysts, and national experts could draw out methodologies to address priority issues as well as develop appropriate policies. While expectations are low, it could still help the region accelerate its efforts to implement effective measures targeted at achieving the 2030 Agenda for SDG.
Related articles:
Indonesia needs a better clean energy policy