One of the first industries to feel the pinch from the coronavirus crisis has been the tourism sector. Southeast Asia is one of the world's most popular tourist destinations; home to more than 30 World Heritage Sites (WHS) such as the Angkor Wat, Borobudur Temple, Ha Long Bay, and Tubbataha Reefs Natural Park, among others. 
Nevertheless, with the current pandemic, most ASEAN member states have prohibited international commercial flights, thus severely affecting the region's tourism industry. 
Malaysia's premier Muhyiddin Yassin said that the COVID-19 outbreak has hit the nation's tourism sector hard, with an expected loss of RM3.37 billion (US$789.6 million) within the first two months of 2020. Whereas neighbouring Thailand anticipates the loss of five million tourists this year, taking with them "250 billion baht (over US$8 billion) in revenue", according to Don Nakornthab, Director of Economic Policy at the Bank of Thailand. 
Over in the Philippines, the archipelago's tourism revenue from foreign arrivals plunged around 35 percent in the first three months of 2020. Across the South China Sea, it was reported that Vietnam recorded a 98 percent fall in visitors in April compared to the same time last year.
The negative impacts on the industry can be seen across the region as millions in the tourism and hospitality sectors are out of jobs and multiple hotels have shuttered due to the pandemic.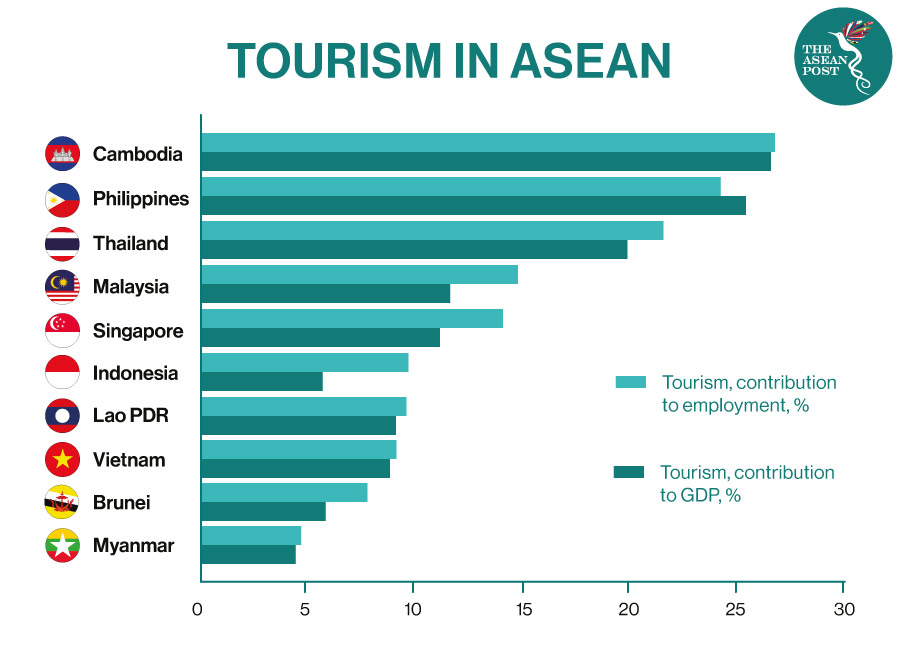 Travel Local
As virus restrictions in a few ASEAN member states such as Thailand and Malaysia are gradually eased, hotels and tourist sites are now racing to restart tourism, focusing on local travellers. 
The media reported last month that Malaysia will attempt to revive its hard-hit tourism industry by focusing on domestic tourism as well as marketing the country as a safe holiday destination, said Nancy Shukri, Malaysia's Tourism, Arts and Culture Minister.
"Even though the Visit Malaysia 2020 campaign has been cancelled, efforts to promote the country as a safe destination for tourists will continue," she explained. "For starters, we want this to be proven through domestic tourism and all of us should play a part to boost the country's tourism industry."
2020 was supposed to be a significant year for Malaysia's tourism industry as it had major plans for its 'Visit Malaysia 2020' campaign. The ASEAN member state was expecting some 30 million tourists this year, projecting tourism-related revenue to hit US$21.5 billion. Unfortunately, the coronavirus outbreak had disrupted Malaysia's tourism plans.
But on the bright side, it was reported that the country's domestic tourism activity is expected to grow 30 percent over the next six months to a year. Ammar Abd Ghapar, senior director of Tourism Malaysia Domestic & Events Division, said that as soon as the prime minister had announced the reopening of domestic tourism – locals started to travel around the country. 
In recent weeks, Malaysia has seen a surge in travel deals to encourage domestic tourism. Nancy Shukri stated that 180,000 flight passenger seats were sold between 10 and 28 June for travels between July and September this year through domestic travel promotions by budget airline, AirAsia.
The same trend can be seen in Thailand and Cambodia as well.
It was recently reported that the government of Thailand had approved a domestic tourism stimulus package valued at THB22.4 billion (US$718 million) in order to speed up recovery in its beleaguered travel and tourism industry. It comprises three packages aimed at frontline personnel, hotel stayers and those using domestic transportation to travel. One-third of the kingdom's population is projected to take leisure trips within the country during the second half of 2020. 
Thanawat Pholvichai, rector of the University of the Thai Chamber of Commerce estimates that domestic tourism in the country will raise earnings from now until the end of the year with each local traveller expected to spend around THB2,000 (US$64) to THB3,000 (US$96) each per trip.
Whereas Cambodia welcomed nearly 400,000 local tourists during the first three weeks of May. This has prompted the country's Ministry of Tourism to work closely with the private sector to implement safety guidelines for domestic tourism in accordance with the Ministry of Health's protocols.
Nevertheless, hoteliers told local media in the country that domestic tourism alone will not see the end of their struggles.
"We need foreign tourists. Yes, we are aware they cannot yet arrive in droves because of prohibitive but necessary measures to curb the COVID-19 pandemic. But we need them to return and the government should look at measures to enable this or our businesses will be ruined forever," said the manager of a large river front hotel in Cambodia.
"We need the government to encourage more flights from countries which have flight connections to Cambodia and a resumption of flights within ASEAN, maybe even tourist visa waivers and other measures," the hotelier added. 
Related articles:
Pandemic Impact On ASEAN's World Heritage Sites