When the COVID-19 virus first emerged in Wuhan, China – many didn't think that the novel coronavirus would drastically change their lives indefinitely. As we enter the sixth month of the outbreak – livelihoods, major industries, local businesses and the economy in general have been severely affected due to the pandemic. Governments have ordered nationwide lockdowns, controlled movements and travel restrictions in order to contain the deadly virus. Although deemed necessary, some of these preventive measures have severely dampened economies, causing thousands to lose their jobs. Stimulus packages have been rolled out to mitigate the impact of the virus.
ASEAN member state Thailand is no exemption.
On 13 January, Thailand became the first country to report a confirmed COVID-19 case outside of China. Prime minister Prayut Chan-o-cha declared a state of emergency in March and later implemented a curfew for all residents. Like a few other ASEAN member states, a travel ban for all foreigners entering Thailand was also issued to control the spread of the virus.
To date, over 3,000 infections have been confirmed in the kingdom with 58 deaths – relatively low compared to neighbouring Malaysia and a few other countries in the region. In recent weeks, Thailand has reported single-digit new cases of COVID-19 with many of the infected consisting of returnees from overseas. It seems that the Thai government has managed to flatten the coronavirus curve in the country.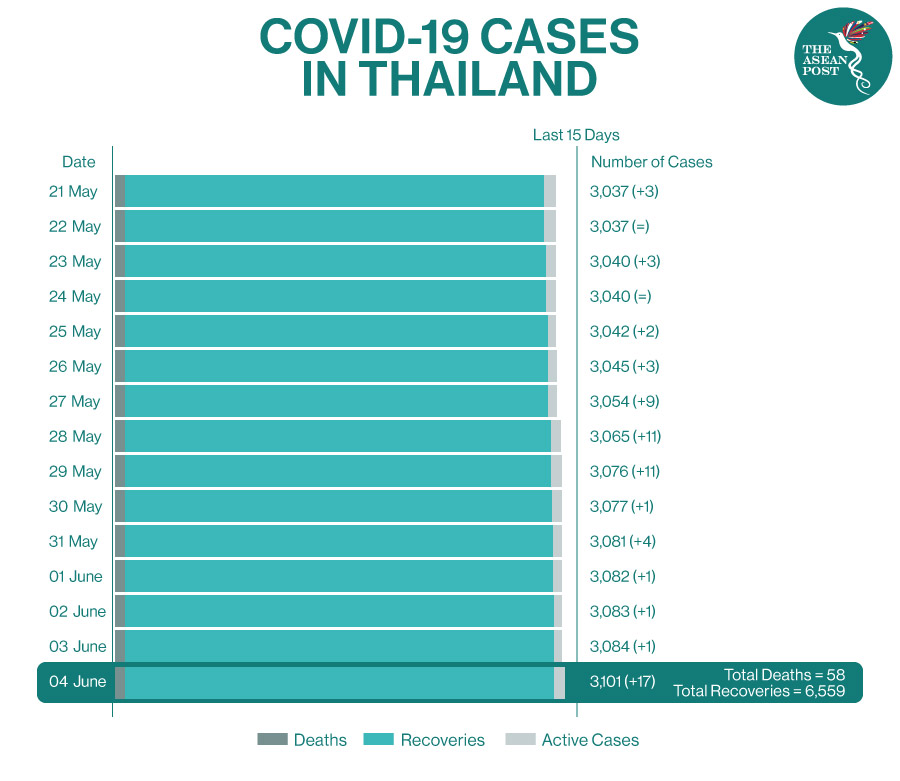 As cases drop daily, Thailand has started to ease its virus restrictions nationwide, including reopening restaurants, malls and even beaches. Nevertheless, the COVID-19 pandemic has hit the kingdom's economy harder than any other event in the past 60 years with a projected gross domestic product (GDP) of minus four percent, according to the University of the Thai Chamber of Commerce (UTCC). 
"Our members have never experienced a situation like this. Economies around the world are facing the same damage as our own," said Thanawat Phonwichai, director of the UTCC's Centre for Economic and Business Forecasting. 
A report by Thailand's National Economic and Social Development Council (NESDC) also stated recently that it estimates around 8.4 million workers in the country may lose their jobs due to the pandemic. 
"The pandemic and the drought's impact on unemployment will be apparent in Q2 2020 and more clearly in the second half of the year," it said, referencing Thailand's recent drought crisis.
Stimulus Packages
Last week, Thailand's parliament approved the kingdom's biggest ever cash injection – a near US$60 billion stimulus package in hopes of reviving the beleaguered economy. Media reports stated that the THB1.9 trillion (US$59.7 billion) package would be "a much-needed boost for Southeast Asia's second-biggest economy."
About THB555 billion (US$17.3 billion) from the package will be given out as aid to farmers, informal workers and those employed in massage parlours and bars, while US$1.4 billion will be dedicated for "healthcare readiness." The government of Thailand announced that the stimulus will also provide for a fund to stabilise markets and boost purchasing power. 
Thailand has issued a series of stimulus packages to counter the effect of the COVID-19 pandemic and recession with Phase 1 delivered in early March and valued at THB100 billion (US$3.2 billion). The first phase provided financial assistance to small and medium-sized (SMEs) businesses, tax relief and cash handouts. The second stimulus package worth THB117 billion (US$3.56 billion) includes cash handouts for workers not registered in the country's social security system, tax breaks for businesses, and soft loans. Whereas Phase 3 rolled out in April was valued at THB1.9 trillion (US$58 billion).
Local media reported that the kingdom's Finance Ministry is currently preparing for more economic stimulus measures which would focus on domestic tourism. Thailand's tourism sector was hit hardest amid the pandemic and has resulted in many job losses. 
"The measures must be effective enough to encourage Thai people to travel in the country. Officials will also study tax rebates and subsidies for domestic tourists," said Finance Ministry spokesman Lavaron Sangsnit. He also added that the stimulus measures will prioritise the people of Thailand.
Related Articles:
Thailand Bars Entry As State Of Emergency Bites