Alarm bells are ringing across the globe as the United States (US)-China trade war continues to brew, and while the International Monetary Fund (IMF) has warned that a full-blown trade war would weaken the global economy, it may not be all bad news for ASEAN.
China is ASEAN's single largest trading partner, but the US is an important economic and strategic partner as well and its growth and spending power has been critical to driving worldwide trade. 
With increasing tariffs, goods produced in Southeast Asia are now more attractive to US consumers. In a poll of over 800 business leaders at the Refinitiv ASEAN Regulatory Summit in Singapore last week, it was found that trade tensions between the US and China will have the greatest influence on ASEAN businesses in the next two years.
ASEAN's Free Trade Agreement (FTA) with China, and the increased economic integration brought on by China's expansion of its Belt and Road Initiative (BRI) into the region, is sure to strengthen bilateral trade and connectivity in the face of the trade war – especially with several Southeast Asian nations providing raw materials vital for China's re-exports to the rest of the world.
Background
The standoff started in January last year when US President Donald Trump accused China of unfair trade practices – such as devaluing its currency, unfair subsidies for state-owned firms and intellectual property infringements – in an attempt to spur more Chinese imports from the US and reduce its gaping trade deficit which stood at US$419 billion in 2018.  
Since then, the US (US$250 billion) and China (US$110 billion) have imposed tariffs on each other's goods worth US$360 billion. 
Those numbers escalated again last Friday when US President Donald Trump's increase on tariffs on US$200 billion worth of goods from 10 percent to 25 percent came into effect – sending shockwaves across global stock markets. After talks led by China's top trade negotiator, Vice Premier Liu He, ended in Washington last Friday with neither a deal nor a breakdown, Trump then imposed 25 percent tariffs on an additional US$300 billion of Chinese goods, essentially all remaining imports from China.
China said it will take the "necessary countermeasures".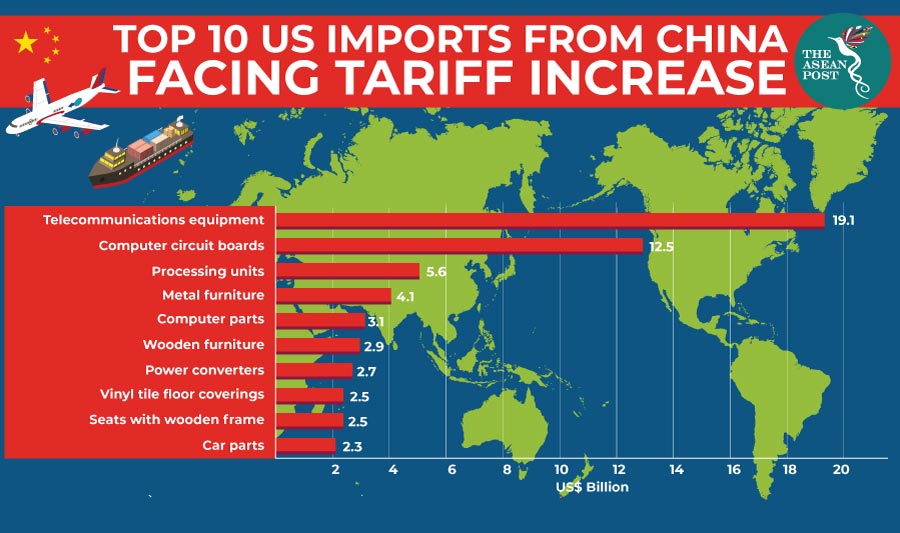 How can ASEAN benefit?
"Vietnam certainly stands to gain in the immediate to short term…and the gains could be as high as 0.19 percent growth or 1.5 percent of GDP," said Ramesh Subramanium, Director General (Southeast Asia Department) at the Asian Development Bank in a press release by financial markets data provider Refinitiv. "For Indonesia, there are certain sectors where we see significant potential in terms of contribution to GDP," he added.
Vietnam's economy was booming even before the trade war, and driven by its labour-intensive manufacturing sector, the country's economy grew by seven percent in 2018 – the fastest in more than a decade. Speaking to Chinese media, Adam McCarty, chief economist at Mekong Economics in Hanoi, noted that Vietnam is becoming increasingly popular for investors fleeing already rising labour costs in China and the threat of more tariffs. Government data in April showed that newly registered investments in Vietnam rose by 81 percent and capital to fund new facilities had increased by 215 percent.
And while Indonesia's Coordinating Economic Minister Darmin Nasution expressed concerns about the country's exports to China and the US – their top-two export destinations – due to the trade war slowing economic growth in both nations, the country's Vice President Jusuf Kalla said that the country could benefit from shifting global production chains because of the growing uncertainty. Meanwhile, Indonesia's Minister of Industry, Airlangga Hartarto, has said that several textile and footwear manufacturing companies have explored options to move from China to Indonesia – ASEAN's largest economy.
Malaysia may also stand to benefit, and a research paper titled 'US-China Trade War: Potential Trade and Investment Spill-overs into Malaysia' written by Tham Siew Yean from Singapore's ISEAS-Yusof Ishak Institute and Andrew Kam Jia Yi and Tee Beng Ann from the National University of Malaysia (Universiti Kebangsaan Malaysia) earlier this month noted that the tariffs imposed on China raises the possibility of trade and investment diversion to Malaysia – with a "worst-case" trade war scenario resulting in a 1.8 percent increase in gross domestic product (GDP).
While ASEAN as a whole is well positioned to benefit from the China-US trade tensions due to its geographical location, strong supply chains, global distribution networks, a sizable workforce with low labour costs and amicable ties with both superpowers, its member countries cannot be competing in the same space and need to complement each other if they are to capitalise on this opportunity.
Related articles:
Southeast Asia: Victors of the trade war?