Trade between Hong Kong and ASEAN will be boosted with yesterday's implementation of the ASEAN-Hong Kong Free Trade Agreement (AHKFTA), building on the already solid economic foundation both parties share and countering the escalating United States (US)-China trade war.
Five years in the making, the AHKFTA kicked off on Tuesday with reductions and eliminations of customs duties in Lao PDR, Myanmar, Singapore, Thailand and Vietnam for Hong Kong imports. Bilateral investment agreements with the five countries will come into effect on Monday as part of the ASEAN-Hong Kong Investment Agreement (AHKIA). 
Similar FTAs and investment agreements with the remaining five ASEAN member states – Brunei, Cambodia, Indonesia, the Philippines and Malaysia – will be announced at a later date as the countries are still ratifying the agreements.
Speaking to Hong Kong media earlier this week, the region's Secretary for Commerce and Economic Development, Edward Yau Tang-wah, said that the AHKFTA will help Hong Kong expand into new markets and provide an alternative for companies that depend on traditional markets such as the US and European Union.
Singapore will bind all its customs duties at zero as part of the AHKFTA while Thailand and Vietnam have each promised to eliminate customs duties on about 85 percent and 75 percent of their tariff lines within 10 years. Lao PDR and Myanmar will eliminate customs duties of about 65 per cent of their tariff lines within 15 years – with Lao PDR, Myanmar, Thailand and Vietnam committing to further reductions in customs duties over the next 14-20 years.
ASEAN was Hong Kong's second largest trading partner in 2018 after China and all ASEAN exports enter Hong Kong at zero tariff. 
Trade war 
Negotiations for the AHKTFA started in 2014 and was signed – along with the AHKIA – in November 2017 during the 31st ASEAN Summit in the Philippines, and their introduction could not have come at a better time for both parties.
The US-China trade war has been brewing for more than a year, and the latest development has seen US President Donald Trump threaten to enforce 25 percent tariffs on US$300 billion worth of Chinese goods after he meets his Chinese counterpart, President Xi Jinping, at the G20 Summit in at the end of this month.
As it is, the US has already set levies on US$250 billion worth of Chinese products while China has set tariffs on US$110 worth of US goods – forcing companies to scramble to look for new suppliers to avoid paying taxes and maintain profit margins.
Hong Kong's export-oriented economy is feeling the pinch from the trade war due to its importance as an entrepot trade hub and transition for goods in the trade between China and the US. Hong Kong is also an important entrepot for trade between China and ASEAN, and around US$33 billion of Chinese imports of ASEAN's goods were rerouted through Hong Kong 2017 – with ASEAN imports heading to China via Hong Kong exceeding US$25.61 billion in 2017.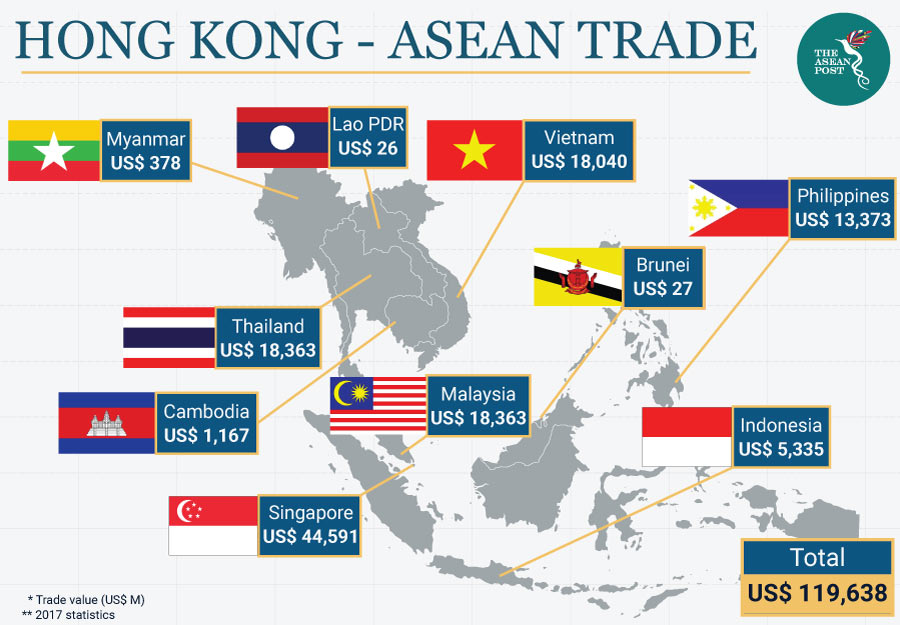 Source: Hong Kong Trade and Industry Department
Strong demand for Hong Kong goods
ASEAN was the second largest market for Hong Kong's goods after China in 2017, and total bilateral trade between Hong Kong and ASEAN stood at US$119 billion during the year according to Hong Kong's Trade and Industry Department – the figure representing 11.4 percent of Hong Kong's global merchandise trade for the year. Exports from ASEAN made up US$83 billion of that sum, with imports totalling US$1 billion and re-exports accounting for US$35 billion. 
Hong Kong's major domestic exports to ASEAN in 2017 were tobacco and tobacco products, metalliferous ores, metal scrap, jewellery and other articles of precious or semi-precious materials while Hong Kong's major imports from ASEAN included electrical machinery and parts, office machines and telecommunications equipment.
ASEAN also has a strong presence in the local Hong Kong economy, with 58 regional headquarters, 142 regional offices and 386 local offices in Hong Kong representing their parent companies located in ASEAN as of June 2017.
With ASEAN already having a multitude of various FTAs with other countries and regional blocs, the AHKFTA will help break down the growing threat of protectionism which is hurting global trade.
Related articles:
Hong Kong and Singapore join forces for fintech
Li Ka-shing predicts strong demand for Hong Kong property