Is an ASEAN-Canada Free Trade Agreement (FTA) on the cards?
The idea which was first proposed in 2016, was one of many on the agenda during the 16th ASEAN-Canada Dialogue in Canada's capital, Ottawa, last month. Both parties agreed to continued implementation of the ASEAN-Canada Plan of Action (2016-2020) which includes working towards a potential ASEAN-Canada Free Trade Agreement.
When the possibility was initially brought up in 2016, the Global Affairs Canada Office of the Chief Economist and the Economic Research Institute for ASEAN and East Asia (ERIA) conducted studies and economic models which found that a comprehensive agreement which moves beyond simple tariff elimination and includes services and investment liberalisation, a reduction in non-tariff measures (NTMs) and improvements to trade facilitation, would be in the best interest of both Canada and ASEAN.
Another report published in 2017 by the Canada-ASEAN Business Council and the University of British Columbia titled 'The ASEAN Advantage' found that an ASEAN-Canada FTA would generate up to US$11 billion in additional two-way trade and boost Canada's gross domestic product (GDP) by US$1.2 billion by 2027.
As it stands, Canada is ASEAN's ninth largest trade partner and ASEAN is Canada's sixth largest.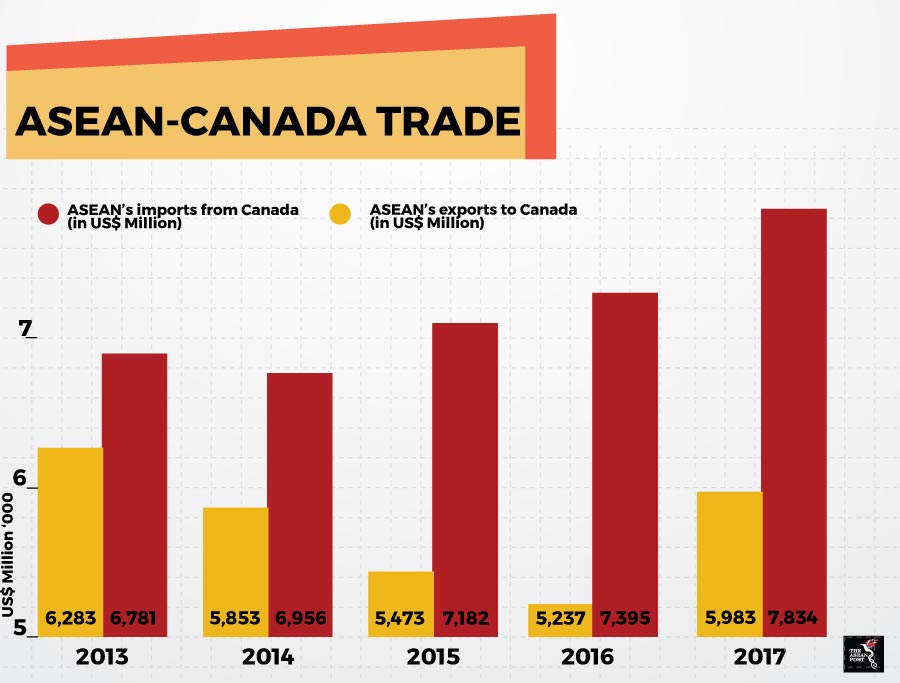 Source: ASEAN Statistical Yearbook 2018
Support within Canada
Last September, the Canadian government issued a gazette seeking the views of interested Canadian stakeholders on the scope of potential negotiations toward a possible FTA with ASEAN. Eager to remind ASEAN that an FTA was very much in the works, Canadian Prime Minister Justin Trudeau told ASEAN leaders last November that the region represents a fast-growing economy and Canada is "very excited about working with you on that."
The possibility of an ASEAN-Canada FTA has been welcomed in Canada, with Jim Carr, Canada's Minister of International Trade Diversification, saying in 2018 that increasing trade with fast-growing and dynamic markets such as those in the ASEAN region is an important part of the Canadian government's trade diversification strategy.
There is also a sense that if greater trade integration is not achieved soon, Canada will be missing out on a golden opportunity to tap into a market of 640 million people and a rapidly emerging middle class.
"A Canada-ASEAN trade agreement is a vital and necessary mechanism and will help us catch up where our international competitors are currently eating our lunch in Southeast Asia," Stewart Beck, President and CEO of the Asia Pacific Foundation of Canada said in a press release last year.
ASEAN already has existing FTAs with major economies such as Australia, China, India, Japan, New Zealand and South Korea – and Canada is eager to follow suit, especially considering the impact that FTAs have had on Australia and New Zealand.
The Canada-ASEAN Business Council last year noted that two-way trade between ASEAN and Australia increased from US$76.5 billion in 2010 – when the three-way ASEAN-Australia-New Zealand FTA was implemented – to US$89.5 billion in 2016. Trade between ASEAN and New Zealand rose from US$9.5 billion in 2010 to US$13.1 billion in 2016 during that same period, and in 2017, Australia's trade with ASEAN countries grew by nine percent over 2016's figures to reach US$100 billion.
Although Canada and four ASEAN members – Brunei, Malaysia, Singapore and Vietnam – are party to the Comprehensive and Progressive Agreement for Trans-Pacific Partnership (CPTPP), Canadian research has shown that gains from trading with ASEAN's non-CPTPP members (Indonesia, Thailand, Philippines, Myanmar, Cambodia and Lao) would be larger than gains from trading with ASEAN members in the grouping.
Barriers to trade
Despite the numerous benefits to both parties, there are several challenges which need to be overcome if an ASEAN-Canada FTA is to come to fruition.
Corruption, inconsistent enforcement of laws and regulations, difficulty in obtaining reliable and cost-effective skilled labour and preferential treatment of local firms were identified as some of the key barriers to trade and investment in a mid-2016 survey of Canadian businesses in the ASEAN region and firms based in Southeast Asia-with strong ties to Canada.
The '2016 Canada-ASEAN Business Outlook Survey' conducted by the University of British Columbia and the Canada-ASEAN Business Council polled 175 respondents with interests in all 10 ASEAN nations with the aim of gaining an insight into the opportunities, challenges and general operating conditions that businesses face in the region.
Closer economic integration with initiatives such as the ASEAN Economic Community (AEC), which aims to integrate Southeast Asian markets and production, will help ease such concerns.
Overall, the main conclusion of the report was a strong sense of optimism about the future of Canada-ASEAN ties – a view expressed by 94 per cent of respondents. And with two-thirds of respondents saying their ASEAN operations achieved profitability in less than three years and three-quarters reporting significant or moderate profits during the previous year, there is plenty of to be optimistic about.
Related articles:
ASEAN-Canada, an underrated relationship
How the CPTPP could widen inequality