Many countries in the Americas and Europe have legalised the use of medical marijuana, with some legalising it for recreational use as well. It is safe to say that when the Drug Enforcement Agency (DEA) in the United States (US) listed marijuana as one of the most dangerous drugs with "no accepted medicinal use and a high potential for abuse," it was without scientific backing. 
However, no scientific evidence can battle the stigma associated with the controversial herb. Sadly, it's the many sick and elderly who are in constant pain that have to pay the price. Thailand is the only Southeast Asian country to have legalised the use of cannabis with a limited compound of Tetrahydrocannabinol (THC) for medical purposes.
When cannabis clinics opened for business in Thailand recently, observers quickly noticed the long line of elderly customers. Most of them are experiencing chronic muscle and joint aches. Various studies have already proven the benefits of cannabis in managing pain and insomnia among the elderly. 
Not all countries that have legalised cannabis make it easy for the elderly to access the medication. In the United Kingdom, for example, private healthcare is the most effective way to attain even a prescription for cannabis – which can be very expensive. 
In 2019, the issue was highlighted by Dr Laszlo Mechtler at the Dent Neurologic Institute in New York, who reported that 98,000 medical marijuana patients in New York are above the age of 50. "Our findings are promising and can help fuel further research into medical marijuana as an additional option for this group of people who often have chronic conditions," he said, adding that there is limited research, especially in older people. 
Although Southeast Asian countries are lagging behind first world nations when it comes to legalising medical marijuana, Thailand is a welcomed exception. 
It would be unfair to say that it was simply the health benefits of medical marijuana that swayed the Thai government to legalise it. The economic benefits too played a significant role in the decision, and rightly so.
Global Market Insight (GMI) reported that the global value of the legal medical marijuana market is projected to reach US$59 billion by 2025.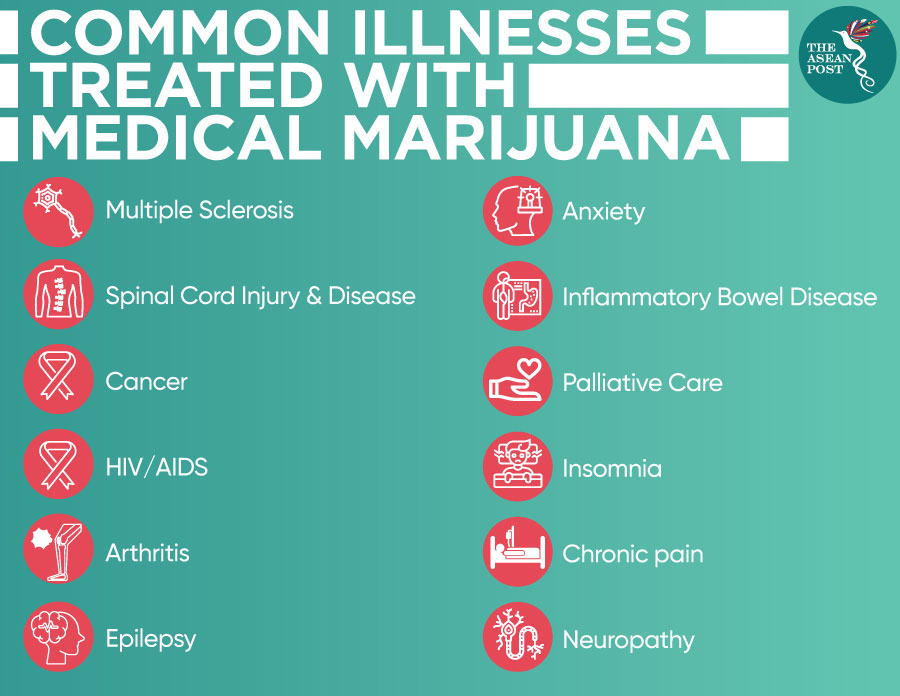 How far behind is the rest of ASEAN?
To combat restrictions on medical marijuana research, one first has to address the prevailing stigma associated with the drug. While awareness has increased in the West, Southeast Asia is still far behind. 
In Malaysia for example, talks to allow clinical research on marijuana started in 2018. At the time analyst called it the 'green gold rush' between Malaysia and Thailand to cultivate and produce medical cannabis. 
However, things have slowed down since in Malaysia with the country's Minister of Health, Dzulkefly Ahmad saying that no applications have been received thus far for clinical research. This could also be attributed to the fact that marijuana is still classified as a dangerous drug in Malaysia and therefore, any cultivation for medical purposes is still not allowed. Companies may not want to risk investing heavily in research that may prove fruitless. 
In the Philippines, medical marijuana was legalised in early 2019 on a compassionate basis, to make the drug accessible to those suffering from cancer, seizures, and HIV/AIDS. However, because cultivation remains banned, only FDA-approved, processed cannabis can be imported for patient use. This could cost up to US$30,000 a year in treatment for a patient suffering from epilepsy – a cost most Filipinos simply cannot afford.
Even experts who were anti-medical marijuana are now changing their stand on the drug. CNN correspondent, Dr Sanjay Gupta, publicly apologised for condemning the use of medical marijuana. "I didn't review papers from smaller labs in other countries doing some remarkable research, and I was too dismissive of the loud chorus of legitimate patients whose symptoms improved on cannabis," he admitted.
Overwhelming evidence of pain relief among patients has raised some serious ethical questions for governments in Southeast Asia to consider. A re-evaluation of policies related to medical marijuana is necessary as current laws are depriving ASEAN citizens of much needed relief – especially the elderly. 
Related articles:
Medical marijuana: Thailand leads the way