More efficient waste and traffic management systems are among the best practices that ASEAN can adopt from Korea.
The two areas were among the fields in which policy recommendations were proposed at the recently concluded 2019 ASEAN-Korea Youth Network Workshop which gathered 80 university students from 13 countries for 10 days of lectures, site visits, cultural exchange activities and discussions – all with the aim of building cooperation between ASEAN and Korea in developing sustainable smart cities. 
Organised by the Seoul-based ASEAN-Korea Centre in partnership with the S. Rajaratnam School of International Studies (RSIS) in Singapore, the workshop themed 'Sustainable Smart Cities: Molding the Young Pioneers of Smart & Innovative Urban Solutions,' also included students from Japan and China who were recommended by the ASEAN-Japan Centre and ASEAN-China Centre, respectively. The workshop was conducted in Korea from 8-12 July before moving to Singapore from 13-18 July.
The participants had to produce policy recommendations on ways to strengthen the ASEAN-Korea partnership in building sustainable smart cities in the two regions, with waste and transport joining water, fintech and population density as the five most pressing urban issues to be tackled. Divided into 10 teams, four of them chose to address traffic management as their policy recommendation – underscoring its importance to participants in both regions.
The ASEAN Smart Cities Network (ASCN) was established at the 32nd ASEAN Summit in Singapore in April 2018 as a collaborative platform where cities from the 10 ASEAN states can work towards the common goal of smart and sustainable urban development through technological solutions. 26 urban hubs from across the region were chosen as ASCN pilot cities.
As the world's most connected economy with an extremely mature high-tech sector, Korea – which can boast of smart cites such as Anyang, Busan, Songdo and Seoul – is well-positioned to offer assistance to countries looking to advance smart city initiatives of their own. Korea is already working with ASEAN to develop smart cities, and last November, became the ASCN's first partner country after agreeing to upgrade information & communication technologies (ICT) in the Malaysian city of Kota Kinabalu.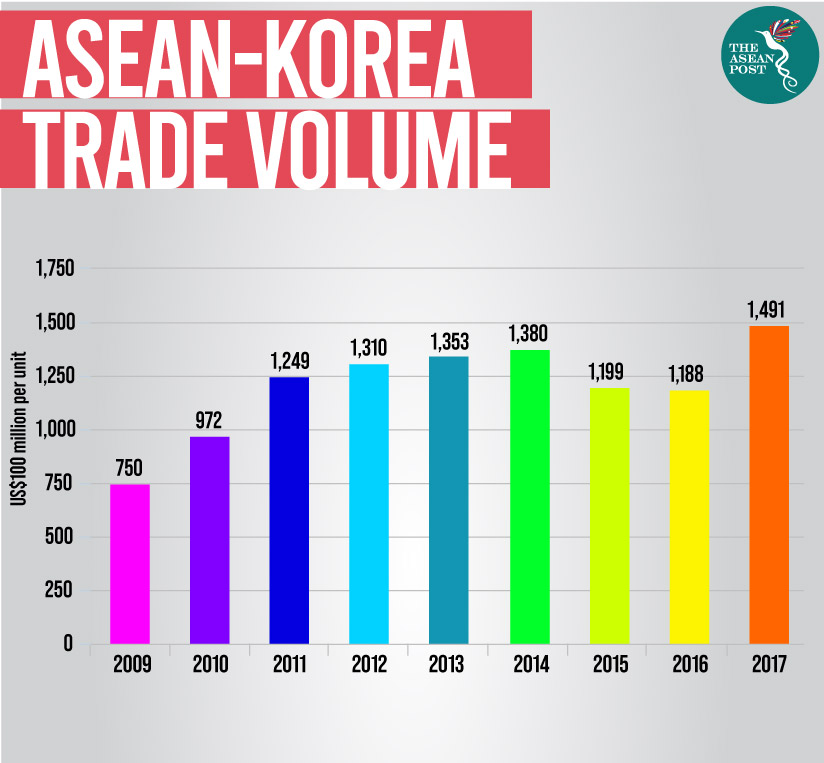 Source: Korea International Trade Association
According to Dr. Tan Teck Boon, Research Fellow and Coordinator of the Science and Technology Studies Programme at RSIS, the main thing that Korea and ASEAN smart cities share is a deep reliance on digital technology to solve urban challenges and bring about a better quality of life for their citizens – with waste recycling among the best practices that Southeast Asia can adopt from Korea.
"Individual households in Korea take waste recycling very seriously thanks to the government's policy towards it," Dr. Tan told The ASEAN Post. "As ASEAN countries undergo rapid urbanisation, recycling at the household level will take much pressure off their increasingly stressed waste management systems," he added.
'A couple of touches on an app'
Noting that waste management and developed transportation system were the two main issues discussed during the workshop, one of the participants, Kim Hyun-Hui, stressed the impact that Korea's well-developed transportation network of trains, subways and buses has on reducing traffic and pollution.
"The Seoul Metropolitan City and a couple of other major cities have started public bicycle stations, and with a couple of touches on an app, anyone can ride a bicycle from one destination to another. All they have to do is park the bicycle at the nearest bike station," Kim said in an interview with The ASEAN Post.
"When looking for solutions regarding waste management, I remember encountering a waste pipe where all the waste would be collected underground and either gets recycled or burned and turned into energy for heating water or producing electricity. Not only is this a smart concept for the environment, it is also a very efficient solution to create less landfills," added the Global Affairs major from George Mason University (Korea campus).
Meanwhile, a site visit to the Seoul Expressway Traffic Information Center helped participants paint a clearer picture on how technology can help reduce traffic, decrease carbon emissions and promote public transportation. 
Drawing from Seoul's example, establishing a Bus Rapid Transit (BRT) – bus systems that include pre-board fare and dedicated bus-only lanes to avoid delays – and a control tower to disseminate real-time information of public transportation (TOPIS; Seoul Transport Operation & Information Service) were other Korean best practices which ASEAN's smart cities can look to implement.
While Korea's cutting-edge technology and its unique experience in urban development has undoubtedly made it an attractive partner for ASEAN when it comes to building smart cities, cooperation in this area will only further expand considering the current global trends of urbanisation and digitalisation.
Related articles:
Cloud computing and artificial intelligence could ease Southeast Asia's traffic woes