A series of key reports released over the past month have proven just how ineffective global efforts to address climate change have been.
Greenhouse gases (GHG) keep on rising, and the planned production of fossil fuels provides countries with no chance of achieving the 2015 Paris Agreement – a treaty ratified by 184 countries which aims to limit global temperature increases to below two degrees Celsius by 2100 and no more than 1.5 degrees Celsius. 
Despite ambitious goals, the voluntary nature of the Paris Agreement – along with its numerous loopholes and technicalities – means that decisive action in reducing emissions, addressing climate change and adopting renewable energy remains elusive.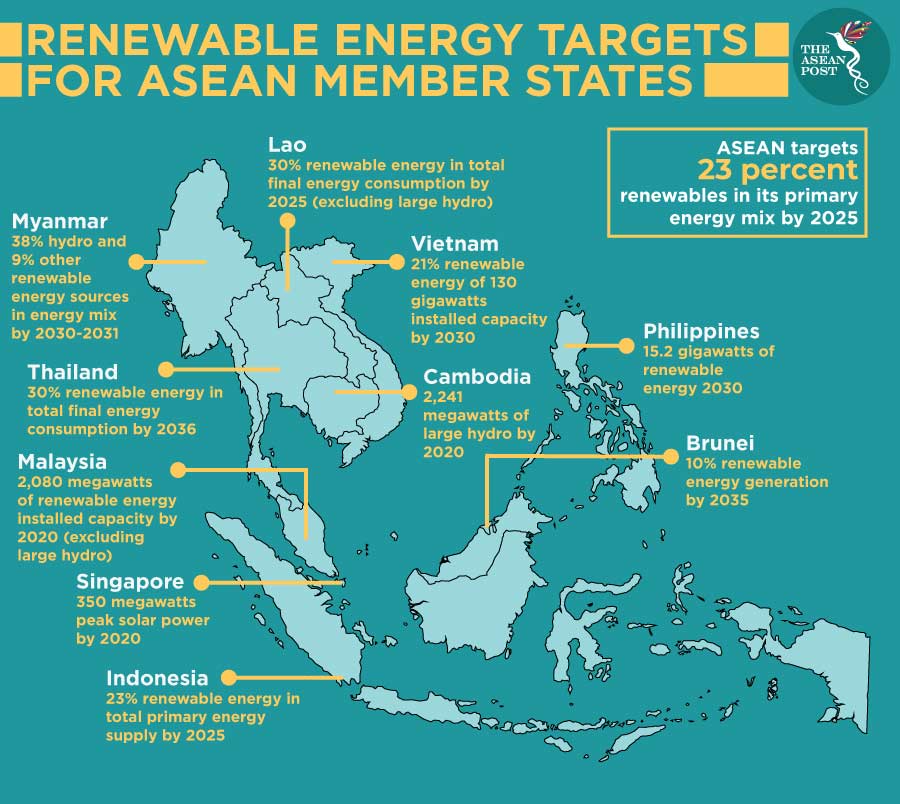 Record greenhouse gases
With Southeast Asia expected to face the brunt of the damage from climate change, a report by the World Meteorological Organisation (WMO) yesterday that GHG in the atmosphere have reached another new record high means that the region can look forward to more rising temperatures, sea levels and disruptions to marine and land ecosystems.
The International Monetary Fund (IMF) noted last year that average temperatures in Southeast Asia have risen every decade since 1960 – with Myanmar, the Philippines, Thailand and Vietnam among the 10 countries in the world most affected by climate change in the past 20 years.
The WMO Greenhouse Gas Bulletin showed that globally averaged concentrations of carbon dioxide (CO2) reached 407.8 parts per million (PPM) in 2018, up from 405.5 PPM in 2017. 
As WMO Secretary-General Petteri Taalas pointed out, the last time the Earth experienced a comparable concentration of CO2 was more than three million years ago – when the temperature was two to three degrees Celsius warmer and the sea level was 10-20 metres higher.
"There is no sign of a slowdown, let alone a decline, in GHG concentration in the atmosphere despite all the commitments under the Paris Agreement on climate change," said Taalas.   
Paris Agreement goal failure
Meanwhile, the United Nations Environment Programme's (UNEP) annual Emissions Gap report released today said that the world will be unable to meet the 1.5 degrees Celsius temperature goal of the Paris Agreement unless global GHG emissions fall by 7.6 percent each year between 2020 and 2030.
The report also warned that the Earth is on course to experience a temperature rise of 3.2 degrees Celsius by the end of this century, bringing "wide-ranging and destructive climate impacts". 
As it stands, ASEAN contributed more than half of all global disaster fatalities between 2004 and 2014, a period in which the total economic loss from floods, tsunamis, earthquakes and other natural disasters worked out to around US$91 billion in damage.
Perhaps unsurprisingly, yet another report – this time by non-government organisation (NGO) Universal Ecological Fund – found that almost 75 percent of the 184 Paris Agreement pledges were judged as insufficient to stop climate change from continuing to accelerate in the next decade.
"The comprehensive examination found that with few exceptions, the pledges of rich, middle income and poor nations are insufficient to address climate change," said Sir Robert Watson, former chair of the Intergovernmental Panel on Climate Change (IPCC) and co-author of the report titled, 'The Truth Behind the Climate Pledges'.
"Simply, the pledges are far too little, too late."
Stating that failing to reduce emissions drastically and rapidly will result in environmental and economic disaster from human-induced climate change, the report called for a five-fold increase in wind and solar energy and a phasing out of the 2,400 coal-fired power stations within the next decade.
Coal powered ASEAN
ASEAN, however, has a seemingly insatiable appetite for coal.
Fossil fuels account for more than three-quarters of global GHG emissions, and although all 10 ASEAN nations have ratified the Paris Agreement, energy demand in the region will grow as much as 60 percent by 2040 according to the Southeast Asia Energy Outlook 2019 published by the International Energy Agency (IEA) late last month – with coal demand projected to rise steadily over the coming decades.
Vietnam's coal use grew 75 percent from 2012 to 2017 – faster than any other country in the world according to the Harvard Kennedy School's Ash Center. In Indonesia, state electricity firm Perusahaan Listrik Negara (PLN) said in August that coal use for electricity generation in the country would increase by around 12 percent this year due to additional demand from new power plants. In the Philippines, the country's four biggest energy firms have plans to more than double the country's current coal capacity in the next six years.
"If the region continues on this track, the consequences would be troubling," noted the IEA, warning that the number of annual premature deaths associated with air pollution would rise from 450,000 in 2018 to more than 650,000 by 2040.
Another report titled 'The Production Gap' and released by UNEP and partners such as the Stockholm Environment Institute (SEI) last Wednesday stated that by 2030, countries plan to produce 150 percent (5.2 billion tonnes) more coal than would be consistent with a two degrees Celsius pathway for the Paris Agreement and 280 percent (6.4 billion tonnes) more than would be consistent with a 1.5 degrees Celsius pathway.
For fossil fuels in general, the numbers are 50 percent more and 120 percent more, respectively.
"Fossil fuel production levels are higher than ever," said Mans Nilsson, SEI's executive director. "We're in a deep hole, and we need to stop digging."
With the 2019 United Nations Climate Change Conference (COP25) set to kick off in Madrid next Monday, it would be naïve to expect the meeting in the Spanish capital to produce any real change.
Related articles:
Deciding on the Paris Rulebook at COP24