It was reported in February 2020 that some 900,000 pangolins were trafficked globally with significant proportions linked to Southeast Asia, while over 200 tonnes of African Elephant ivory and 100,000 Pig-nosed Turtles were seized in recent years. 
Whereas China, a year prior, saw a record number of wildlife seizures. Both regions are primarily wildlife trafficking transit points.
In 2019, Hong Kong reported a seizure of 8.3 tonnes of pangolin scales, Singapore reported a seizure of 11.9 tonnes of pangolin scales and 8.8 tonnes of elephant ivory, while Malaysia reported that 30 tonnes of pangolin scales was seized in Sabah.
While these seizures are significant, the United States Agency for International Development (USAID) reports that the number of arrests and prosecutions were limited considering that the trade involved is valued at US$23 billion annually. 
Over the past few years, China has been lauded for its significant efforts to seize and prosecute illegal traders, yet its major challenge to putting a stop to this lies within its own policies. Traditional Chinese medicine (TCM) – which has a long history of using animal ingredients – is a key pillar of China's Belt and Road Initiative (BRI), and remains a profitable incentive to keep the trade alive. 
Investigations have found that illegally trapped wildlife from across the region are exported and transited, often through fraudulent certification schemes, legal loopholes and corruption among state officials.
At the same time, China has produced a comprehensive guideline to promote the preservation and innovation of TCM and plans to set up hospitals, museums, and other infrastructure in countries involved in the BRI to develop new markets as well as meet demand of existing markets in Europe, Africa and Asia.
This expansion could prove difficult for ASEAN member states to coordinate on the issue while at the same time combatting the large corruption within its their own law enforcement.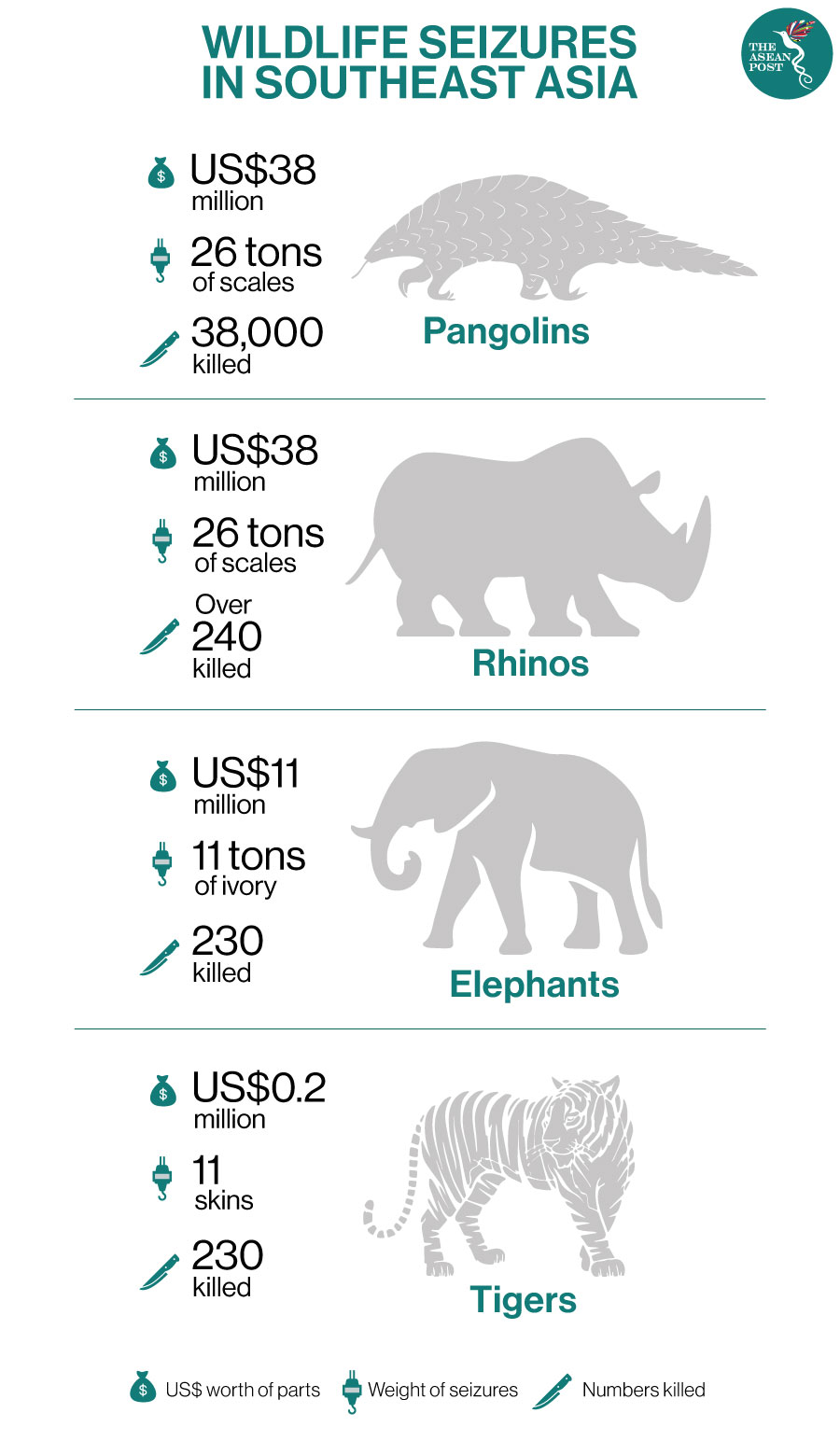 "Most of the time, transnational wildlife crimes are closely connected to trafficking in illicit drugs and arms, but the responsible agencies in Thailand and other ASEAN countries still don't have enough capacity or resources to deal with such a powerful crime network," Surapon Duangkhae from the Seub Nakhasathien Foundation told local Thai media. 
A study by the Organisation for Economic Co-operation and Development (OECD) highlighted the key role of Southeast Asian nations in the extensive poaching of wildlife. In addition to being destination markets, the region plays an active part in the illegal sourcing and transiting of wildlife parts which are then traded commercially. 
The OECD also reported that regional efforts are weak due to perceptions of corruption and mistrust among counterparts which adds to difficulties in information exchanges across border. While the aspects related to information sharing and extradition treaties is becoming stronger, the ties between ASEAN countries that are sourcing and transiting animal parts and their respective authorities remain underdeveloped. 
In an investigation to uncover the illegal trade in pangolins, Malaysian media published an interview with an arrested policeman for possession of live pangolins. He provided them with inside details on how illegal wildlife parts are transited through Malaysia and the wide cooperative network between enforcement officers and crime syndicates.  
The smugglers cut deals with the supervising officers, as officers under them have no power to make arrests. "Even if we want to work by the rules we cannot," said the officer. "You can even bring elephants across if you want, as long as you pay. If you don't pay, even a bag of rice is illegal."
Pandemic Shifts Traffickers Online
According to the Center for Advanced Defense Studies (C4ADS), the amount of elephant ivory, rhino horn and pangolin scales intercepted by authorities in 2020 was far less than compared with the previous years. This could perhaps be attributed to the coronavirus pandemic which has dampened both, the ability of wildlife traffickers to move their products internationally and law enforcement to detect them.
The media have reported that the number of seizures and weight of seizures have plummeted, suggesting that even if the wildlife parts were transported between Africa and Asia in smaller batches, the overall level of trafficking between the continents has dropped.
However, some wildlife experts note that the online trade has remained robust throughout the pandemic and that poaching in some locations has actually increased.
Researchers from Oxford Brookes University and the University of Western Australia have stated that despite COVID restrictions and the risk of animal to human disease transmission, illegal wildlife trade on social media networks has continued, with wild animals sometimes sold as "lockdown pets".
Related Articles:
Time For ASEAN To Ban Wildlife Trade For Good