Commercial fleets and two-wheeled vehicles are expected to be the biggest drivers of growth in ASEAN's electric vehicle (EV) market.
A recent report by consultants Bain & Company estimates that the region's annual new investment in passenger EVs will grow to US$6 billion by 2030, and will require another US$500 million in new charging infrastructure as service providers support electrification needs. 
Combined with the billions more ASEAN will have to invest in EV-related telecommunications, ICT, passenger services and fleets and their management, Bain & Company predicts that the EV market could become one of the largest growth segments for the next decade
While the research paper titled 'Finding a New Route to Southeast Asia's Electric Vehicle Future' noted that progress in the EV market is likely to be slow over the next few years, it should increase dramatically after 2025 after certain barriers are overcome.
Although many consumers in Southeast Asia are ready to make the shift to EVs, there are four factors preventing the EV market in ASEAN from really taking off; the availability of EV models, attractive purchase economics in terms of total cost of ownership (TCO) and purchase price, government incentives and convenient charging infrastructure.
This, in turn, has led Bain's analysts to believe that commercial fleets and two-wheeled vehicles will be at the forefront of EV adoption in Southeast Asia – with passenger cars following close behind.
Commercial fleets 
The main factor contributing to this analysis is the prediction that fleet owners may develop their own charging infrastructure. In addition, their higher-intensity operations with light vehicles or trucks offer more savings—particularly in markets such as Singapore or Thailand where fuel costs are relatively high.
Grab's program in Singapore – a joint venture with Hyundai supplying the vehicles and SP Group supplying the charging infrastructure – is a good example of this. Together, they are leasing and managing 200 vehicles until the end of 2019 in Singapore alone, providing both the cars and charging infrastructure at attractive terms. 
"Even after accounting for higher rental rates and waiting time to charge, which make the actual costs higher than normal, the average participating Grab driver should be able to make around 10 percent to 20 percent more per day than a driver leasing a typical internal combustion engine vehicle," said the report.
Unveiled at the Bangkok Motor Show earlier this year, the Mine Mobility – a five-seat hatchback with a range of around 200 kilometres – has convinced a group of five Thai taxi unions to order 3,500 units for their drivers in Bangkok. Noting the new orders would cut drivers' expenses by half, the taxi unions said EVs will also increase profits and allow drivers to pay off their car loans sooner. 
Meanwhile in Malaysia, taxi company Big Blue Taxi Facilities expects to receive delivery of 500 electric taxis from China by the end of August – with plans to assemble additional units in Malaysia in the future.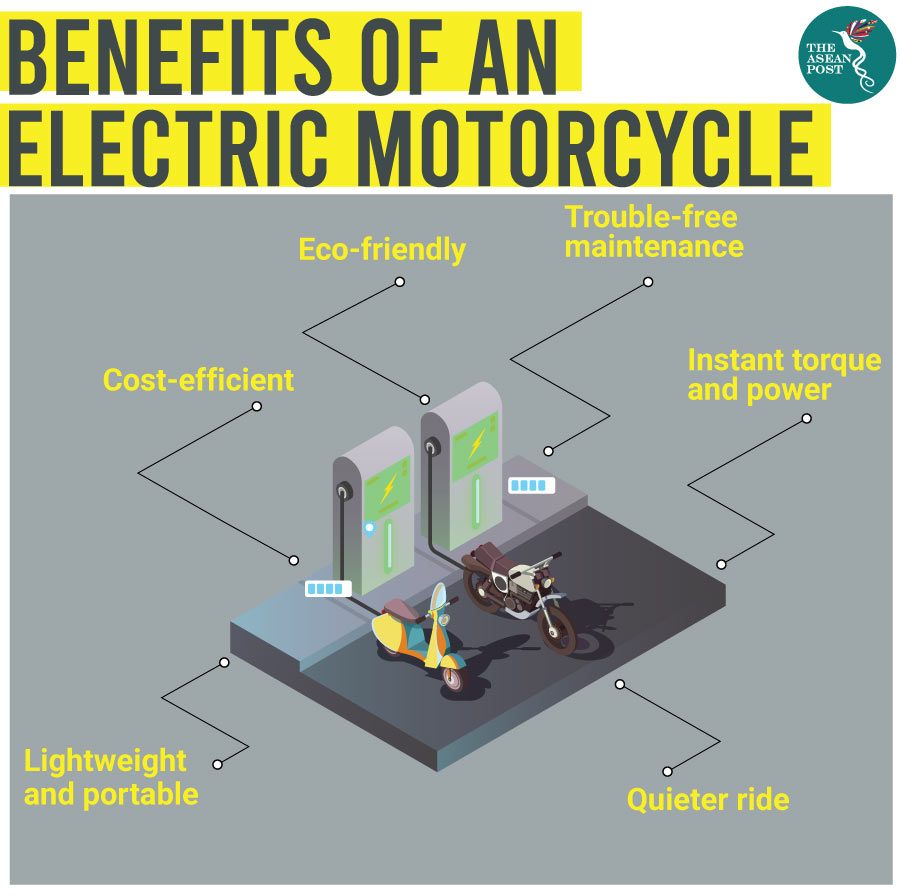 Source: Various
Electric two-wheelers
Two-wheeled vehicles are the next-largest segment of the combustion transport sector after passenger cars and commercial fleets, and countries such as Indonesia and Vietnam – both major markets for two-wheeled vehicles – are heavily promoting electric scooters and bikes.
Vietnam's VinFast launched its Klara electric scooter last November, the vehicle capable of covering 80 kilometres on a full charge at an average of 30 kilometres per hour. VinFast will release 250,000 units per year in its first phase of production, offering discounted prices of US$1,500 for the lithium-ion battery model and US$900 for the lead-acid battery version in a bid to attract more customers.
A source of cobalt and nickel – two raw materials used in EV battery production – Indonesia has plans to produce 60,000 electric motorcycles under the brand name Gesits this year. Speaking during a presentation of the prototype's unit last November, Indonesian President Joko Widodo was confident the electric motorcycles – which are set for delivery this month – would be "100 percent Indonesian-made."
While these are all notable efforts by each of the five countries, collectively, these steps represent the near-term developments that will progressively advance ASEAN's wider transition to electric vehicles.
Related articles:
Thailand's electric vehicle dreams