The poor implementation and enforcement of policies is painting a bleak future for marine turtles in ASEAN. While turtle eggs are seen as delicacies in certain regions, turtle meat is considered an aphrodisiac by some communities and their shells have been used as decorations and fashion accessories for centuries — all leading to its steady decline in numbers.
A report by wildlife trade monitoring network TRAFFIC yesterday outlined how over 91,000 eggs were seized in Malaysia, Indonesia and Vietnam over the past four years. At least 2,354 whole turtles, both live and dead, were seized in 163 incidents in the three countries from January 2015 to July 2019, along with more than 1,000 shells and 1.7 tonnes of turtle meat according to the report titled 'A Rapid Assessment on the Trade in Marine Turtles in Indonesia, Malaysia and Vietnam'. 
Despite the international trade of marine turtles, their parts and derivatives prohibited since 1985, an analysis of seizure data from the four years revealed that Malaysia, Indonesia and Vietnam all play an active role in the international trafficking of marine turtle products in the Asian region — with China a key destination in most cases.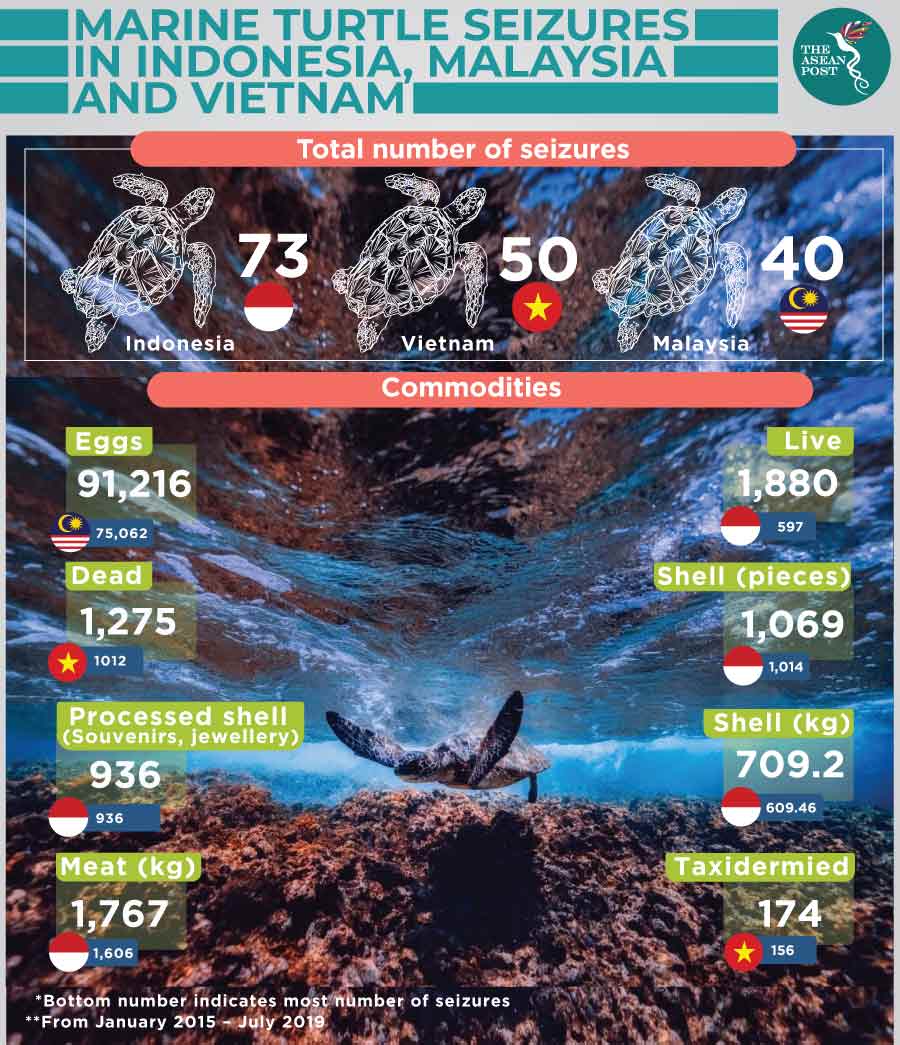 "Marine species fall under the radar very often," admitted Kanitha Krishnasamy, Director for TRAFFIC in Southeast Asia, in an interview with The ASEAN Post.
"There is obviously enough proof that the illegal trade is going on, there just needs to be a lot more enforcement and field investigations to check where it is taking place and how turtle products are being transported," stressed Krishnasamy, one of the report's co-authors.
Ineffective frameworks
At the regional level, frameworks concerning marine turtle conservation are vaguely worded and not legally binding – rendering them ineffective.
One of the first multilateral agreements focused on marine turtle conservation, the Memorandum of Understanding on ASEAN Sea Turtle Conservation and Protection – which was signed in 1997 by all ASEAN member states except Cambodia – only calls for parties to "consider" harmonising their existing national laws or enact new laws on sea turtle conservation.
The Indian Ocean South-East Asian Marine Turtle Memorandum of Understanding (IOSEA Marine Turtle MoU), which was signed in 2011 by all ASEAN members except Brunei, Lao PDR and Singapore, pushes signatories to co-operate "closely" to conserve marine turtles.
Crucially, none of the three countries in the report are party to the Convention on the Conservation of Migratory Species of Wild Animals – an environmental treaty supported by the United Nations Environment Programme and is the only global convention specialising in the conservation of migratory species, their habitats and migration routes.
Highlighting that re-examining their existing legislature and frameworks was more important for the trio of governments than creating new ones, Krishnasamy noted that there were several shortcomings that had to be addressed.
Loopholes
While the trade in marine turtle parts and products is generally prohibited in Indonesia and Vietnam, various gaps and conflicts in the many regulations pose a complication to control measures.  
Although trade in eggs is legal in West Malaysia, trade in marine turtles, parts and products is prohibited in the eastern states of Sabah and Sarawak – and a harmonisation in legislation is long overdue.
Meanwhile in Indonesia, while foreign fishing fleets have been banned, the problem of illegal fishing – either without legal permits or using illegally purchased permits – still persists.
In Vietnam, the lack of clearly defined and divided roles and responsibilities among ministries – and their role in relation to the various relevant agencies such as law enforcers, police and customs – is one of the most urgent problems in terms of marine turtle conservation.
Insufficient manpower, complex administrative procedures and corruption were also outlined in the TRAFFIC report as factors which undermine prompt detection of offences in Vietnam, where the weak judicial systems and light sentences allow those involved in the poaching of marine turtles to continue with little regard to the consequences.
There have been some notable success stories though.
In June 2018, a Vietnamese court sentenced a man to 54 months in prison for his involvement in trafficking approximately 10 metric tonnes of marine turtles – the seizure widely believed to be the world's largest confiscation of marine turtles according to conservation group Education for Nature-Vietnam (ENV).
Police raids at six warehouses found an estimated 7,000 turtles, the majority of which were the critically endangered hawksbill turtle. 
"We need to utilise law enforcement investigations to bring the ringleaders behind wildlife trade networks to light – backed by effective prosecutions and punishment by the courts – to address wildlife trafficking at its roots," said the Deputy Director of ENV, Bui Thi Ha.
While improved monitoring, detection and law enforcement will undoubtedly help marine turtle conservation, strengthening coordination and information sharing between Indonesia, Malaysia and Vietnam (as well as the Philippines, a key country involved in the marine turtle trade) is just as crucial if ASEAN is serious about saving its marine turtles.
Related articles:
ASEAN's illegal wildlife trade goes online