The winner of a record eight world championships and 81 Professional Squash Association (PSA) titles, Nicol David has a trophy cabinet that would be the envy of almost any other athlete.
Bursting onto the scene in 1999 when she won the World Junior Squash Championships, the Malaysian was the longest reigning World No.1 in squash history after locking down the top spot for an unprecedented 109 consecutive months from 2006-2015.
Announcing in February that she would retire when the 2018-2019 PSA season ends, she officially hung up her racquet after a loss to Egypt's World No. 3 Nour El Tayeb in the second round of the British Open last month. 
Voted the greatest female player of all time in a poll conducted by the PSA last year, David still has a lot to offer the sport – including a motivational talk series called 'Nurturing Belief' and her mission to empower girls through her Nicol David Foundation.
In this exclusive interview with The ASEAN Post, David shares her post-retirement plans, the need to address global poverty and the role that ASEAN's youth can play in nation-building.
Your 'Nurturing Belief' motivational talk series aims at sharing your experience as a world champion athlete. Can you elaborate about it?
Nicol: At the moment I'm in the midst of creating my motivational talk series geared towards my experience growing up as an athlete and what sport has taught me about developing fundamental values. I would like to share the key things that made me the person I was destined to be in squash, and in life, by giving people a sense of understanding that they too can nurture this within themselves according to their own capabilities.  
The Nicol David Foundation seeks to empower girls through sports to reach their full potential. Why is this important to you?
Nicol: I was a girl myself and I'm glad that I have the means to share my experience with other girls so that they too can use sport to instil confidence in themselves. I would like to give that extra bit of guidance in any way I can because every bit helps. It is important for me to see girls feeling empowered just by being active. Introducing sport in their lives is the best way to build fundamental values naturally.
You have travelled across the globe as an ambassador for Malaysian squash. How does ASEAN stand on gender equality in sports and what can be done to improve this – especially when it comes to equal pay?
Nicol: It has grown a lot thanks to multi-sport games (such as the SEA Games) that have elevated the visibility of sport in ASEAN countries. I can speak more on Malaysia (and) that we have an increase of female participation at the national elite level and are getting a lot of medals coming through from our Malaysian female athletes. This is thanks to the continuous support from the Malaysian Ministry of Sports together with the National Sports Council and Institute of Sports to help the development of sport throughout and giving women the chance to see a career path in sport. That is why I took this opportunity straight away after high school to play full time with their support. In many ways, all my achievements have given some encouragement for other girls to play sport too and wanting to excel as well.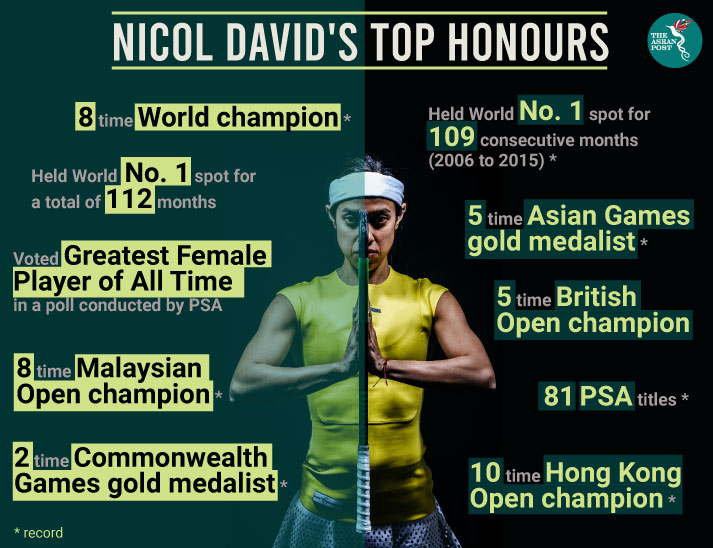 Source: Various
I know the Nicol David Foundation is working together with PwC (Pricewaterhouse Coopers) to encourage more girls to play sports, improve their study skills and develop their soft skills. Why are soft skills important in this day and age?
Nicol: It is an addition to what my foundation has to offer that can benefit these girls in their future. Sometimes the understanding on how to be hands-on in various circumstances and becoming more versatile by having an open mind may not be natural to some, but if these girls are aware of it at a young age, it is easier to cope or manage it later on in life. Credentials on paper are not as appealing to corporate companies or areas of work nowadays – personality and strength in character stands out more.
What does ASEAN mean to you?
Nicol: To me, ASEAN is a blend of diverse cultures all together. Each country has a uniqueness that is so beautiful, yet we come together to share the joys of every nation. There is a lot of respect amongst our countries and vibrant people supporting one another. 
What role do you believe ASEAN youth should play in the region's development?
Nicol: ASEAN youth, like all youth around the world, are the key to the future of their region's development. The first big thing that youth these days are missing is a sense of pride in their own country. They tend to seek outside for a certain belonging rather than cultivate the true heritage of their country. That on its own is when these youth feel they do not have a place to give back to their country, and (they) also do not make an effort to do more in the development of their own region. Sport, however, is the one thing that creates a sense of pride for the nation when our fellow countrymen or countrywomen are out competing for our country. That brings everyone together, united by sport. By creating more communities around sport, we can nurture the youth to become better people for their community, and in a bigger sense, for their region and country.
As a United Nations Development Program (UNDP) National Goodwill Ambassador, you have been active in the fight to eradicate global poverty. How serious is this problem in ASEAN and why is it an issue that the average ASEAN citizen should be concerned about?
Nicol: I have learnt so much of how certain areas in my country (Malaysia) still need so much assistance to sustain the basic necessities that have yet to be addressed. It is happening also in many other countries in ASEAN, (and) we may not quite understand the issue fully as it is not known to many of us. It is about making ASEAN citizens more aware of it and not hiding from the fact so that we can work together to eradicate this problem. It starts with each one of us sharing this with others to make it known, and then more people can start playing a role and help in some way by being a voice for this matter.
I understand you come from a multi-cultural family. With ASEAN experiencing a rise in the spread of discrimination and extremism in certain areas, what can we do to nurture increased respect for one another in this region?
Nicol: I believe this happens globally and not just in certain areas in ASEAN. For me, it is difficult to comprehend. I was brought up by a family that gave me so much love and support that I did not hold grudges and always learnt to be good to others. I was told by my parents to respect people the way you want them to respect you – and I live by that in my daily life. It is the simplest thing to do, and that's really all it takes.
In an interview in February you stated that "they (family) are the heart of my success and right now, it is about how I can contribute to a bigger purpose to fulfil my mission in life." What do you think is your mission in life?
Nicol: My mission in life is to help others by giving back to people, my country and my sport. I have been so blessed throughout my squash career and have been given a life that has opened up a world of possibilities. All these blessings are for me to experience, and then I can share it with others with everything I have to give. 
Is there any other message or comment you would like to share with our readers?
Nicol: I will always be a very proud Malaysian and to be able to represent my country with the support of the entire nation has been the most rewarding experience for me. Malaysia is a rare gem in the world and it will always have a strong hold in my heart.
Related articles:
Youth key to Brunei's development