As Brunei celebrates its 35th National Day today, the country's residents can be heartened by their progress in the last three and a half decades. A British protectorate since 1888, Brunei gained independence in 1984 and is an active member of the international and regional community – joining ASEAN the same year.  
The third-largest oil producer in Southeast Asia, analysts expect Brunei's oil reserves to run out in the next two decades and the country has been actively undertaking steps to diversify its economy. It is also the ninth-largest liquified natural gas (LNG) producer in the world – and its gas and oil exports have helped to give Brunei one of the highest GDP per capita in the world.
With a population of around 450,000 in 2017, it is estimated that about 40 percent of Brunei's population is under the age of 24 – and a highly educated and skilled young work force will be key to the country's diversification programs in the years to come.
In his address to the nation on Friday, the country's ruler Sultan Hassanal Bolkiah called on the country's youth to play a greater role in the nation's development. While government agencies are actively providing infrastructure and assistance for youth, especially for entrepreneurs, the monarch stressed that the authorities need to intensify their efforts.
"…Hopes for the young generation to lead the country's development in a proactive manner… are being fulfilled with youth showing encouraging accomplishments in entrepreneurship, economy and community," he said.
"Government agencies need to reinforce their role as facilitators by providing strong infrastructure, transparency and easy regulations. Firm support and cooperation from all stakeholders are also needed in providing guidance and assistance," he added.
Despite government revenue falling 70 percent from 2014 to 2016 due to the drop in oil prices, Brunei's economy bounced back from a recession by recording a 1.3 percent GDP growth in 2017 of US$12.13 billion – encouraging signs for investors.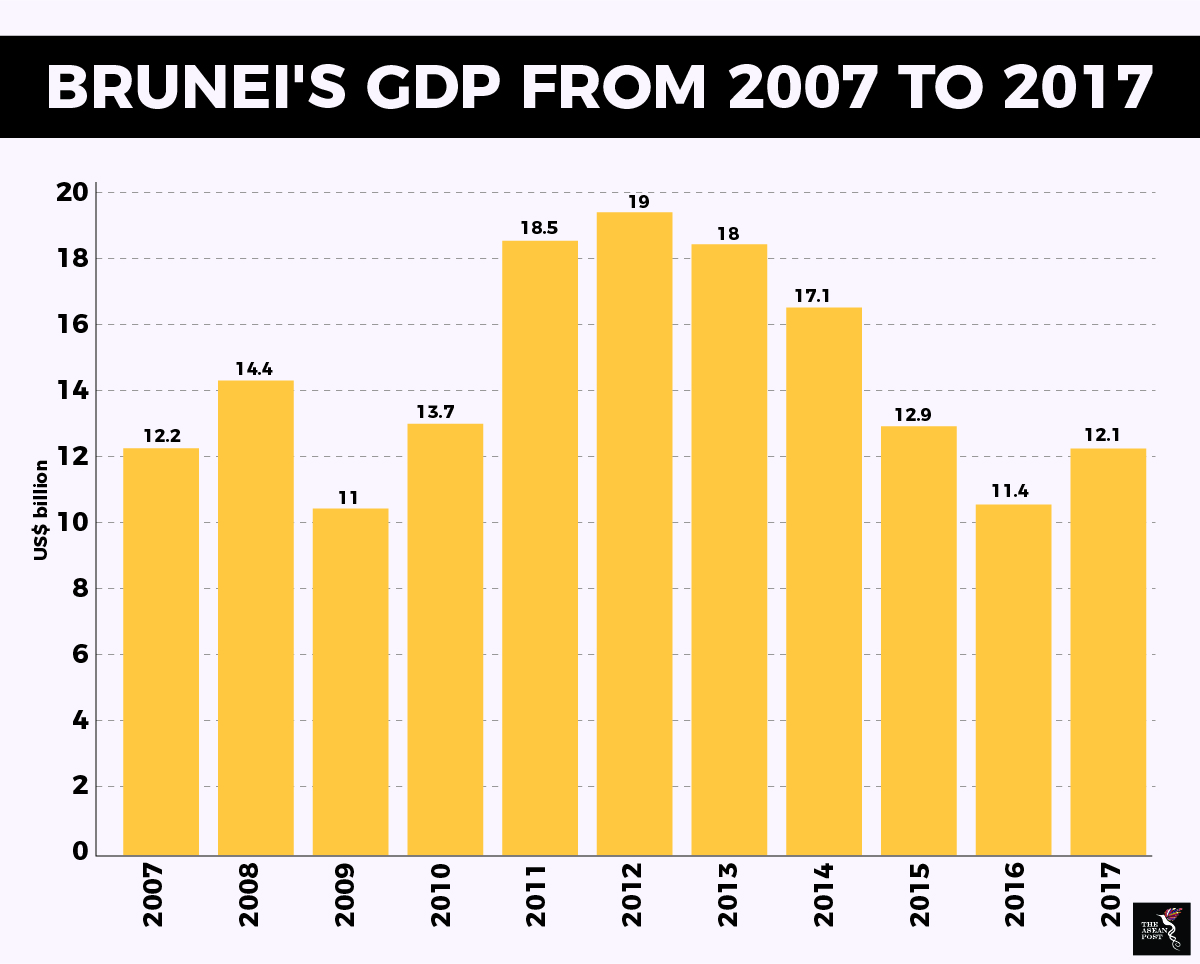 Better business environment
The government's task of easing Brunei youth's integration into a growing economy goes hand-in-hand with its role in facilitating a better business environment.
Tourism and agriculture are on the rise, with the country recording an 18 percent rise in tourist arrivals at the Brunei International Airport in 2017. A total of 258,955 tourists arrived at the Brunei International Airport in 2017 compared to 218,809 tourists in 2016.
In terms of agriculture, the country last week increased the total land area reserved for rice cultivation from by 72 percent from 919 hectares to 1,579 hectares. With self-sufficiency growing in importance, the Brunei government set aside US$45 million last year to invest in the farming sector. According to Brunei's Department of Agriculture and Agrifood (DAA), last year's 3,000 tonnes of paddy marked a five to six percent rate of national self-sufficiency and Brunei aims to reach 4,000 to 6,000 tonnes next year – which would be a 11 percent rate of national self-sufficiency.
A local company's tie-up with a Hong Kong firm in December boosted Brunei's aquaculture industry with a US$400 million investment which is expected help the joint-venture process at least 5,000 tonnes of seafood annually.
And with its strong halal certifications, Brunei have created MOUs with China and South Korea as it taps into the lucrative global halal food market which was worth US$1.4 trillion in 2017 and is projected to reach US$2.6 trillion in 2023, according to a report from the International Market Analysis Research and Consulting (IMARC) Group titled 'Halal Food Market: Global Industry Trends, Share, Size, Growth, Opportunity and Forecast 2018-2023'.
The youth of Brunei have a key role to play in all these sectors, and based on recent reports, have every reason to be encouraged.
A survey by Singaporean think tank ISEAS-Yusok Ishak Institute found that 64 percent of Bruneians expect moderate to strong economic growth in 2019. Titled 'State of Southeast Asia: 2019,' the report canvassed views from a total of 1,008 Southeast Asians who are regional experts and stakeholders from the policy, research, business, civil society, and media communities between November 18 and December 5, 2018.
In addition, the ASEAN+3 Macroeconomic Research Office (AMRO) stated that the Brunei economy is expected to pick up by 2.1 percent in 2019 after going through a slowdown last year.
With Sultan Hassanal Bolkiah also calling for greater awareness of the Fourth Industrial Revolution in his National Day address, the youth of Brunei are the perfect candidates to develop and incorporate such skills and technologies in an increasingly digital age.
Related articles:
Brunei is looking to diversify