Malaysian band, Salammusik is made up of 10 mainstays; Ashraaf Salam A. Azlan a.k.a. Acap (lead vocals), Dyana Shamsuddin and Yaya Naqia (vocals), AhmadBulya Abdillah J a.k.a. Bulya (Maschine, vocals, and guitar), Hibri Arsad (keyboard), Mohd Irhas a.k.a. Payung (trumpets), Jazmi Jamaluddin and Aabid Aafiat (saxophone), Kristopher Chong (bass), and Kevin Theng (drums). 
Salammusik was established in 2006 and won its first major award at Malaysia's Music Industry Awards ('Anugerah Industri Muzik-17' or AIM 17) in 2010, a year before it released its first album 'Salam Musik'. The band have performed at many events and music festivals around the world including the Samosir Music International Festival 2019, Zwarte Cross Festival in Holland and Rock of the World in Malaysia. 
13 years on – albeit with changes in group members and musical direction in-between – the band is still going strong and recently released its third album, 'Riwayat'. The new album comes in a beautifully crafted hardcover book, with music that fuses classical Malay musical elements with contemporary sounds.
The ASEAN Post managed to catch up with three of its band members: Acap, Payung and songwriter, Muhammad Jabir 'Jay Tan' Atan, to talk about their musical influences and how ASEAN countries have a lot in common despite the obvious differences. 
Tell us about the band.
Acap: We are a 10-member band; with a three horns section, one keyboard, a guitar, one drummer, a bassist and four vocalists. We are actually more than 10. We like the idea that our band is a community. Depending on the gig, we will reconstruct the whole band, but 10 would be the standard. 
Previously, the initial band of Salammusik were quite international. At the time, we were a college band and the college I went to had students from around the globe. We had someone from Lebanon, Bangladesh and Nepal. Now, our band consists of people from East and West Malaysia. 
How did you all meet?
Acap: Randomly. Mostly Godsent, I have to say. Like Payung, I have been a fan of his band, 'Skudap Skudip.' I used to follow his band a lot. But for the rest, we started as close friends, neighbours, and then evolved into including friends we met at gigs, a friend of another friend, etc. Sometimes, for example, if our bassist is too busy to perform with us – someone would suddenly appear and say, "I would like to play with you guys." So, we have never really struggled to find people to play in the band. 
How did Salammusik start?
Acap: Before we got the name Salammusik, it was just me and another guy from Lebanon, Tip. And we were just writing songs. But in Lebanon at the time, there was a civil war, and Tip's lyrics were driven by the idea of peace and unification. So, we both started making a lot of songs that resonated with peace. Then, when we had to perform for the first time, a friend suggested we use the word 'salam' (greetings) in Bahasa Malaysia.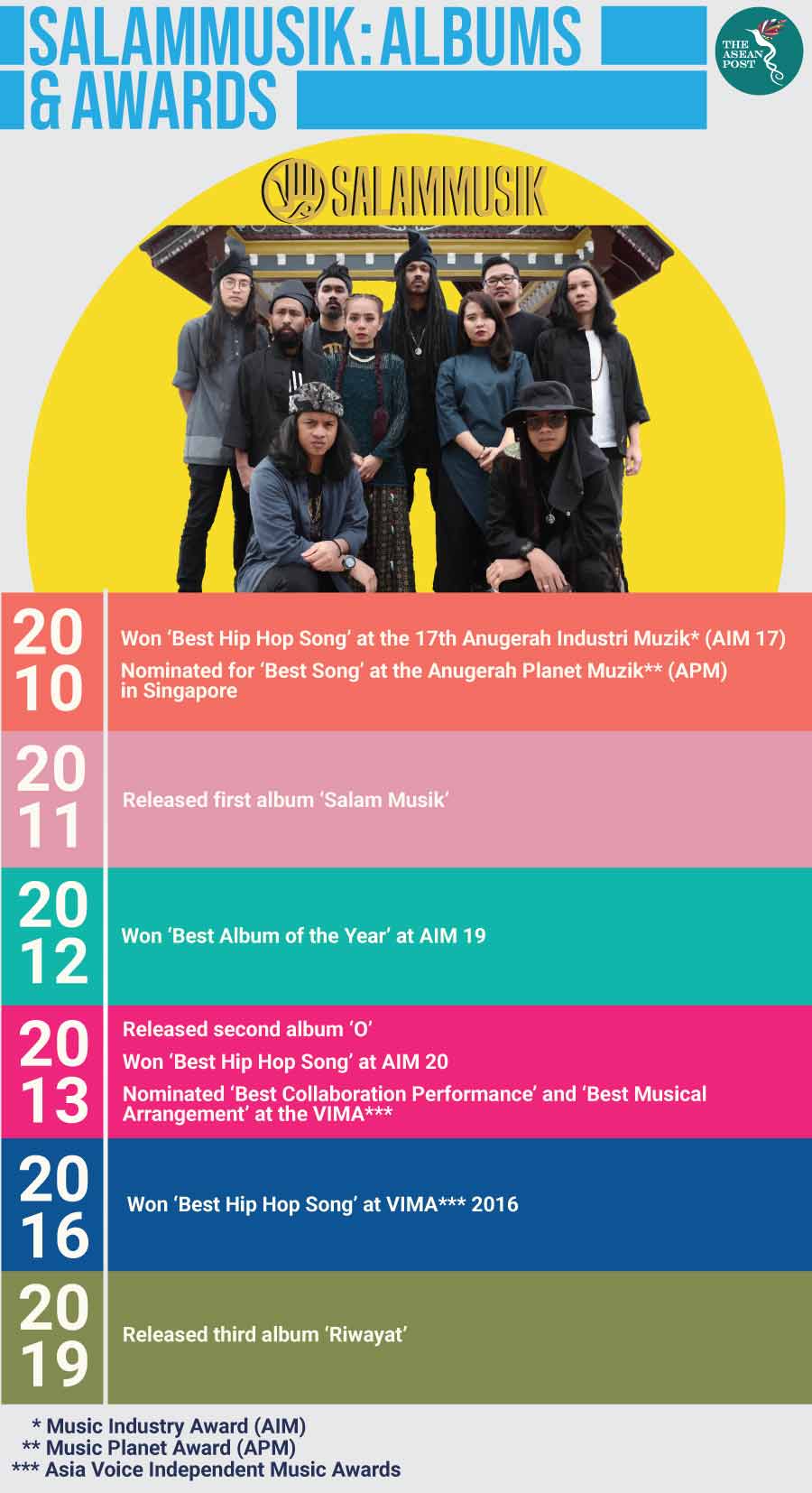 Source: Various
Can you tell us more about your music?
Acap: Musically, we were first influenced by reggae and hip hop. But not too long after, we realised we had to implement a lot of our culture and traditional music, which you can hear in our second album [O]. We now play a mix of modern and traditional music. We don't really have a specific name for this new genre, but Payung would call it irama. Irama means sound. You can listen to it in our new album, 'Riwayat.'
Who influences you?
Acap: My band influences me. My taste in music is different from many of my bandmates. 
Payung: Acap likes reggae and hip hop, but I like classical beats like P. Ramlee.
Often in your music video and shows, you use traditional wear representing Malaysian culture. How important is culture and history to you?
Acap: I think it is important because it is our roots. Whenever we travel, we represent our culture and history. It is important to show others where we are from because we have a rich culture and it's kind of cool to wear tanjak (traditional Malay male headgear).
Arguably, wearing the tanjak would be embarrassing for many especially walking out and about. I feel more comfortable wearing hats than I am wearing tanjak. I am only comfortable wearing it during a performance. I think if we normalise wearing the tanjak maybe one-day people will pick up on this trend. It would be nice if people are proud of their heritage.
Payung: I think it is harder for men to wear traditional headgears daily. For women, it is easier because the kebaya and baju kurung (traditional blouse and dress outfits worn by Malay women in Malaysia) are the national costume and have been normalised into everyday use. 
Have you toured all the countries in ASEAN? What do you think of the region?
Acap: We have performed in Indonesia and Singapore, so far. It would be nice to perform in other neighbouring countries and share with them our music. Recently, at the Samosir Music International Festival in Indonesia, the organisers had all the bands there perform an additional three local Batak (a collective term used to identify ethnic groups in North Sumatra, Indonesia who speak Batak languages) songs. I think it is interesting that music organisations facilitate the import and export of songs and culture.
Payung: The language is also different. So luckily, one of our backup singers who is from Sabah is from the Dusun ethnic group. The language that she uses has similar roots to that of the Batak people, and so it was easy for her to perform.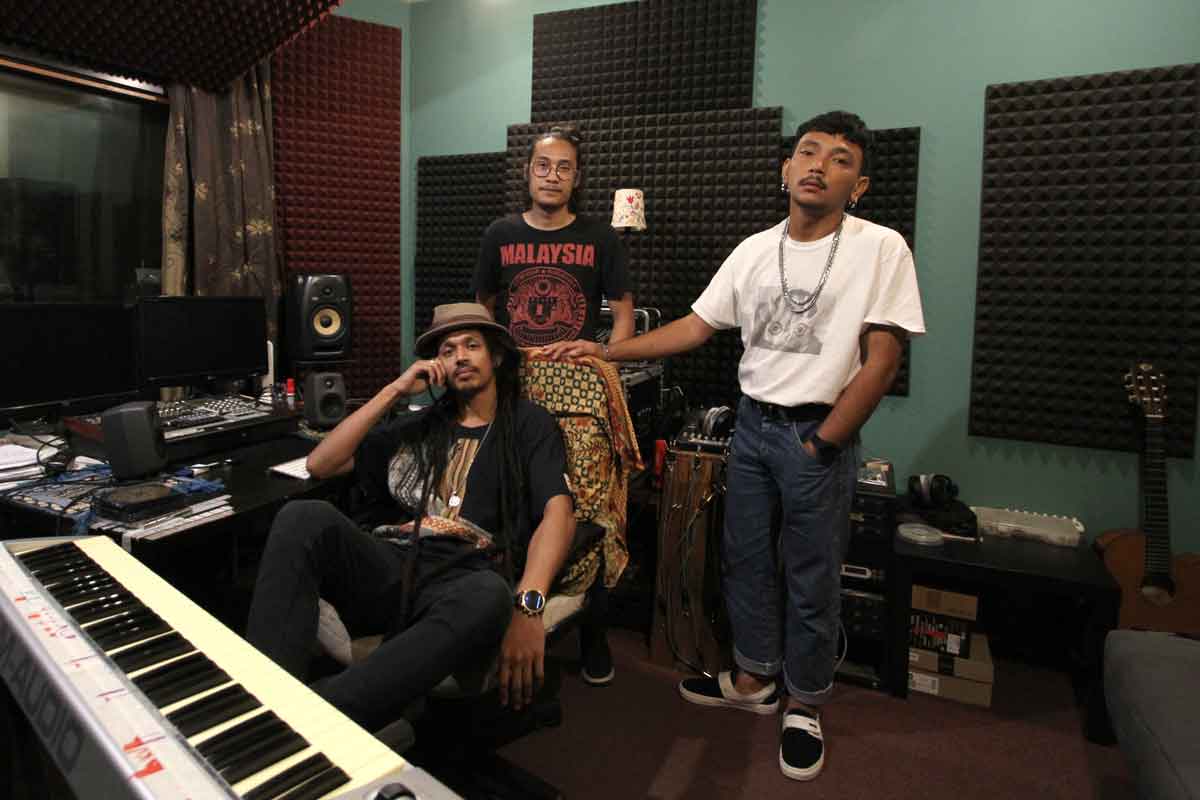 (L-R) Acap, Payung and Jay Tan in their studio. 
How important is ASEAN to you as music makers?
Acap: The Samosir International Music Festival was a great example [of ASEAN's importance] because they tried to collaborate with other countries and get other countries to get involved in their culture. By doing such an event, we get to share each other's art and also experience something new.
Payung: For me, the Batak culture has some resemblance to that of Borneo's culture in terms of the traditional costumes and dances. At the festival, we learnt a lot from their culture and I hope they also learnt from ours.
Acap: I think the culture [between Malaysia and Indonesia] is not too different. We are a Mandailing (a traditional cultural group) and we have this musical instrument called the 'Gong Sembilan'. It's a nine-brass drum instrument played by three people. I think Mandailing falls under the sub-ethnic roots of Batak too. They have a similar percussion instrument to the Gong Sembilan but slightly smaller. 
What is the secret to keeping the band together?
Acap: There is no secret. We are not too strict with each other. I think at the end of the day it's about the art form and what message we want to send to the people. We focus on that rather than arguing with each other. We also like to surround ourselves with positive people who like to do what they do and enjoy music.
Payung: We fight on ideas but never personal things. It is healthier that way. 
Jay Tan: Mutual understanding is very important because we are a big band. So, the 10 and 11 people in the band must be one. And I believe understanding allows us to work as a team.
Do you feel burdened having to represent your country whenever you are overseas?
Payung: There was a time when we were performing in Belgium and a man asked me 'where are you from?' And I said Malaysia, to which he replied, 'I thought Malaysia is an Islamic country. I thought you cannot play music.' So, I took the opportunity to explain to him about our country.
Acap: One of the things that got me into traditional music was when we were performing in Holland in 2008. One guy just came to me and asked me where I was from. He then asked 'How come you are playing reggae music?' 'What kind of music do you guys have down there?' So, for a second, I was taken aback and thought that this guy was not wrong. I then came to a realisation that we have to be rooted in our culture in our music.
Jay Tan: Language is important. When you look at me, you don't instantly think that I am a Malaysian. But when you hear me speak, only then would you know. So, language is important as it is an identity that binds us [as Malaysian].
What do you hope for in the next five years?
Acap: I hope to go around all the ASEAN countries and perform in all the festivals. I hope we can cope with the advancements in technology and music. I also hope the climate will get better and have people to be more aware of how they manage their trash.
Payung: I hope for a stable music industry and for Malaysians to support their artists.
What would be your advice to the youth in Malaysia?
Jay Tan: Maybe not advice but a reminder – to be thankful for everything and everyone around you.
Related articles: