Twenty-nine-year-old Malaysian singer-songwriter Suiko Takahara (not her real name) is not your run-off-the-mill celebrity. The 2013 graduate with a diploma in Electronic Engineering from Japan's National Institute of Technology, Kagawa College, said in an interview in the same year she graduated that she had no dreams of being a star. "I actually prefer sleeping to music," she was quoted as saying.
Yet, despite her reluctance, Takahara and the band she founded in 2009 has performed in various places domestically and internationally, having toured Malaysia and performed in Japan, Korea, Indonesia, Singapore, Holland and Canada. 
In 2018, the band went on an European Tour named #TVStoEURO, where they toured six countries and seven shows, performed at festivals such as Sónar Barcelona as well as the Fusion Festival in Germany. 
In the same year, three of their songs were featured in the Netflix documentary Shirkers.
For someone who was not looking for stardom, stardom certainly found Takahara. 
At less than 30, Takahara is not just an intelligent and prominent member of the Malaysian youth, she has also toured around the world including ASEAN member countries. She has also shown that she is passionate about educating her fellow youth with her song "MALAYSIA" which points out the difference between when West Malaysia (then Malaya) achieved independence (31 August 1957) and 16 September 1963 which marked the joining together of Malaya, North Borneo, Sarawak and Singapore to form Malaysia. Singapore later separated to create its own nation as is the case today.
With this, The ASEAN Post decided to interview Takahara, asking her several questions regarding her thoughts on the state of her youth, her role as an influencer as well as her thoughts on the ASEAN region. Below is what transpired: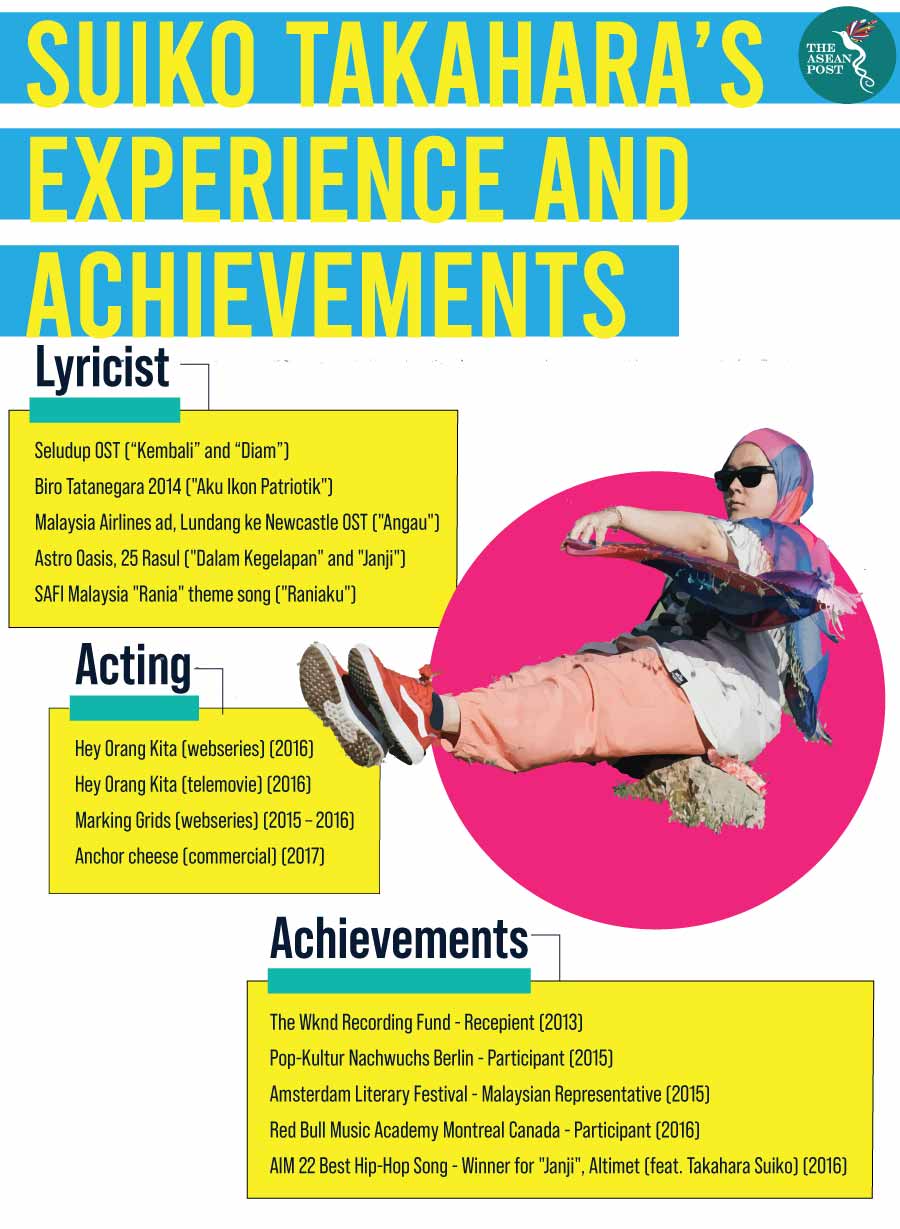 Source: The Venopian Solitude (Photo courtesy of Farhan Syaza)
How important is knowledge of ASEAN as an artist and entertainer?
I feel like it is very important to make a connection with our neighbouring countries because it opens up new prospects of gaining a new audience and market. It is also easier to commute and do business within ASEAN than it is to other continents and other parts of Asia. We also have similar languages, so bridging the language gap within the creative process would be both interesting and more fluid.
You've travelled overseas for some of your work. Did you learn anything new about the culture in some of the ASEAN countries you visited?
We have only managed to travel to Indonesia and Singapore, and both countries have similar culture as Malaysia, so it wasn't as challenging as if we were to travel to, say, northern ASEAN countries. 
But from travelling to Singapore, we did learn a stricter and a more systematic work ethic that is rare in Malaysia's (independent) music culture in general, and that helped us become more disciplined when it comes to our administrative organisation as well. We also learned that the government supports and funds the arts very efficiently, evidently through the initiatives by Esplanade By The Bay, where they have programs actively promoting the culture to both locals and tourists.
On the other hand, in Indonesia, we learned that the independent scene is close to being autonomous from the government, so they had to function with little to no financial help from the government. Due to this, they have developed a sense of strong community amongst the art practitioners, and that constant collaboration between music and visual arts propels the industry further and develops a healthy competition between each other. We also learned that they do not have boundaries between music genres; everything merges well even within the same festival. 
In September last year, you released a song on Twitter you named "MALAYSIA". In your opinion, if many Malaysian youth do not know their own history, do you think there is hope that they will learn, not only about their own country, but neighbouring countries that form the ASEAN bloc as well?
My expectations are low but hopes are high as long as the education system prioritises the accurate history of Malaysia. It is sad to learn that there are a lot of Peninsula Malaysians who think that Sabah and Sarawak is not a part of Malaysia and that they require a passport to go there. Even more disheartening is for me to learn that there are still many who think that Bumiputera consists of only Malays, when in reality in includes the Pribumi (aboriginal) people in Peninsula, Sabah and Sarawak, but evidently most privileges end up going to the Malays.
We have to step up when it comes to learning about our history through and through, so that we can move forward and learn better about our neighbours as well in the near future.
Because of their position, do you believe that local artists and celebrities have a responsibility in terms of educating their fellow citizens?
Because public figures have the attention of a huge chunk of the masses especially in this age of social media where people are attentive towards the people they follow throughout the day (due to constant chimes of notifications), I feel they do carry the responsibility to be accurate about the information that they spread to the public. Misinformation can have dire consequences, and I have experienced it first-hand and learned my lesson.
My motivation for writing MALAYSIA is, I got tired of celebrities themselves saying "Happy Merdeka (Independence) to Malaysia" every 31 August, when in fact Malaysia was formed in 16 September 1963. 1957 is the formation of Persekutuan Tanah Melayu (Federation of Malaya). It's almost as if they're disregarding the complete formation of Malaysia which includes Sabah and Sarawak. After probably three years in a row of getting irritated, I decided to write the song whilst trying to be as accurate as possible.
Related articles:
Aku anak Malaysia (I am a Malaysian)