Illegal hunting poses a greater threat to ASEAN's wildlife than earlier thought according to a study published in the Communications Biology journal last week. The research in three ASEAN countries showed that maintaining habitat quality as a means of protecting tropical biodiversity is, by itself, insufficient, and conservationists should focus their limited resources on addressing overhunting rather than habitat degradation.
While habitat loss and degradation have for decades been considered important drivers leading to the loss of ground dwelling mammal and bird communities in tropical rainforest ecosystems, the study found that illegal hunting using indiscriminate snares may be a more immediate threat than forest degradation through selective logging.
Conducted by Germany's Leibniz Institute for Zoo and Wildlife Research in cooperation with the World Wide Fund for Nature Vietnam (WWF-Vietnam) and the Malaysian government's Sabah Forestry Department, researchers used camera-traps to compare three forest areas with logging concessions in the Malaysian state of Sabah to three protected areas in the Annamite mountain range of Vietnam and Lao PDR known to be subjected to illegal hunting.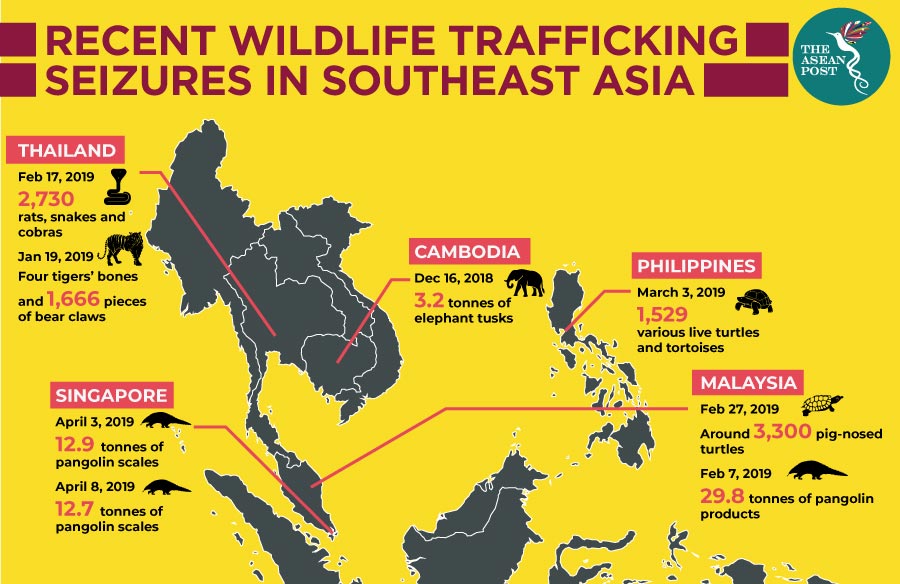 As the two study landscapes generally have similar habitats and faunal communities, it was an opportunity for the researchers to investigate to what extent these drivers of animal loss differ in their impact on tropical rainforest faunal communities.
While logging and illegal hunting negatively affected ground-dwelling mammal and bird communities, illegal hunting was found to have more severe effects on these communities – with overhunted sites in the Annamite mountain range having a higher proportion of species loss than the degraded sites in Sabah despite the forests subject to one of the highest rates of commercial logging of any tropical region in the world. In addition, species which were found in the areas subjected to illegal hunting had smaller distributions than similar species in the logging concessions.
"These results show that logging concessions can be safe havens for mammal and bird communities, particularly if sustainable forest management protocols are applied," said Mashor Mohd Jaini, Director of the Sabah Forestry Department.
Hunters thriving
Other studies have also pointed to illegal hunting as the greatest immediate threat to tropical biodiversity as opposed to deforestation and forest degradation.
A 2016 study published in the Conservation Biology journal titled 'Impacts of hunting on tropical forests in Southeast Asia' found evidence that animal populations have declined sharply across Southeast Asia since 1980 due to hunting, warning that the region will likely lose most of its iconic species within the next few years unless concrete steps are taken to reduce wildlife exploitation to sustainable levels.
Cheaper outboard motors and motorbikes have made it easier for hunters to access remote forests across the region, and the widespread availability of modern guns and wire snares have made it easier to hunt.
Increased affluence has also contributed to the expansion of markets for wild meat, wildlife-derived medicinal products and wild animals as pets, and the perception that certain wildlife products – such as ivory or rhino horn – are status symbols have also fed into the region's thriving illegal wildlife trade.
Southeast Asia is infamous as a hub for the international wildlife trade which generates an estimated US$20 billion annually and is the fourth most profitable criminal trafficking enterprise behind drugs, arms and human trafficking according to the United Nations Office on Drugs and Crime (UNODC). 
While government agencies and the international conservation community have been blamed for their perceived lack of response to overhunting, there have been several high profile instances of harsh sentences.
In March, a Thai court sentenced construction billionaire Premchai Karnasuta to 16 months in jail after finding him guilty of charges related to the poaching of protected animals. President of Thailand's largest construction company, Italian-Thai Development, Premchai was part of a hunting group arrested at a wildlife sanctuary last year after being found with carcasses of protected animals – including the critically endangered black leopard.
In May, Malaysia ordered two Vietnamese poachers to be fined RM1.56 million (US$375,600) after they were caught with wildlife parts from numerous protected species – the highest ever fine imposed for wildlife offences in the country's history.
While these are just two of the more notable instances in which the long arm of the law has caught up with illegal hunters, as long as the wildlife trade remains profitable and animals – and their parts – are seen as status symbols, one of the world's oldest professions will continue to live on in Southeast Asia.
Related articles:
Money laundering and the illegal wildlife trade