International Coffee Day falls on 1 October every year with coffee businesses offering promotions to coffee lovers worldwide. But if coffee is not your cup of tea, it is important to know that it is a key commodity in Southeast Asia.
In 2017, Vietnam, Indonesia, the Philippines, and Cambodia exported a total of US$5.34 billion worth of coffee based on a report by the United States Agency for International Development (USAID). The 2019 report, 'Women in Coffee,' revealed that nearly all coffee in the region is produced on small farms of five hectares or less with millions of people relying on coffee for their livelihoods. 
A 2018 report by the International Coffee Organization (ICO) on 'Gender equality in the coffee sector,' found that at least 30 percent of coffee farms are female-operated. In Southeast Asia, women's contribution to the coffee sector is significant. According to the International Finance Corporation (IFC), women provide up to 80 percent of labour on coffee farms in Northern Sumatra, Indonesia, and about 50 percent in Lam Dong, Vietnam. 
However, the ICO report found that women have systematically lower access to land, credit and information than men. Giving women equal access to resources and support systems can enhance the coffee industry. Empowering women in the coffee sector contributes to gender equality which is one of the goals under the 2030 United Nation (UN) Agenda for Sustainable Development Goals (SDGs).
The International Women's Coffee Alliance (ICWA), a network of independent organisations, are encouraging the participation of women in all aspects of the coffee industry. In coffee production, women are usually involved in picking, sorting and drying of the beans. "Women are more meticulous in picking and sorting," said Robert Francisco, Executive Director of the Philippine Coffee Board, adding that such tasks determine the quality of the beans. 
But women are now playing key roles along the overall coffee value chain including cultivation, processing and marketing. The SNV Netherlands Development Organization demonstrated that when women coffee farmers in Flores had regular access to training, the quality of coffee beans improved and led to a 60 percent increase in the farm gate price.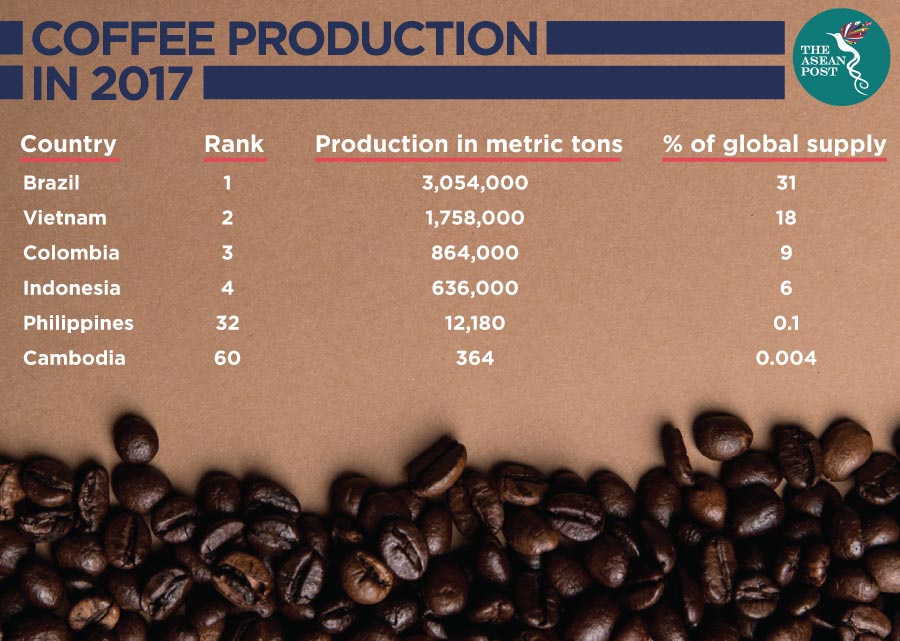 Women-led cooperatives
Southeast Asia's female coffee farmers are setting up women-led cooperatives to have more freedom in decision-making and choosing how to reinvest profits for the benefit of their members. These cooperatives add value in terms of price, quality of beans and improved livelihoods to the coffee sector.
Notable Indonesian cooperatives are Ari Awas Awali and Kokowa Gayo. Established in 2016, Ari Awas Awali was set up to give women farmers a voice and improve their agricultural practices. The cooperation now has 346 women members who each own an average of 0.5 to 2 hectares of land. 
"Women affect the quality of the coffee because they are more careful in processing the coffee," said Ara Siberani, Ari Aras Awali's adviser, adding that the "benefits of being part of a woman's cooperative are that women make decisions and have an opportunity to improve their farming skills." 
In Vietnam, the indigenous K'Ho community is set to improve the country's coffee reputation by growing better-quality, organic Arabica beans. Rolan Co Lieng, who comes from a tradition of small-scale coffee farmers among the indigenous K'Ho community founded a cooperative that aims to transform Vietnam's coffee reputation while safeguarding the community's traditions.
In the Philippines, a descendant of the Sulu royal house, Princess Kumalah 'Lalah' Sug-Elardo, leads the women-led cooperative called People's Alliance for Progress Multi-Purpose Cooperative (PAP-MPC). Among the aims of the cooperative is to improve coffee quality and grow its reach. The PAP-MPC cooperative now has over 13,000 beneficiaries with women forming 85 percent. Members of the PAP-MPC each earn around PHP160,000 (US$3,076.92) annually, allowing them to send their children to school. With the support of organisations like the Philippine Coffee Board Inc (PCBI), the cooperative trains farmers, mostly women, on proper harvesting and processing of coffee.
"I have been working with the farming community in my hometown for 10 years now and we are continually finding ways to further improve the economic stability of farmers," said Sug-Elardo. 
In 2012, the cooperatives brought out their roasted coffee, Sulu Royal Coffee, to Manila markets which soon became a household brand. 
Coffee entrepreneurs
More women are now becoming coffee entrepreneurs either by taking over family coffee businesses or setting up small enterprises. The USAID report revealed that women lead at least half of domestic coffee trading companies in Vietnam, expressing them as more effective in negotiating between buyers and farmers. The study also found that in Indonesia, almost all (99 percent) of female-led coffee businesses reported growth in revenue, with one-third reporting growth of at least 20 percent.
The Belardo Coffee Enterprise is a coffee trading company in the Philippines which began in the 1970s. It is now one of the country's top exporters and longest-running millers and traders in the city of Cavite. General Manager, Bea Belardo is now a third-generation owner who continues to buy directly from farmers. Bea, however, worries about the future of the local coffee industry as "farmers are old and follow traditional practices that compromise quality." 
With women heavily involved in tasks that affect quality, strengthening their role in the coffee value chain can enhance production volumes and help buyers secure a more reliable supply of quality beans. Leveraging on the skills and potential of women is crucial to meet the future global demand for coffee. 
Related articles:
Sustainable coffee in Southeast Asia
ASEAN's commitment to empowering women