With technologies such as artificial intelligence (AI), big data and the Internet of Things (IoT) rapidly permeating society, ASEAN's youth will need to reinvent themselves to stay relevant in the job market.
Fourth Industrial Revolution technologies are stamping their mark in everything from agriculture to the legal profession – streamlining processes, increasing productivity and reducing costs.
The "manufacturing for export" strategy has served as the main economic pillar of most ASEAN countries for the past two decades, but the advent of new technologies such as robotics and automation are eliminating low-skilled and repetitive manufacturing jobs.
Jobs in finance, media and travel are among those which could become obsolete in the next decade or so, with industries such as software engineering, medicine and renewable energy among those expected to see a surge in demand.
In ASEAN, less than one in five youth believe their current skill sets will be relevant for the rest of their lives, highlighting their concern about the need to adapt to technological changes.
A survey of 56,000 ASEAN citizens aged between 15 and 35 commissioned by the World Economic Forum (WEF) last month found that nine percent of respondents felt their current skills are already outdated while 52 percent believe they must update their skills constantly.
Tellingly, only 18 percent believe their current education and skills will last for most of their life – one in which they will face a relentless challenge to upgrade their skills as technology continues to disrupt job markets.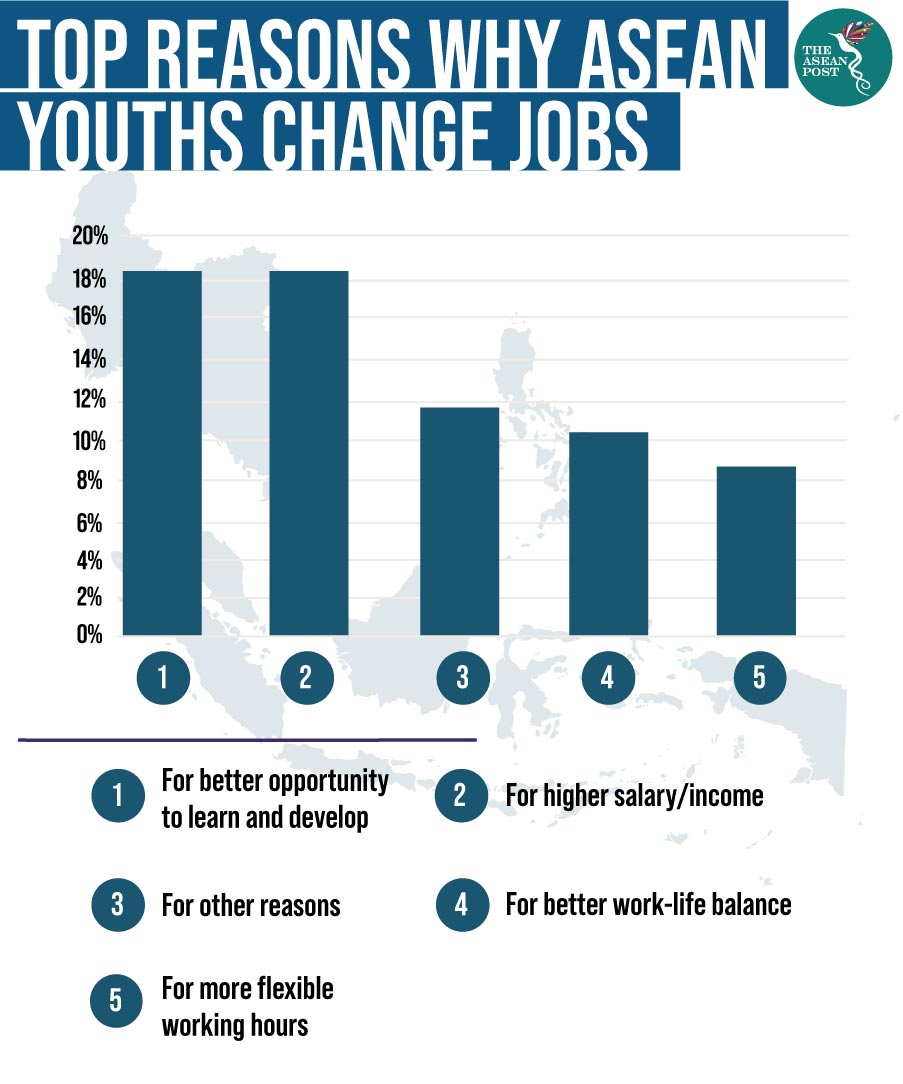 Source: World Economic Forum
These concerns about skills are reflected in respondents' attitudes to jobs, with the majority of them claiming the biggest reason they change jobs is to learn new skills – with the desire to earn a higher income coming in second. 
Other reasons include the longing to create further positive social impact and to have a more innovative working environment.
The survey was run last month and collected responses from six countries; Indonesia, Malaysia, the Philippines, Singapore, Thailand and Vietnam.
Disruption in job market
"It is impossible to predict how technology will change the future of work," said Justin Wood, Head of Asia Pacific and Member of the Executive Committee at the WEF.
"The only certainty is that job markets face accelerating disruption, where the lifespan of many skills is shortening. It is encouraging that ASEAN youths are aware of these challenges and show a deep commitment to lifelong, ongoing learning."
While not a significant figure, 5.7 percent of survey respondents reported having lost a job either because their skills were no longer relevant or because technology had displaced them. And although 16 percent want to work in the technology sector in the future – currently there are only seven percent employed in the field. The survey's findings that STEM skills (including software design and programming, data analytics and math and science) represent three of their four weakest skills is further proof that the region's current education system is not equipping students with the right tools to succeed in the workplaces of the future.
'A learning crisis' 
Warning that the world is "facing a learning crisis," United Nations (UN) Secretary-General Antonio Guterres said that schools are "not equipping young people with the skills they need to navigate the technological revolution" in a message released to mark the UN's International Youth Day on 12 August – which carries the theme 'Transforming Education' for this year.
This is why programmes such as the WEF's ASEAN Digital Skills Vision 2020, launched last November to provide internship and scholarship opportunities, play a key role in closing this knowledge gap.
Some of the region's most influential organisations such as Google, Grab and Microsoft have joined the programme which is focused on training 20 million ASEAN SME workers and hiring 200,000 ASEAN digital workers by next year.
Apart from contributing to shaping the curricula at 20 ASEAN universities and training 40 million ASEAN citizens in digital literacy and online safety, the programme also aims to raise US$2 million in contributions to providing scholarships for ASEAN technology students.
While the region's current education system might be outdated, and there may be limited opportunities for formal on-the-job training, the need to prioritise lifelong learning and the importance of constantly updating skills to meet the demands of the latest technologies will be key for ASEAN's youth as they navigate the region's evolving job landscape.
Related articles:
Drones to revive agro industry