Southeast Asia's craving for chocolate has outpaced the ability of regional farmers to supply cocoa beans. According to the Cocoa Association of Asia, the region's market for chocolate confectionery has grown at an annual rate of five percent, due to the rise of affluent middle incomers consuming more chocolates.
In ASEAN, Indonesia and Malaysia have been the top cocoa bean producers for many years now, with Indonesia as the third-largest cocoa bean exporter in the world after Ghana and the Ivory Coast. But recently, the cocoa bean output has decreased significantly for both countries. 
In 2009, Indonesia produced 850,000 metric tonnes (MT) of cocoa beans, according to Central Statistics Agency (BPS) data. The Indonesia Cocoa Industry Association (AIKI) estimates that the country produced around 260,000 MT of beans in 2017, down 31 percent from the previous year. The country now imports cocoa with 240,000 MT imported in 2018.
In Malaysia, cocoa bean output has decreased from 100,000 MT annually to just 3,000 MT over the last two decades. Imports also rose by 10 percent to 345,000 MT last year. According to Khazanah Research Institute's (KRI) 2018 report titled 'A monograph of a Malaysian cocoa smallholder,' local farmers suffer from low volume and inconsistent cocoa bean quality.  
Losing out to palm oil
The decline in production of cocoa beans in Southeast Asia is due to several factors, including pest and disease management, productivity improvement and low income for farmers.
Rudyanto Hady, sourcing sustainability manager at Barry Callebaut said that the production decline can be ascribed to local farmers' limited skills and lack of funds to develop new plantations. He also said that more than 95 percent of Indonesia's cocoa plantations belong to smallholders. Most smallholders lack the necessary funds to purchase equipment that could boost crop productivity. Scaling up to develop new plantations is also a challenge.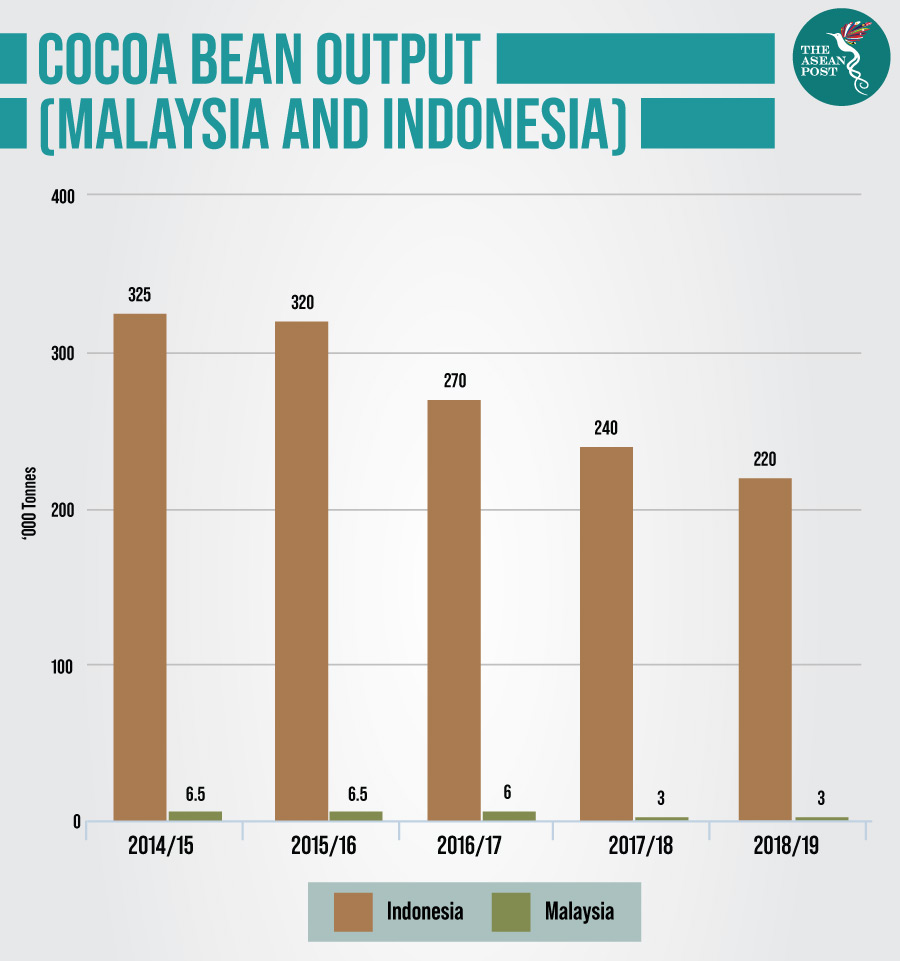 Source: International Cocoa Organization, ICCO
The KRI's report states that in Malaysia, the biggest threat to farmers' profit are pests and diseases, while price volatility, labour shortage and logistics are secondary issues. The World Cocoa Foundation (WCF) estimates that 30 to 40 percent of cocoa production losses in major cocoa-growing countries is caused by pest and disease infestation.
Farmers in the region also have to contend with ageing trees, many of which were first planted in the twentieth century. A 2019 research article written by Laode Geo and Haji Saediman titled 'Analysis of factors affecting cocoa development in Southeast Sulawesi,' found that most cocoa trees have exceeded their productive life, and together with disease attack and poor farming practices, contribute to diminishing cocoa yields. To maintain productivity, smallholder farmers have to cull and replant trees but many of them are reluctant to give up immediate income, leading farmers to abandon their aged cocoa trees for other crops. 
Cocoa bean also yields low incomes which drive farmers to switch to profitable crops like palm oil. Indonesian farmer, Sutaji said that he can produce 700 kilograms of cacao per year costing Rp. 17.5 million (US$1,220), whereas the same amount of oil palm can sell for Rp. 31.5 million (US$22,200) per year.
The KRI report also revealed that the expansion of palm oil planted in Malaysia over the past three decades has led to the exit of cocoa producers from the industry. Although domestic cocoa prices subsequently rebounded to more than RM8,000/MT (US$1,914/MT), this was not enough to revive the local cocoa industry as Malaysia's agricultural focus had predominantly shifted to palm oil.
Both cocoa and palm oil are plantation crops that take years to mature. But in terms of sustainability, palm oil plantations have more adverse effects on the ecosystem because forest clearance has to happen for palm trees to grow. Cocoa, on the other hand, thrives in areas with natural shade that a forest provides. The cocoa plantation is more bio-diverse than a palm plantation. Cocoa can also be cultivated along with other trees and plants, such as coconuts and cloves, giving farmers additional income from the same land.
Home-grown chocolates
Guan Chong Bhd, one of the largest cocoa processors in Southeast Asia, expects an increase in demand for cocoa in the upcoming years. In 2018, Guan Chong's managing director and chief executive officer, Brandon Tay urged the Malaysian government to support cocoa farming and manufacturing in the country and hoped for more allocation to be set aside for research and development (R&D) in downstream manufacturing of cocoa products in Malaysia.
"With global demand of chocolate products on the rise, increased R&D will lead to improved efficiency and innovation in the manufacturing process, thus allowing local players to better compete on the international stage," Tay said.
ASEAN's involvement in the cocoa industry's value chain could have a substantial impact on the economic development of the region. Local players, such as home-grown chocolate makers, are leading the way to revive the cocoa farming sector.  Bean to bar chocolate makers, like Malaysia's Chocolate Concierge, Singapore's Fossa and Lemuel, and Bali's Pod, are popping up across the region. 
"We're making chocolate where it's grown, creating local products that rival better known European chocolates," said Toby Garrit, founder of Pod Bali.
In Indonesia, plans to turn the industry around include a possible national program to boost bean production to 600,000 MT by 2024, a crop that would be big enough to meet local demand and exports, AIKI's chairman, Piter Jasman said in 2018.
The Philippines has also shown interest in the market and is betting big on cocoa as the nation's premium crop. Joining the global supply is part of a strategy to increase global awareness of quality Filipino products and to provide sustainable livelihoods to millions of Filipinos. 
Governments need to work closely with players in the cocoa industry to develop a comprehensive and sustainable plan that would take ASEAN to the top of the cocoa supply chain once again. 
Related articles:
Chocolate industry giants capitalise on Asia's changing tastes
Indonesia's eco-friendly supply chain