How our data is collected, managed and utilised is an issue more ASEAN citizens need to be concerned about.
The ongoing digital transformation in ASEAN, where an increasing number of people are turning to the Internet for their banking, retail and entertainment needs, means that data governance has become more important than ever. 
Data governance is a set of quality control disciplines for collecting, managing, using, improving, maintaining, monitoring and protecting both, personal and non-personal data.
The region's data governance was in the spotlight in January when three ASEAN countries reported data breaches.
Singapore fell victim to a widely publicised data theft of address of 5,400 HIV-positive Singaporeans and 8,800 foreigners, with those on the list fearing they could face discrimination if their names were made public.
Malaysia was also in the news for a data breach of its own in January when personal details of more than one million students and alumni of a well-known Malaysian university were leaked to a tech portal.
In the Philippines, Cebuana Lhuillier, a financial service provider, said that the data of 900,000 of its clients had been accessed without permission.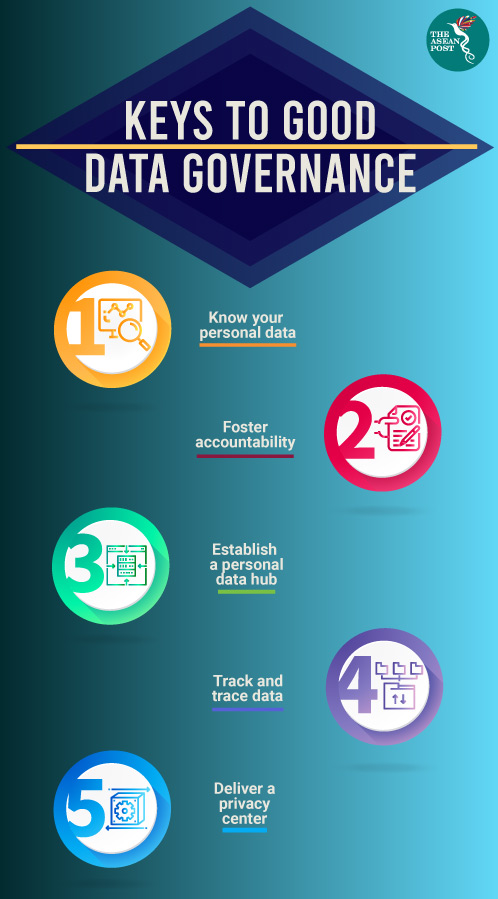 Source: Talend
Data protection a global issue
Extreme weather events and natural disasters were perceived as the greatest threats in the world according to the World Economic Forum (WEF) in their Global Risks Perception Survey last year – with data protection issues being the general public's next biggest worry. Cyberattacks were identified as the third most feared threat while data theft and fraud were fourth – but these issues are not matters which most people would lose sleep over.
"Data governance is not really something most people are aware about until there is a data leak – and then people start questioning why there is no framework," said Janet Liao, Asia Pacific Product Marketing Manager of Talend, a global leader in cloud data integration and data integrity, in an exclusive interview with The ASEAN Post. 
"It is in everyone's interest to know how our data is being governed and managed.
"We need to think about how our information is being used and how do we want data governance to fit in with the social sentiment of society at large," added Liao, who was one of the speakers at Malaysia Tech Week's seminar on data governance. 
With data being used to drive growth, retain customers, create more efficient processes and a variety of other implementations, the need for good data governance is essential for organisations to remain competitive today.
Existing frameworks
While ASEAN countries have existing data privacy laws, data governance frameworks are only now being rolled out.
Thailand's Personal Data Protection Act was only approved and endorsed by the National Legislative Assembly late February, but across the border in Myanmar, there are no specific data privacy laws.
Michael Michalak, the Senior Vice President & Regional Managing Director at the US-ASEAN Business Council, told Singaporean media in April that unlocking ASEAN's digital economy – which is expected to reach US$240 billion in 2025 – and its ability to continue to position itself as a hub for innovation and investment will depend on having strong personal data protection in place.   
Singapore's ASEAN Chairmanship last year saw the adoption of the two initiatives – the ASEAN Framework on Personal Data Protection and the ASEAN Framework on Digital Data Governance, which now forms the basis of the region's internet governance and privacy regulation.
No broad strokes
However, in such a diverse region as ASEAN – with 650 million people spread out across 10 countries – enforcing a "one-size-fits-all" framework will be especially challenging.
"Digital transformation within each country is at a different level so there are no broad strokes we can use to paint data governance frameworks in ASEAN," noted Liao.
"Data governance is actually being pushed more at the organisational level – where industries such as banking and telecommunications have more advanced frameworks," she added.
Instead, what frameworks like these will do is help national laws in different countries gel with one another and strengthen the general data ecosystem.
With initiatives such as these in place, ASEAN will be better positioned to share best practices and progressive policies that facilitate the growth of the digital economy and protect its citizens' data.
Related articles:
Singapore data breach could affect banks
Data protection: Lessons from the EU