The recent nomination of five protected areas to join the ASEAN Heritage Parks network marks another milestone in the region's efforts to conserve its rich but highly threatened biodiversity – and sheds more light on this valuable network of nature reserves and marine parks.
Managed by the ASEAN Centre for Biodiversity (ACB), ASEAN Heritage Parks are defined as "protected areas of high conservation importance which preserve complete spectrums of representative ecosystems of the ASEAN region."
Although ASEAN makes up only three percent of the world's total area, its mountains, forests, rivers, lakes, and seas are home to almost 20 percent of the world's known plant and animal species – outlining the need to protect the region's biodiversity in the face of environmental concerns.
Established in 1984 to generate greater awareness, appreciation and conservation of ASEAN's rich natural heritage through a network of representative protected areas, the ASEAN Heritage Parks were also created to generate greater collaboration among ASEAN member states in preserving their shared natural heritage.
From the initial 11 parks and reserves from six ASEAN members – Brunei, Indonesia, Malaysia, the Philippines, Singapore and Thailand – which signed the ASEAN Declaration of Heritage Parks and Reserves to establish the ASEAN Heritage Parks programme in 1984, the list has now grown to 44 protected areas in the 10-member ASEAN bloc.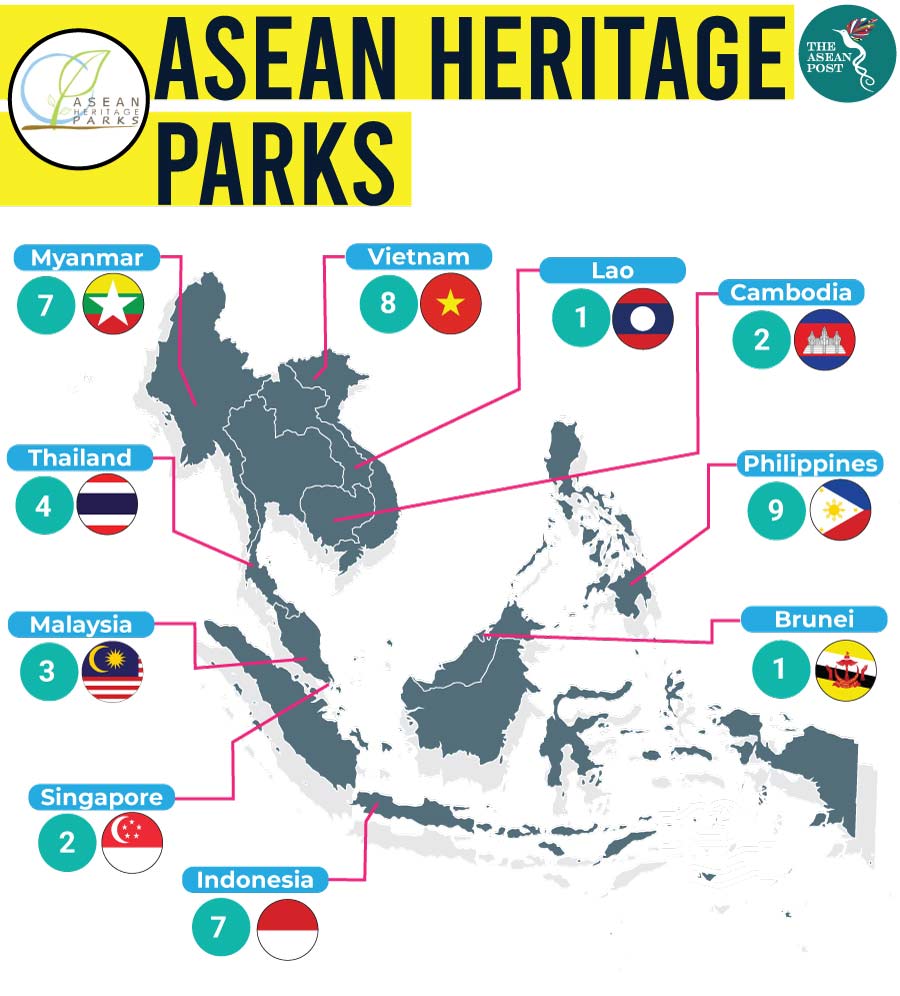 Source: ASEAN Centre for Biodiversity
Quantity and quality
The Hat Chao Mai National Park and Mu Ko Libong Non-hunting Area (Thailand); Mu Ko Ang Thong National Park (Thailand); Lo Go-Xa Mat National Park (Vietnam); Ngoc Linh Nature Reserve (Vietnam); and Htamanthi Wildlife Sanctuary (Myanmar) are the latest nominees to join the ASEAN Heritage Parks during the 21st Meeting of the Governing Board of the ASEAN Centre for Biodiversity (ACB) which was held in Bangkok from 8-9 July, and the recommendations will now have to be approved by ASEAN's environment ministers for listing.
Speaking at an ASEAN Heritage Parks workshop in the Philippines last month, ACB Executive Director Dr Theresa Mundita Lim stressed the need to maintain the high standards of the ASEAN Heritage Parks – which go through a stringent process before being approved by the ACB for nomination.
"More than the quantity, we give value to the quality of the ASEAN Heritage Parks. We must ensure that all these parks meet the minimum management standards, if not the highest," she said.
"With the global environmental issues we are facing today such as species extinction and climate change, and the importance of our ASEAN Heritage Parks in addressing these concerns, it is timely that we review our action plans and strategies while learning from each other," added Dr Lim.
Effective management 
Action plans and strategies for promoting biodiversity and conservation were among the outcomes of a four-day workshop held in Malaysia last month for ASEAN Heritage Park managers and senior officials.
Allowing them to share good practices in effective parks management, the workshop also touched on policies and standards of conservation and ecotourism as practiced in selected ASEAN Heritage Parks.
In ASEAN, conservation efforts focus on engaging different sectors of government and society and emphasising that conservation is a shared responsibility – and one that ASEAN citizens cannot afford to neglect despite the region's rapid development.
ASEAN's socioeconomic growth has lifted millions out of poverty, but as the ACB notes, along with this economic advancement comes escalating consumption and ever-increasing threats to biodiversity such as pollution, marine debris and irresponsible mining.
Inevitably, development sectors such as infrastructure, agriculture, fisheries, mining, energy and tourism have direct and indirect impact on biodiversity and precious ecosystem services such as the provision of food, clean air and water; regulation of natural processes like decomposition of waste, nutrient cycling, and pollination of crops and other plants; as well as providing spiritual and cultural significance. 
Safeguarding biodiversity and ecosystem services are key to the sustainability and success of ASEAN's 650 million citizens – making the protection and promotion of ASEAN Heritage Parks more important than ever.
Related articles: 
Oceans under increasing stress
Can ASEAN cities survive climate change?