Despite the various challenges facing retailers across the region, The Shoppes at Marina Bay Sands continues to be one of ASEAN's premier shopping destinations.
The luxury mall beneath what is perhaps Singapore's most famous building – the Marina Bay Sands hotel – The Shoppes' nearly 800,000 square feet of retail space occupied by brands such as Gucci, Louis Vuitton and Chanel attracted a daily average of 120,000 shoppers last year.
Unaffected by the sluggish global economy and the regional rise of e-commerce, The Shoppes reported a record revenue of US$179 million last year – a seven percent increase from 2017. Tenant sales hit US$1,898 per square foot in 2018 – a 19 percent rise from 2017 – and the tenant occupancy rate was 95.4 percent. Tourism dollars keep rolling in, and this luxury mall accounted for 25 percent of Singapore's tax-free tourist market in 2018.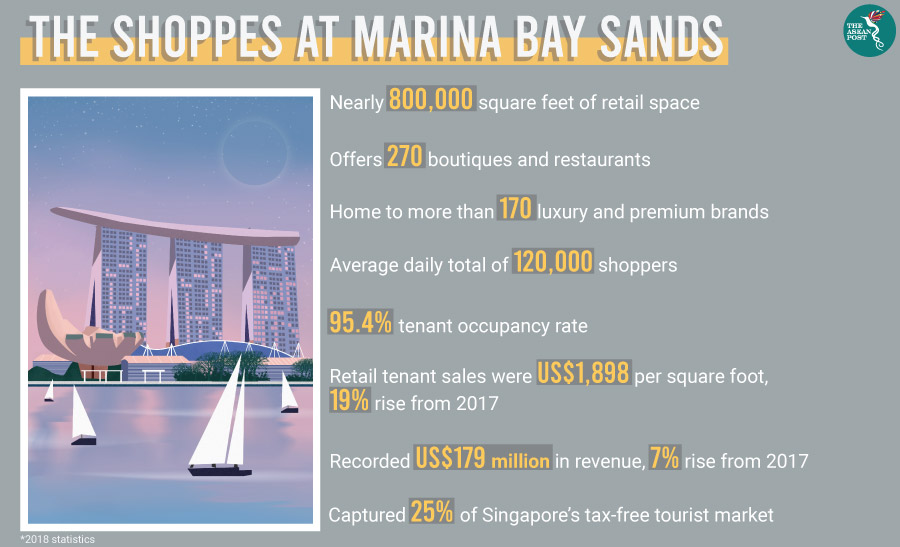 Source: The Shoppes at Marina Bay Sands
While shopping portals such as Lazada, Shopee and Tokopedia dominate the e-commerce landscape in ASEAN, many of the over 170 luxury and premium brands at The Shoppes cater to a different target market. The luxury goods sector is considered recession-proof and many luxury brands do not sell their products online – which contributes to the sense of exclusivity and increased emotional engagement that these brands enjoy. 
"We believe customers still want to be romanced through money-can't-buy experiences that can never be replicated online," said Hazel Chan, Vice President, Retail, The Shoppes at Marina Bay Sands in an exclusive interview with The ASEAN Post.
"While shoppers can compare prices online, nothing offers the personalised high-touch service and brand familiarity the way physical stores do," she added.
On-site tailors who assist guests with on-the-spot alterations for their ready-to-wear collections and privileges such as limousine rides back to their hotels add to the shopping experience at The Shoppes, and coupled with attractive programming such as late-night shopping, in-store exclusives and one of the most generous loyalty programmes in the city state, the strategy has made the luxury mall one of ASEAN's shopping havens.
This has helped The Shoppes win the prestigious Singapore Tourism Board's Best Shopping Experience award four times since opening in 2010, with the most recent win coming last month.
Chan attributed last year's record breaking revenue to a retail remix strategy that started in 2012 when the mall doubled its footprint with luxury brands in the form of duplexes, as well as an expansion into luxury children's wear.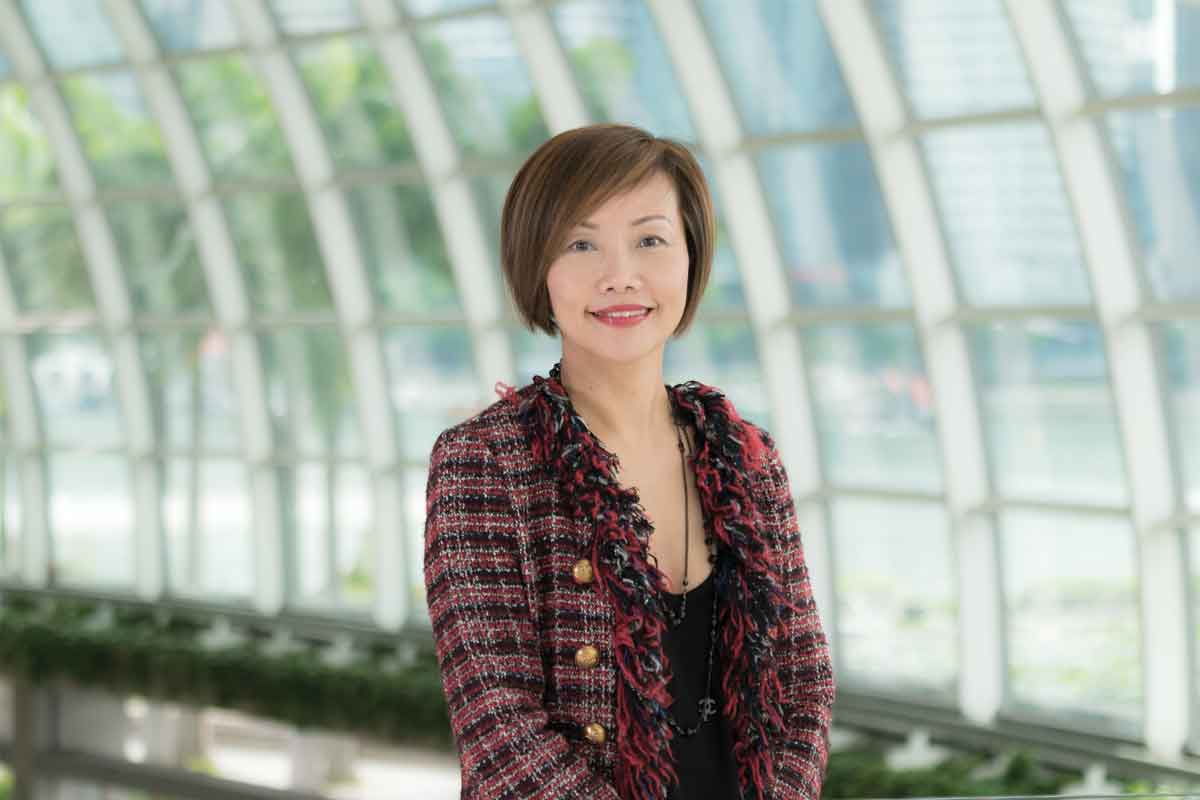 The Shoppes houses one of the region's biggest assemblies of 17 stunning luxury duplex stores which include luxury powerhouses Moncler and Philipp Plein, who have just launched their biggest stores in Asia and Southeast Asia respectively, and provide shoppers with limited edition items by renowned brands that are only stocked at The Shoppes. 
Chanel's Chief Financial Officer Philippe Blondiaux shares Chan's views on the importance of physical shopping experiences and how they cannot be replaced online, and in comments made to the media this week, he insisted that human interaction is key to the relationship between clients and brands.
While Chanel's online revenues rose more than 50 percent in 2018,  Blondiaux stressed that physical contact is essential, noting that the company added more than 3,000 employees last year, many of whom are working in stores.
The Shoppes' strong performance is indicative of the global health of the luxury segment, with Chanel this week reporting a 13 percent increase in last year's revenues to US$11.12 billion with net profits up by 16 percent to US$2.17 billon. Louis Vuitton recorded a 19 percent rise in revenue while Gucci posted a 33 percent surge.
Globally, the world's top 100 luxury goods brands generated US$30 billion more in revenue last year – rising from US$217 billion in 2017 to US$247 billion in 2018 according to the 'Global Powers of Luxury Goods 2019' report by accounting firm Deloitte.
Fourth Industrial Revolution technologies have been key to The Shoppes maintaining its status as the city's go-to shopping destination, with the luxury mall combining customer habits, insights on preferences and business intelligence to formulate marketing and customer relations strategies to drive sales.  
China is one of The Shoppes' key markets, and an increasing number of retailers have incorporated digital payment solutions such as AliPay and WeChat Pay to cater to their Chinese customers.
Recognising that global retail trends and customer demands are constantly evolving, The Shoppes' success in continually engaging shoppers and enhancing their shopping experience means it will remain a force to be reckoned with in the ASEAN retail landscape for years to come.
Related Articles:
World Bank warns trade war harming global economy
E-commerce set to dominate the region in 2019