ASEAN's attractive investment market, along with an expansive digital environment has led to the emergence of a vibrant start-up ecosystem across the region. According to a Bain & Company report, the rise in venture capitalists and private equity investment in the region has helped produce the region's first set of unicorns (companies that rapidly achieve market valuations of US$1 billion or more). 
As of 2018, ASEAN has 10 unicorn start-ups but this number is set to grow in the next five years, with at least 10 more companies reaching unicorn status. Among these unicorns is Grab, a ride-hailing business that is now one of the region's largest after buying out rival Uber's regional business in 2018. Go-Jek from Indonesia is now a rival for Grab, after acquiring unicorn status in 2016. Vietnam's first ever unicorn start-up, VNG Corporation, specialises in online gaming and e-commerce. However, despite efforts by both, the government and large firms, no Thai start-up has come close to reaching the coveted unicorn status as yet.
Vibrant ASEAN
ASEAN's vibrant business environment offers space for new businesses and start-ups to thrive. Start-ups providing fintech, e-commerce and on-demand services are growing from strength to strength in the region. Evidently, e-commerce revenues are expected to surpass US$25 billion by 2020.
The rapid development in the ASEAN region together with an ecosystem of significant investors has led many entrepreneurs to consider building their brands and businesses within the region. The same Bain & Company report stated that 90 percent of investors believe that the strongest market in 2019 after Singapore will be Indonesia and Vietnam. More than 60 percent of these investors predict that technology would be the leading investment sector in 2019.
According to analysis by Accenture, 64 percent of Southeast Asians in 2010 will be below 40 years of age, forming the bulk of the region's workforce, that is young, literate and tech-savvy. And this demographic will be able to handle the booming financial technology sector. If ASEAN hopes to capitalise on this enormous digital potential, it will need to focus on getting the other half of its population online, as reported by the World Economic Forum (WEF). 
Although ASEAN represents a group of culturally, economically and commercially distinct countries, its common trade zone that operates as a unified economy, continues to attract companies and investors alike. This regional advantage encourages cross-border trading and provides companies with opportunities to expand. Former ASEAN Secretary General Le Luong Minh says that "while the region is diverse and varied, the growing middle classes in ASEAN share similar demands and consumption patterns."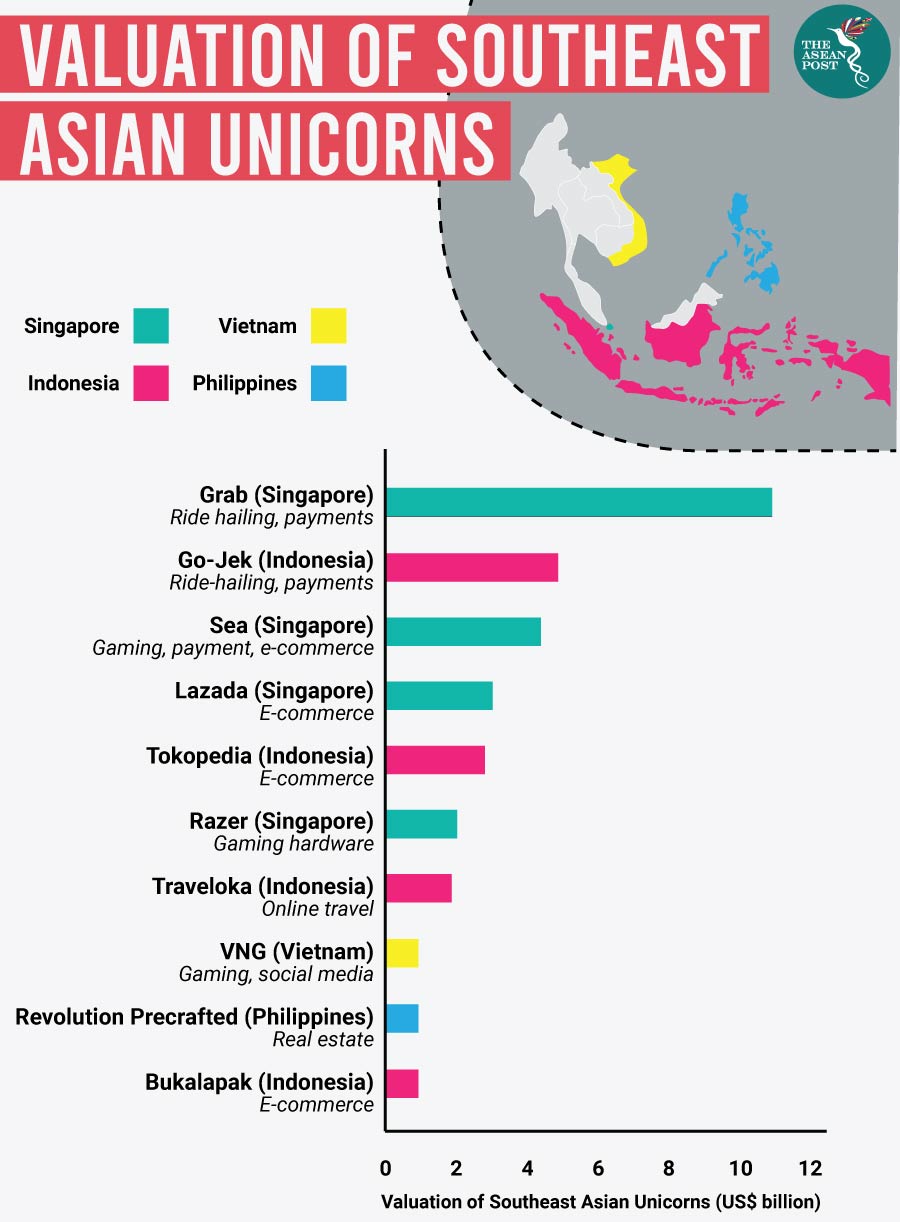 Source: Bain & Company Analysis, 2018
Silicon Valley dream 
Like many start-ups, Southeast Asia's unicorns started from humble beginnings. But since then, they have moved fast to expand their companies and have a combined market value of US$34 billion, ranking Southeast Asia third in the Asia-Pacific region, behind China and India. 
According to Ardi Wirdana of DealStreetAsia, Southeast Asian unicorns – like Grab, Go-Jek and Traveloka – are also responsible for nearly 40 mergers and acquisitions with smaller start-ups in the region. Grab and Go-Jek are looking to become early-stage venture capital investors, while Tokopedia is in talks to acquire multiple start-ups including Sayurbox (an agro-tech start-up using the farm-to-table concept). 
For some start-ups, joining a regional US$1 billion company is an exciting prospect. Agung Nugroho, co-founder of Kudo (a tech start-up), whose company was acquired by Grab in 2017, said that joining Grab was like "a Silicon Valley dream." 
However, there are still many start-ups that prefer to stay independent. Akshay Garg, CEO and co-founder of Kredivo said that "the trend of unicorns becoming active acquirers is positive for the ecosystem, but for founders selling a company to a unicorn it is not necessarily an achievement itself." 
Diversity of start-ups are important to the ecosystem too, seen by the record levels of investments from venture capitalists and private equity. In 2017, the number of recorded venture capital deals rose to 524, four times the number of deals in 2012. Start-ups are disruptive by design, and with more disruption expected in the future, there will certainly be opportunities for more unicorns to emerge. 
The region's cluster of unicorns continues to put a spotlight on the impressive value creation in Southeast Asia. Together with government initiatives and growing populations, unicorn start-ups are expected to increase in ASEAN. 
Related articles:
An overview of doing business in ASEAN
Is ASEAN the new breeding ground for start-ups?