Thailand's Eastern Economic Corridor (EEC) is slated to become an arterial node for trade, investment, and regional transportation, besides also serving as a strategic gateway to the Southeast Asian region. Stretching a total area of 13,000 square kilometres – encompassing the eastern provinces of Rayong, Chonburi and Chachoengsao – it is part of the government's wider Thailand 4.0 plan to transform the economy into Southeast Asia's engine of growth.
The EEC is expected to attract approximately US$46 billion in investments focussed on "S-curve" industries – namely, next generation automotive, aviation and logistics, smart electronics, medical tourism, food, robotics, agriculture and biotechnology.
The Thai government recently inked a memorandum of intent with the Japan External Trade Organization (JETRO) for possible collaboration in the automotive, electronics, medical equipment, aerospace and food sectors. Thailand expects to gain significantly from knowledge and technology transfer from the over 1,000 Japanese companies in the EEC provinces.
Thailand also seeks to capitalise on China's Belt and Road Initiative (BRI) to further develop its infrastructure in the EEC. In a forum in August last year, Kobsak Pootrakul, Minister Attached to the Office of the Prime Minister, acknowledged the importance of the BRI to Thailand's infrastructure ambitions, adding that it would complement plans with the EEC, thus bringing greater economic prosperity to both countries.
In June 2018, Thai Deputy Prime Minister Somkid Jatusripitak addressed a seminar celebrating 60 years of diplomatic ties between South Korea and Thailand. In his speech, he mentioned how cooperation between the two nations would be a win-win situation where Thailand could benefit immensely from Korean innovation and technology and South Korean investors would be able to capitalise on opportunities to invest in development projects and advanced industries in Thailand.
In terms of futureproofing the EEC, the Thai government is keen on working with the United States (US) and in September, signed two memorandums of understanding (MoU) with US businesses to promote Thailand's digital economy and Thailand-US digital trade and investment. US investors remain optimistic about growth prospects in the Land of Smiles and are looking at Thailand as one of many places to invest in order to negate the effects of the US-China trade war.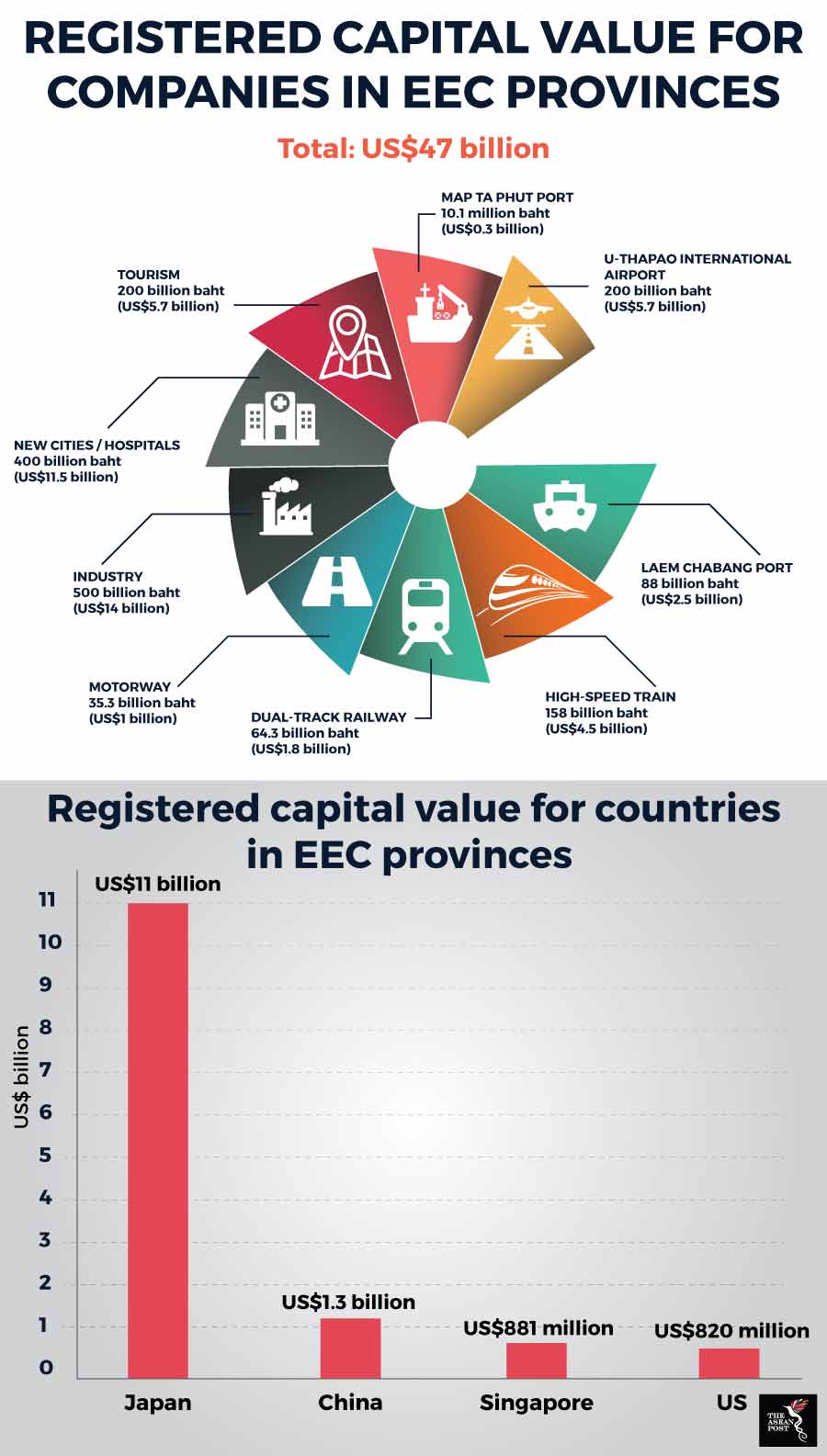 Source: Various
To lure more investors, the Thai government has relaxed certain laws and regulations to facilitate and encourage foreign investors looking to invest in the EEC's initiatives. These include, zero percent corporate income tax for up to 15 years, exemption from existing foreign land ownership restrictions, long-term land lease agreements up to 99 years for commercial and industrial areas, five-year business visas, and a personal income tax rate cap at 15 percent.
On the domestic front, Thailand's state-owned energy company, PTT is seeking partners for a joint bid to build and operate a US$7 billion high-speed rail linking the country's east coast. The 220-kilometre (km) railway will connect Bangkok to Rayong via Chachoengsao, Chonburi and Pattaya. This would be PTT's maiden foray into the railway business, having traditionally been involved in the energy sector.
The steering committee of the EEC Development Policy has acknowledged proposals by the government to develop the digital and communications infrastructure in the EEC worth around US$543 million. The investment would be made over a four-year period starting in 2019 and would include fibre optic networks, big data analytics, Internet of Things (IoT) and smart city development. It is estimated to positively impact over three million people in the area and reduce close to US$152 million in redundant investments.
Infrastructure development on such a scale would also impact the tourism sector. According to official figures, tourist arrivals to the EEC are expected to spike 1.5 times by 2021 to 46.7 million – almost doubling tourism related income for citizens there. Tourism development in the EEC will focus on already famous tourist destinations like Pattaya as well as newer hotspots like Rayong which is slated to become a BIZ City, appealing to business travellers.
Work has already started in order for the vision of the EEC to come to fruition. In October last year, four infrastructure projects worth US$13.2 billion were approved.
Latest projections by the World Bank have revised Thailand's economic growth rates from 4.1 percent to 4.5 percent for 2018. The multilateral institution expects a slowdown over these few years from 2019 to 2020 due to dwindling exports, but with the development of the EEC soon to be in full swing, the shortfall should be negated.
This article was first published by The ASEAN Post on 8 October 2018 and has been updated to reflect the latest data.
Related articles:
Thailand's EEC on track to support next wave of industrialisation