Tomorrow, Indonesian's will go to the ballot box. For the first time in the country's history, the president, vice president, and members of the People's Consultative Assembly (MPR), will be elected on the same day with over 190 million eligible voters. 16 parties will be participating in the elections nationally, with four participating for the first time. This makes the 2019 election the biggest election ever in Indonesia's history. In fact, some reports are already calling it the biggest election in the world.
Eligible voters from all walks of life in Indonesia will be voting for the future of their country in the biggest way possible. Their choices will have far reaching implications in this globalised world, not only for Indonesia nor even just for ASEAN member countries. 
It goes without saying that the voters' choice will be a tough one as several different factors come into play in this election. Will conservatism triumph over moderation? How will the youth and Indonesia's minorities vote? Will the fear of "Chinafication" come into play when voters decide who they want to govern them? Will the fact that the election falls on the same week as Good Friday affect voter turnout? Will the country continue to see a declining voter-turnout? What of Indonesia's long-standing tradition of money-politics? All these questions and more will be answered come the end of tomorrow.
Jokowi versus Prabowo: The rematch
Another focus of this election is the fact that it is a rematch between incumbent Joko "Jokowi" Widodo and former military general, Prabowo Subianto who since 2014 has held the support of Indonesia's conservative Muslims. This time around, however, it's a whole different ball game.
The campaigning period officially kicked-off in September last year with the two contenders releasing white doves and vowing a peaceful campaign period. While attacks were expected and made, these were largely professional compared to the smear campaign aimed at Jokowi back in 2014. 
But apart from a relatively peaceful campaign period, many have noticed a shift in attitudes and strategies as far as Jokowi and Prabowo are concerned. While Jokowi was once seen as a moderate Muslim, even earning the nickname "Indonesia's Obama", his appointment of conservative 75-year-old cleric Ma'ruf Amin as his running mate came – initially - as a shock to many.
In the other corner, Prabowo's appointment of Sandiaga Uno, who is the deputy governor of Jakarta and is seen as a moderate and wealthy businessman, also seems surprisingly like something out of Jokowi's own playbook.
Meanwhile, Indonesia's minorities have expressed a lack of trust for either presidential candidate with many seeming to believe that regardless of who wins, they will still lose.  
Despite this, it is Jokowi who has managed to maintain a lead as far as support from the majority of Indonesians goes. Nonetheless, that lead has been steadily dropping and the fact that Indonesia's voter turnout is expected to remain dismal – especially with many already booking vacations in view of the long Good Friday weekend – the question of how effective a popularity poll will be at determining the winner is brought to question.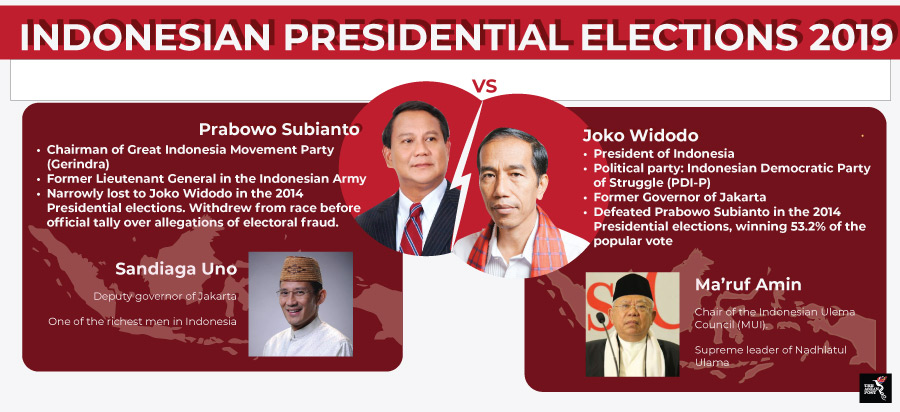 Source: Various
Ma'ruf Amin versus Sandiaga Uno
When Jokowi won in 2014, it was against the push of ultra-conservative Muslims who had accused him of – among other things - being a non-Muslim of Chinese descent. Jokowi managed to secure victory but, even then, by the smallest of margins at 53.2 percent of the popular vote.
Many believe his appointment of Ma'ruf is to avoid being attacked by ultra-conservatives as well as to win some legitimacy among the more conservative Indonesian Muslims.
On the other hand, Prabowo's running mate, Sandiaga Uno, is fairly reminiscent of a younger, vibrant, ambitious, and more moderate Jokowi. Still, many remember that Prabowo was – at least at one time – a stern general who may have possibly been the mastermind behind the smear campaign against Jokowi in 2014 and has even been accused of several human rights violations among which includes the alleged kidnapping of a group of activists around the end of 1997.
Indonesian voters have a huge decision to make tomorrow. That decision will not only chart the course of the country for the next few years but will also form the country's image in the eyes of the world, whether they go with the moderate Jokowi and his conservative friend, Ma'ruf; or with someone whom the ultra-conservatives had at one time supported, Prabowo, and his moderate-ally, Sandiaga. 
The ASEAN Post wishes Indonesia and all its voters the best of luck. 
Semoga berhasil!
Related articles:
Indonesian elections: Conservatism versus moderation