On 17 April 2019, Indonesia will hold its general elections. It will be the first time in the country's history where the president, vice president, and members of the People's Consultative Assembly will be elected on the same day. Indonesia has over 190 million eligible voters, unfortunately, there are now concerns that many may not turn up to do their duty on polling day.  
A recent survey by the Center for Strategic and International Studies (CSIS) shows that at least seven percent of registered voters in the final voter list plan to go on vacation during election week. 
"Our survey showed at least 7 percent of voters plan to go on a vacation. They would automatically not be able to cast their votes," said CSIS researcher Arya Fernandez at Hotel Fairmont in Jakarta on Thursday.
The reason the CSIS believes so many voters will be going on holiday on polling day is that 17 April falls near the long Good Friday / Easter weekend, celebrated by Indonesia's Christian minority. This presents the opportunity for many Indonesians to take a couple of days off from work to spend more time with their families as opposed to deciding the fate of the country's leadership. 
The fact that 2019 presents the same candidates as it did in 2014 does not help matters, according to Fernandez.
"Voters can get bored of the same candidates. They would automatically choose to abstain if they don't prefer (either) the number 1 or number 2 candidate."
Low turnout
Voter turnout in Indonesia for the presidential elections had been relatively high, averaging between 87.9 percent at its lowest and 93.4 percent at its highest. This, however, was only for the periods between the 1955 general election and 1997 general election.
In 2004, voter turnout saw a significant drop and that number has been falling consistently ever since.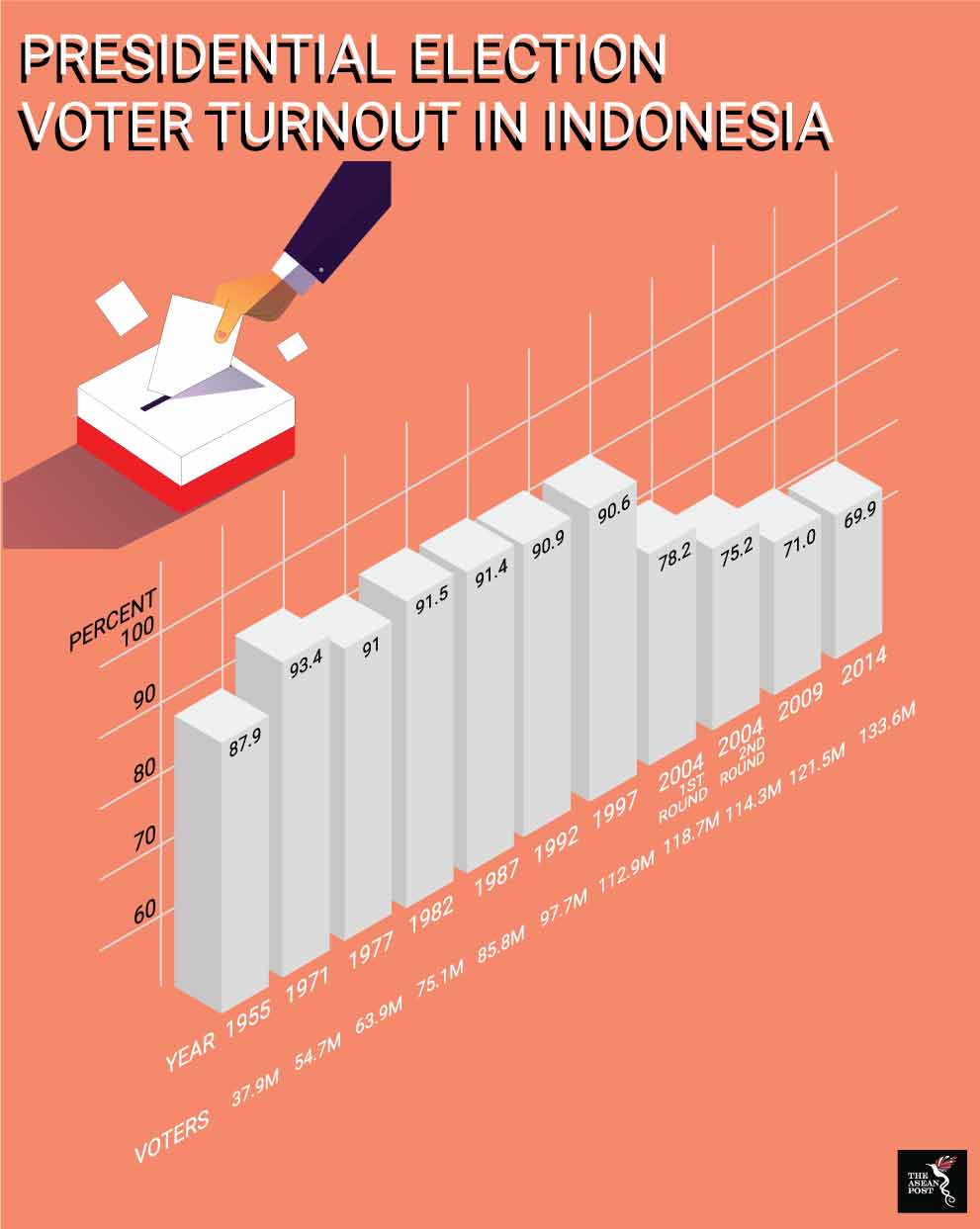 Source: Various
Assumptions can be made as to the reason behind the fall in voter turnout. It's well documented that Indonesians have had their fair share of calamities between the 1997 and 2004 general elections, but it is more than likely the reason for the dip could be due to a combination of factors rather than just one.
Disenchanted youth
A report in November last year took note of the disenchantment among millennials in Indonesia over the country's political establishment. This, however, comes as no surprise as most millennials around the world are going through the same phenomenon. Some experts have attributed this to millennials being more a part of the social media bubble as opposed to the real world.
The report was based on internal research carried out by presidential candidate Prabowo Subianto's campaign team which showed that half of the country's millennials are unlikely to vote because they see politics as what Prabowo's running mate and vice-president candidate, Sandiaga Uno, refers to as "too dirty and too boring."
"About 50 percent of millennials are pretty much disengaged, they are disenfranchised and not too interested in politics. We need to continue to work hard and pound the issues that are relevant to them and we need to convince them, otherwise, they won't come to the voting booth," Sandiaga was quoted as saying back in November.
This is especially significant considering that millennials make up a large portion of the population in Indonesia. According to Syafiq Hasyim, a visiting fellow at the Indonesia Programme of the S. Rajaratnam School of International Studies (RSIS), Singapore; the millennial population in Indonesia currently forms about 34.5 percent to 50 percent of the total population. He defines millennials as those aged between 15 to 35 years old. 
The voting age in Indonesia is 17, although, anyone with a Kartu Tanda Penduduk (identification card) can vote.
With the combination of those going off on holiday, the continuous decline of voters turning up on election day since 2004, and the fact that millennials in Indonesia are largely disenfranchised, it seems likely that Indonesia will not see many of its eligible voters turning up to make their mark on 17 April. Whether this is indeed the case, we'll just have to wait and see.
Related articles:
White doves or another black campaign?