The Malaysian Dutch Business Council (MDBC) Connects Fair is growing from strength to strength.
A trade support organisation that helps to forge and foster business ties between Malaysia and the Netherlands, the MDBC organises monthly events for its over 280 members. This year's edition of the MDBC Connects Fair was the third year the MDBC has organised the event since 2016.
This year's MDBC Connects Fair was held on 28 March at the DoubleTree by Hilton Kuala Lumpur showcased more than 40 service providers from a wide range of industries and sectors and was an avenue for businesses to find new suppliers and partners while having tailored, one-on-one consultations with potential vendors.
"The turnout at the MDBC Connects Fair has increased from previous years and we are happy to see a bigger mix in the audience, with even more walk-ins," said Marco Winter, MDBC's Executive Director. "As word develops about the value of the MDBC Connects Fair, we expect the audience to continue to expand and gain traction within the general Malaysian market," he added. 
Despite there being more exhibitors at this year MDBC Connects Fair, Winter said that attendees felt they still had the time and space to have in-depth consultations with the companies. Winter also noted that exhibitors were happy with new potential customers and the chance to continue to elevate their brand equity, positioning themselves as subject matter experts. Ultimately, as more exhibitors join future editions of the fair, Winter predicts there will be more diversity in their offerings. 
Apart from plans to continue to increase the number of exhibitors and diversity of sectors at next year's MDBC Connects Fair, the MDBC also aims to further develop the interactive discussion portion of the event. Among the topics during this year's interactive discussion titled 'Bridging the Gap to Industry 4.0 – Giving your company the right tools,'  included HR Cloud Computing-3 Executables for Efficiency, Embracing Blockchain for Your Supply Chain and Modern Retail Transition & Your E-Commerce Journey.
"How this gets executed remains to be seen, but (this) may even develop into a more in-depth workshop like a seminar," said Winter. "So no big changes to what seems to be a winning formula, but as always, we will continue to improve this event for all involved."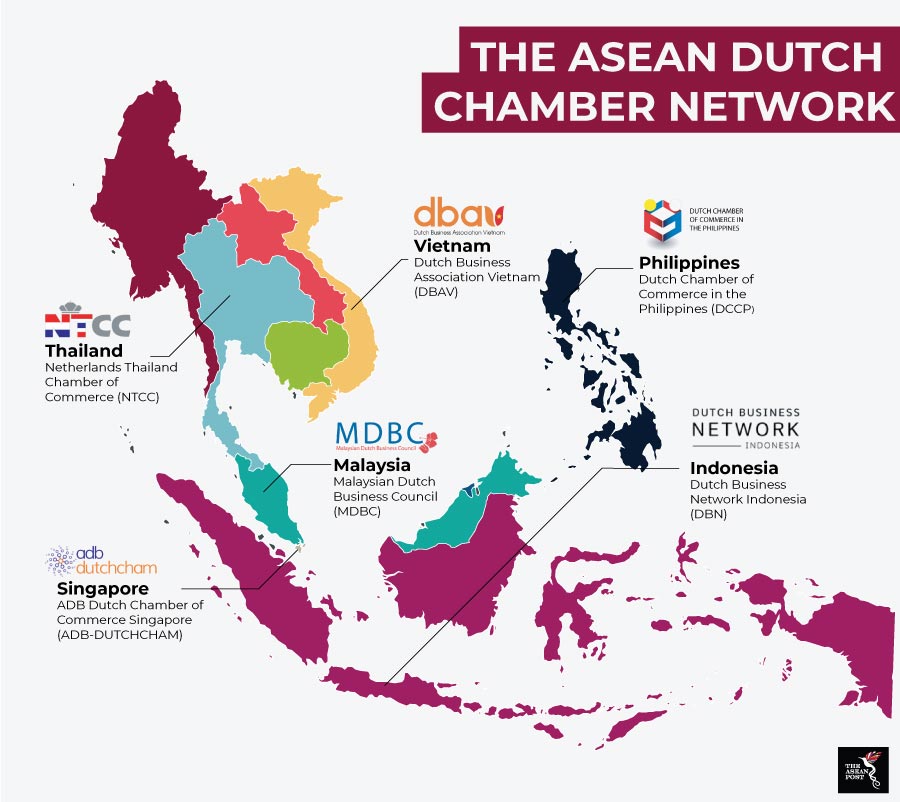 Source: Various
MDBC's role in Malaysia
Malaysia and the Netherlands have strong economic ties, and total bilateral trade and investment between the two countries was recorded at US$7.8 billion and US$2.1 billion, respectively last year according to Malaysia's Ministry of Foreign Affairs.
Established in 1996, the MDBC provides business services and representation for all its members and businesses with Malaysian-Dutch links. Assisting members and newcomers to the Malaysian market on issues related to setting up a company or a representative office in the country, the MDBC also has chapters in Johor and Penang.
One of the most active business councils in Malaysia, the MDBC's various monthly events such as business luncheon talks, forums, exhibitions, company visits and dialogue sessions with relevant Malaysian institutions provides its members with a platform to network and develop valuable business contacts with the Dutch business community in Malaysia, other foreign companies, Malaysian counterparts and government bodies.
The MDBC also has a Student Internship Program (SIP) which was founded in 2004. Strengthening ties between the Netherlands and Malaysia by bringing enthusiastic Dutch students to Malaysia for internships with MDBC member companies, the SIP provides both interns and companies with the best match for their needs. With two batches of students each year (February and September), interns are available for a period of five months – or approximately 100 working days.  
The MDBC is part of the wider ASEAN Dutch Chamber Network (ADCN) which consists of six Dutch chambers of commerce in Indonesia, Malaysia, the Philippines, Singapore, Thailand and Vietnam. Representing a diverse range of Dutch businesses, its members cut across almost every commercial sphere; from manufacturing and financial services to Fast Moving Consumer Goods (FMCG), high-end electronics and communications.
Related articles:
ASEAN integration key to fostering ASEAN-EU trade