Blockchain is an online distributed ledger which allows parties to conduct secure (encrypted) transactions on a decentralised platform where time-stamping ensures that every data is easily traceable. It functions on peer-to-peer networking where there is minimal third-party interference.
Blockchain is not a concept, but a technical application to log data in a way that it cannot be changed or erased de-centrally. Blockchain will bring massive improvements in quality of service, efficiency and organisation for transport companies for current and future operations.
Blockchain technology assures faster settlement and speeds up financial transactions. Besides that, it can also offer more secure data management and smart contracts can be used to automate contracts for execution of rules and obligations, eliminating the need for costly intermediaries.
In the future, we will enjoy an efficient financial system where cross-border transfers can be completed within seconds in the absence of bureaucratic red tape that impedes the process. Blockchain technology can automate the reimbursement of insurance claims as soon as all the pre-set requirements have been met and ensure the settlement of payrolls within the deadline.
The Monetary Authority of Singapore (MAS) and Bank of Canada (BoC) have jointly announced the successful trial of cross-border payments using blockchain technology and central bank digital currencies. They have concluded that there is tremendous potential to increase efficiencies and to reduce risks for cross-border payments by leveraging on blockchain technology.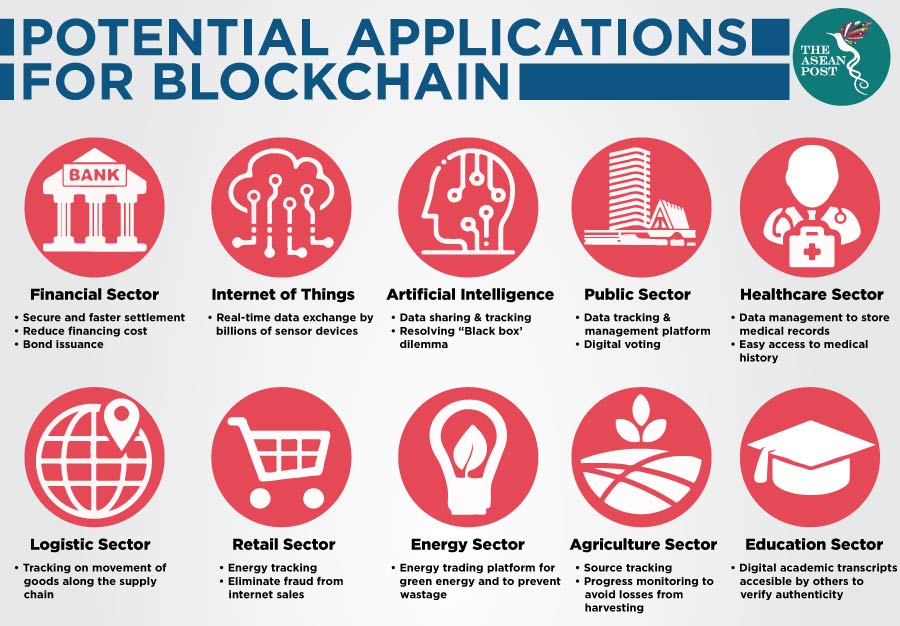 Financing costs
Rising house prices have left fewer, young first-time buyers unable to own a home. The ability to fork out a substantial lump sum of money for the deposit on a house or even a condominium is challenging. Blockchain provides the ultimate solution for most young people who can't afford to purchase a home. Lending loans via blockchain eliminates the need for a 'middle man' from the beginning, transforming the lending process more efficiently.
Moreover, the credit score of a person is another crucial evaluation criterion to get a loan approved from a bank. Prior to placing a deposit on a house, the bank could reject the loan due to an unsatisfactory credit rating, which seems unfair for many young people as they have yet to build a good credit history for enhancing their creditworthiness.
In fact, not having a credit card might be harder for the applicant to obtain a loan as the bank has no proof of payment history. One of the features of blockchain is to store data from its creation to completion, hence it can trace more than just a credit score, it can also take into consideration other factors that may argue that the applicant can be trusted with a loan.
Bond issuance
One of the most promising and transformative applications of blockchain is in charity and the business crowdfunding sector. In 2015, more than US$34 billion was raised globally via crowdfunding, whereas venture capital funding raised approximately US$30 billion that year. Furthermore, current trends show that crowdfunding will surpass venture capital in the next few years as the leading source of start-up financing. By leveraging on blockchain technology, an individual will be able to track his or her investment in real-time to monitor where their money is going. 
It offers an alternative for new start-ups and charities to assure investors or donors that their funds will be appropriately used, adequately protected and not misused for criminal purposes by using a smart contract to automate the fundraising process.
In 2018, the World Bank launched the first public bond powered by blockchain, "bond-I" to examine the practicability of this technology in bond sales. The Commonwealth Bank of Australia (CBAUF) was assigned to manage the bond and raised US$73 billion for the World Bank. The World Bank bond is similar to the blockchain-based bond issued by German automaker, Daimler in 2017.
Blockchain can help to streamline the bond issuing processes, which has been heavily dependent on paperwork for decades. In Australia, the country's stock exchange plans to replace its current stock clearing and settlement system with blockchain technology by the end of 2020.
The financial sector isn't the only one that will benefit from blockchain technology. But it's clear that it stands to be a lot better with this technology in place.
Tay Yee Ming is a principal consultant at 27 Advisory. Having more than 27 years in business, 27 Group is a 100 percent Malaysian owned local consulting firm that is fast, flexible and focused with unique expertise that blends local socio-economic policy settings, global engineering-built assets and detailed financial analyses. Read more about 27 Group's consulting services at 27.group.
Related articles:
Blockchain gaining ground in Southeast Asia