Despite the big data, analytics and artificial intelligence (AI) inherent in the Internet of Things (IoT), human capital remains the most important asset for the BMW Group as it embraces Fourth Industrial Revolution (Industry 4.0) technology. 
The iconic German car manufacturer's Regensburg plant was recently chosen as a 'Lighthouse of the Fourth Industrial Revolution' by the World Economic Forum (WEF), a term it uses for 16 selected factories which have successfully incorporated Industry 4.0 technologies in their processes. The WEF shortlisted 1,000 factories from various sectors before BMW Group's Regensburg plant was selected in January when IoT was found to have cut the time to deploy all new applications by 80 percent, leading to a significant reduction in logistics costs.
"The creativity and experience of our associates are the key drivers of effective innovations and consequently of our production system as well," said Manfred Erlacher, Plant Director at BMW Group's Regensburg plant. "Once a smart solution is successfully implemented, it soon spreads to other areas of production and other BMW Group sites."
With 30 production and assembly plants in 14 countries capable of delivering a global daily output of around 10,000 vehicles, split between more than 40 different BMW, MINI and Rolls-Royce models, it is evident that IoT has huge potential for the BMW Group.
The BMW Group's IoT platform offers its employees a wide range of digital tools and accessories which they can combine to create their own plug-and-play solutions, and it's an approach that keeps people firmly focused on value creation and offers them even more scope to shape their own workstations.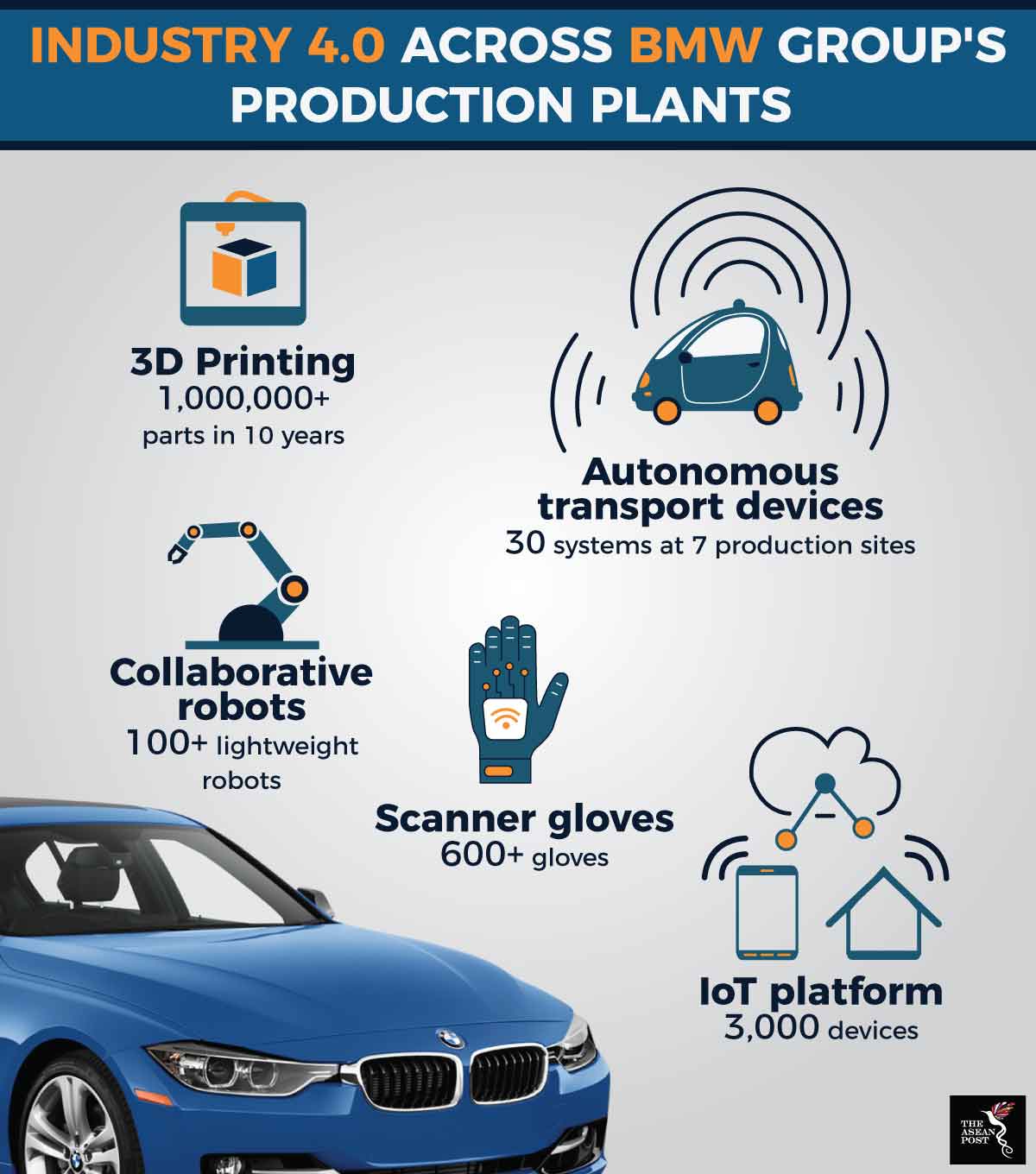 Source: BMW Group
Global, Regional Impact
Regarded as physical devices, vehicles and household appliances which connect to each other through sensors and networks are all part of IoT which is rapidly gaining a foothold in our daily lives. It is present in everything from the smartphones in our pockets to the drones flying in the skies above us.
IoT could offer a potential economic impact of up to US$3.7 trillion in factories by 2025, and regionally, consulting firm Frost and Sullivan expects spending on IoT implementations in ASEAN to grow 35 percent from an estimated US$1.68 billion in 2015 to US$7.35 billion in 2020. Research firm Gartner last year predicted that 14.2 billion connected things will be in use this year, and that total will grow to 25 billion by 2021 – producing an immense volume of data. BMW's own IoT platform currently connects over 3,000 machines, robots and autonomous transport systems.
As a global production hub, ASEAN currently manufactures four million cars and trucks a year. Thailand has the most developed automotive manufacturing industry in ASEAN with BMW, Ford, Toyota and Honda all having factories in the country. 
Malaysia and Vietnam also have strong automotive sectors, but ASEAN's implementation of IoT, especially Industrial Internet of Things - a term used to describe the application of interconnected sensors and networks to create a more efficient manufacturing processes – is far behind other countries. 
Some estimates put the figure of automated production lines in the region at around 30 to 40 percent, and while investment in IoT and creating smart factories is costly, it is essential to driving a scalable Industry 4.0 in ASEAN.
Technology Transfer
A report titled 'Industry 4.0: Reinvigorating ASEAN Manufacturing for the Future,' published by consulting firm McKinsey in February 2018 advised ASEAN companies to enter global partnerships to improve their Industry 4.0 capabilities, noting that companies should build deep relationships with global players and technology providers to ensure access to the latest technologies. In exchange for access to these technologies, ASEAN companies can offer global players access to local markets for their products. Tie-ups such as the one Japanese electronics giant Hitachi initiated in Thailand last September – where it opened a centre to provide IoT solutions for the country's manufacturers, with plans to expand the service to Vietnam and Indonesia – will also be key to pushing the industry forward.
As data volume, computing power and connectivity increases across ASEAN, the region's factories should look towards Industry 4.0 technologies such as IoT to improve their productivity and sustain growth. But with one of the biggest deterrents to IoT adaptation across the region being its relatively underdeveloped digital talent base, humans will play an equally important role as the technology they work alongside with.
"You cannot implement technology effectively without training the relevant employees," stressed Andreas Hemmerle from BMW Group's Corporate Communications and Governmental Affairs department.
"One of the main tasks in the Fourth Industrial Revolution is to identify highly effective applications and to standardise and scale these rapidly within an international production system, and nobody has a better take on a solution's effectiveness than the people in the process!"
Related Articles:
The potential of the Internet of Things for ASEAN
Malaysian automotive sector on the rise