For the past few years Malaysia's automotive sector has proven itself to be one of Malaysia's key industries. Figures from last year reveal that the sector played a significant role in the country's economy, contributing 4.2 percent to the country's total gross domestic product (GDP).
On its own, the automotive sector continues to improve, demonstrating growth in many segments within the sector.
In a briefing on the overview of the Malaysian automotive sector in 2018 by Malaysia Automotive, Robotics and IoT Institute (MARii), it was revealed that automotive exports saw significant gains and even reached record figures. According to MARii, parts and component exports hit a historic high of US$2.9 billion in 2018. Meanwhile, vehicle exports bounced back from its decline in 2017, breaking the US$500,000 mark for the first time. On top of that, remanufactured parts and components saw an increase to US$127.2 million, a steady year on year increase ever since MARii began reviewing the sector's performance in 2016.
MARii also reported that there has been an increase in public buy-in and awareness on future mobility, energy efficiency and vehicle safety. As more and more people become conscious of climate change and the need to reduce carbon emissions, Energy Efficient Vehicles (EEV) penetration surpassed its 2018 target, reaching 62 percent. This increase could also signify there is public interest in fuel savings as oil prices have been uncertain recently. For 2019, MARii has set an ambitious 70 percent penetration for EEVs in the country.
"The key figures presented today are a clear signal that the automotive industry intends to lead Malaysia's drive towards emerging as a serious contender in the regional and global markets," Ong Kian Ming, the Malaysian Deputy Minister of International Trade and Industry (MITI) said at the briefing.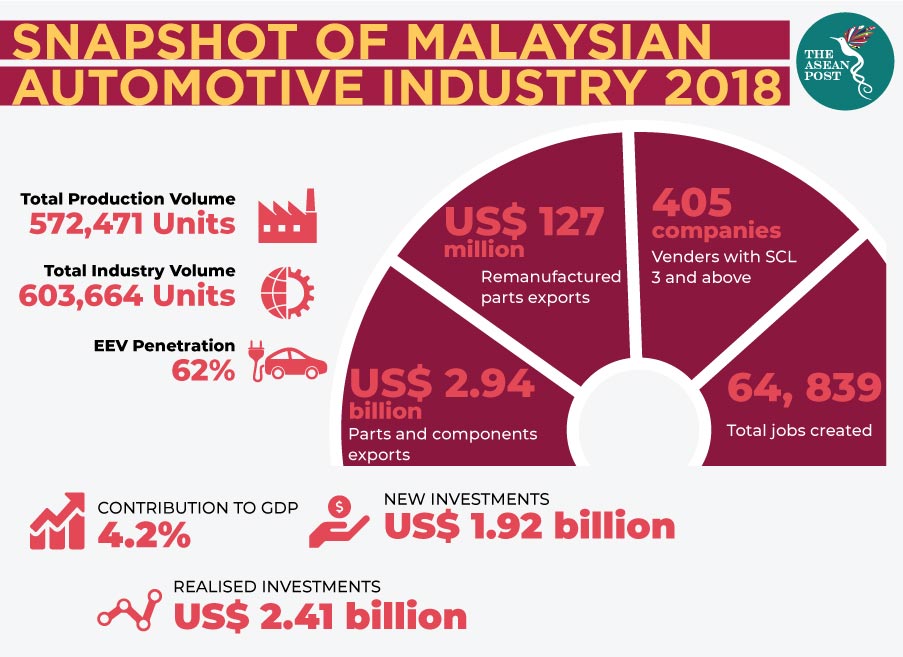 Big plans for 2019
Both MITI and MARii have plans to consolidate the excellent performance of last year through various initiatives and policies. Among them include focusing on exports – specifically parts and components exports – as figures from last year show that it is one of the best performing segments of the sector. MITI has targeted an export value of US$3.2 billion in 2019, up 7.7 percent from last year's US$2.9 billion.
"When we talk about the automotive sector, the parts and components is an area where a lot of our manufacturers and vendors have an advantage in," Ong said.
At the briefing, Ong mentioned that his ministry is coming up with initiatives to connect Malaysian suppliers with international buyers.
"For example, we will bring Perodua vendors to go meet Daihatsu in Japan so that there is potential to be explored in terms of exporting — not just to sell to Perodua, but also sell to the mother company," Ong clarified.
Ong also said that MITI is planning a policy on remanufacturing which is slated to be announced by this year. Remanufacturing refers to the process of refurbishing or restoring existing parts or components.
"This is one of the areas that we identified as a potential area of growth because there is a lot of demand, not just in Malaysia, but also in the region," he explained.
Embracing the Fourth Industrial Revolution, MARii has outlined its intentions of developing technology and talent related to big data, robotics and other emerging technology trends. The government organisation announced that it will establish an Industry 4.0 Academy which offers specialised Technical and Vocational Education and Training (TVET) programmes, as well as diploma, degree and masters programmes. Aside from that, it is also looking into manufacturing lithium-ion batteries and electric buses.
"These elements are the key components in the soon-to-be-launched National Automotive Policy to further push the industry towards global competitiveness in a future digital economy that requires quick adaptation to latest technology" said Hairil Yahri Yaacob, Senior Director of the Sectoral Policy Division at MITI.
Related articles:
Bright prospects for the Southeast Asian automotive industry
Transportation industry to drive oil demand in Southeast Asia
Markets that matter most to ASEAN's growth: Automotive