Southeast Asia has been touted as one of the world's fastest growing regions. Bloomberg reported last year that Southeast Asia has a population of 620 million people and an economy worth US$2.6 trillion. This regional economy is expected to keep growing and the World Economic Forum predicted in 2017 that it will have the world's fifth largest economy by 2020.
The Bloomberg report also indicates that growth in Association of Southeast Asian Nations (ASEAN) is forecasted to be at 4.9% in 2018 with Myanmar, Vietnam and the Philippines being the fastest growing economies in the region. The Nikkei Asian Review revealed in November 2017 that ASEAN nations – particularly Singapore, Vietnam, Philippines, Thailand, Indonesia and Malaysia – experienced good economic growth. Even Lao PDR was named by the World Bank in 2017 as one of the fastest growing economies in East Asia and the Pacific region.
Brunei however seems to be the exception to the rule. The country's economy that is completely dependent on oil exports has been slowing lately. Previously, Brunei's oil exports have been the backbone of the country's economy, allowing the government there to provide welfare to their citizens and also contributing to the country's high gross domestic product (GDP) per capita.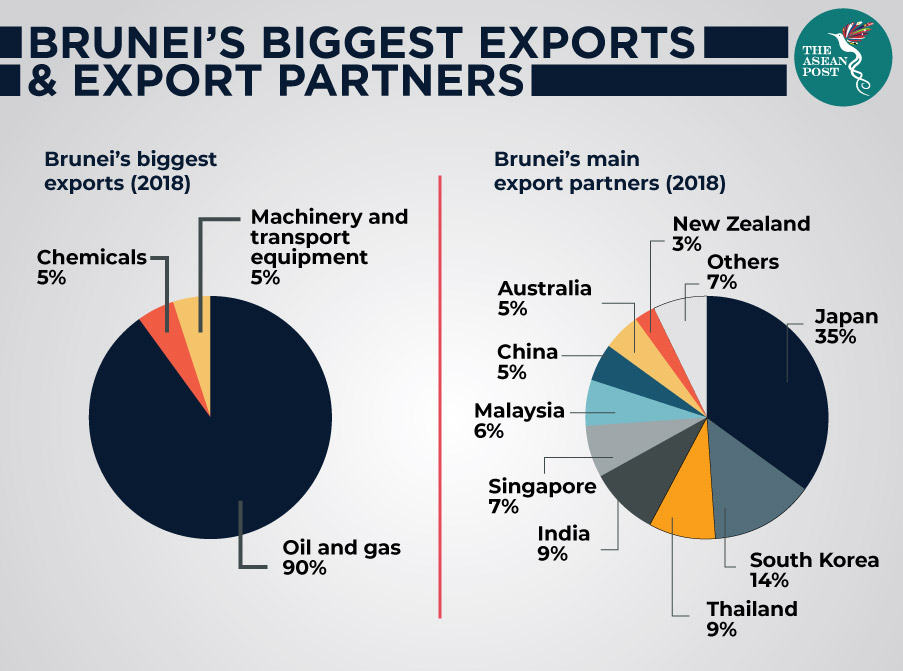 However, the oil rich country has been affected as a result of lowering global oil prices. According to World Bank data, Brunei used to have one of the highest GDP per capita in the world, similar to other oil rich countries such as the United Arab Emirates and Saudi Arabia. Data shows that there has been a significant drop in GDP per capita in Brunei over the last five years or so. In 2011, Brunei's GDP per capita peaked at US$36,000. At the end of 2016, Brunei had a GDP per capita of US$31,000 – an average drop of around US$1000 a year. Economic statistics website, Trading Economics revealed this year that Brunei's GDP per capita is forecasted to drop even further in 2018 to US$28,000.
When global oil prices plunged in 2015, an analysis by Paul Pryce of UPH Analytics in 2016 revealed that government revenue decreased by 70% in 2016. According to Brunei's Department of Economic Planning and Development in 2016, Brunei recorded negative growth that year, with a GDP decline of 2.5%. Meanwhile, the IMF has forecasted that while Brunei's economy contracted to -1.3% in 2017, it will finally chart positive growth in 2018 with an increase of 0.7%. Brunei was even listed in Forbes Magazine in December 2017 as one of "Asia's Five Weakest Economies by Growth."
Brunei has to realise that it cannot depend on oil forever, especially at this point in time. Song Seng Wun, an economist from CIMB Singapore told Bloomberg in December 2017 that, "…they [Brunei] can't just pump oil to compensate for oil prices, and even if they did, the demand wouldn't support it."
Despite slow growth, the government of Brunei led by Sultan Haji Hassanal Bolkiah has implemented various reforms to improve the country's economy. These reforms have not gone unnoticed as Brunei has been named the world's most improved country for the third year in a row in the World Bank's Doing Business Report 2018. The report measures the regulatory environment in a country's economy – assessing the conduciveness of starting a business there.
Brunei's move to diversify their economy is starting to bear fruit. The Borneo Bulletin reported in 2017 that foreign investment in other sectors apart from oil and gas have risen from 2% of total foreign investments in 2012 to 32% in 2015. Brunei is also looking to bolster its tourism sector. The Straits Times reported in 2017 that the government of Brunei is looking to raise its tourism sector's contribution from just 1.1% of the GDP to 3%.
While Brunei has been making moves to improve and diversify its economy, oil still dominates its export numbers. Government data from 2017 indicated that gas and oil mining still accounted for 41% of the country's GDP. As the oil industry continues to struggle for stability, Brunei needs to quickly look into diversifying its economy before another oil crisis hits and shifts the country into more challenging territory.
Related articles:
The Philippines tops energy ranking for environmental sustainability
Building a network of smart cities in ASEAN