At a time when every Southeast Asian economy has been hit hard by the COVID-19 pandemic – ASEAN member state Brunei reported close to an eight percent increase in car sales in the first five months of 2020. This is indicative of the insatiable appetite of Bruneians' for cars. 
According to figures released by the ASEAN Automotive Federation, a total of 5,388 units of cars were sold in the Sultanate within that period, compared to 4,966 units sold within the same period last year. This is in sharp contrast to the 43 percent car sales contraction in other ASEAN member states due to the coronavirus lockdowns. 
There are two reasons that can be attributed to Brunei bucking the trend.
Firstly, is Brunei's success in curbing the spread of the COVID-19 outbreak. The first case was detected on 9 March, 2020, and after sustained measures, the sultanate has beaten the pandemic. With just three deaths, 141 cases, and no new cases reported in over 69 days – the government of Brunei has eased the country's lockdown in phases, while stimulus and other benefits to local industries and businesses have put the economy back on track. The jump in car sales points to that.
The more important reason why car ownership sees no signs of declining is due to the country's lack of public transport.
According to the Land Transport White Paper 2013, prepared by the Ministry of Development and Centre for Strategic and Policy Studies (CSPS), buses constitute the sole means of land public transport in Brunei – other than taxis, which are generally in short supply. Taxis play a minor role in public transportation in Brunei. 
Brunei is perhaps the only ASEAN member state which still lacks a wider public transport network.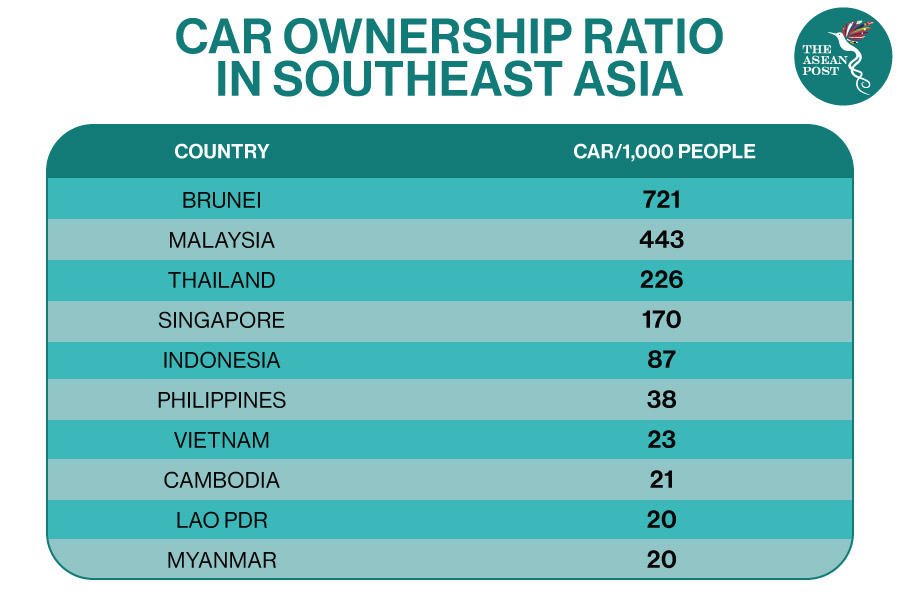 An academic at Universiti Brunei Darussalam (UBD) stated: "I feel the biggest contributor has to be the lack of public transport. Most privately operated buses ply in Brunei-Muara district. The bus service, which is available from 6.30 am to 6:00 pm, does not cover even entire Brunei-Muara as it has limited routes. Most buses operate from Bandar Seri Begawan (BSB) terminal. The routes are such that sometimes one has to go back to BSB terminal to go to another place. Since there is no evening or night service, people depend on illegal taxis operated by expats and locals."
This situation often results in expatriates (expats) seriously considering to get a car regardless of how long they end up being in Brunei, he said, adding that because of highly subsidised cheap petrol (one litre costs just US$0.39) and easier loan facilities, locals have developed a habit of selling off their current cars for newer models as soon as they can.  
"A comprehensive public transport system, the road network is there, but the buses that can make full use of it are not available to the public," explained a freelance journalist who writes for the automotive industry.
Buses are probably one way to get people on board with public transport, but it needs to run efficiently for people to buy into that idea, he added.
On the issue of taxis, he said: "I don't think taxis are ever going to work in Brunei." In 2013, there were 48 privately owned taxis, which operated mostly within Bandar Seri Begawan. This number might have gone up in the last few years, but unlike Singapore or Malaysia's capital, Kuala Lumpur – you don't see taxis lined up outside a shopping mall in Brunei, he explained.
"In 2018, DART, the equivalent of Uber/Grab launched in Brunei, and quite a number of people started using it but I don't really see that booming given the number of cars each household has," he continued.
The UBD academic said that the situation is like the case of the chicken and the egg. "Lack of good public transport led to an increase in cars and now we have so many cars that have stymied the growth of public transport."
Brunei continues to "exhibit extremely high levels of car ownership, use and dependency", according to the Ministry of Communication's Land Transport Master Plan 2014. Private car ownership increased by 19 percent between 2011 and 2014, while its population grew by four percent in the same period, as per World Bank figures.
In 2019, the 'ASEAN Fuel Economy Roadmap for Transport Sector 2018-2025: with Focus on Light-Duty Vehicles' stated that vehicle ownership in the Sultanate has saturated and is expected to remain fully saturated until 2040.
But the recent report from the ASEAN Automotive Federation tells a different story. Brunei has seen an eight percent jump in car sales in the first five months of 2020. Even the COVID-19 pandemic could not curb the hunger for new cars among Bruneians.
The time has come for the government of Brunei to seriously consider steps to reduce its dependency on cars. According to paultan.org, Brunei with 721 per 1,000 cars has the highest car ownership across Southeast Asia. If policies are not implemented to discourage disproportionate levels of car ownership, the number of vehicles in this ASEAN member state could surpass the number of citizens one day!
Related articles:
Pandemic Pileup: Auto Industry Hit Hard