The deadly COVID-19 virus has been looming over nations around the world, preying on victims since it first appeared last December in Wuhan, China. To date, more than eight million people have been infected globally and fatalities are inching towards the half million mark. Other than threatening our health, the coronavirus has also severely affected livelihoods, major industries and the economy in general. Some of the worst hit sectors include tourism, aviation, leisure facilities and the automotive industry
The automotive industry makes a significant contribution to the global economy. According to the International Labour Organization (ILO), the industry's annual turnover is equivalent to the world's sixth largest economy. 
ASEAN member states Malaysia, the Philippines and Thailand among others have imposed drastic measures such as partial lockdowns and travel curbs to contain the spread of the deadly virus. Although some countries have eased their virus restrictions following drop in daily cases, citizens are still urged to practice social distancing and stay home. 
Despite the necessary measures to control the virus, the consequences have been devastating. For the automotive industry, the sector has been facing a sharp drop in demand and investment as it struggles with an abrupt and widespread pause to economic activity – employees are told to stay home, supply chains have ground to a halt and factories remain shuttered.
Sales
The ILO stated that vehicle sales in China plummeted by around 92 percent in the first half of February when some of its cities were under lockdown and people were forced to stay indoors. It is estimated that vehicle sales will fall by at least 2.9 percent in China this year. 
Southeast Asia is no exception.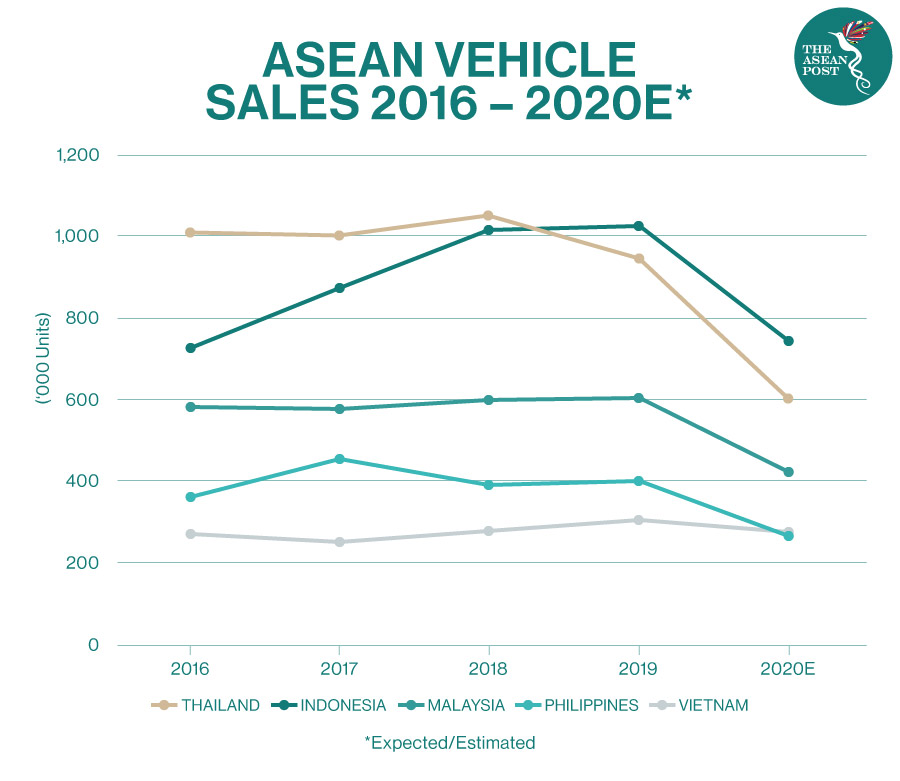 Vietnam saw the region's worst-performing vehicle market during the first quarter of 2020, with sales estimated to have dropped around 32 percent year-on-year to around 50,000 units, according to global industry analysis firm Counterpoint. 
It was reported last month that the Vietnamese government has approved plans to reduce vehicle registration fees by 50 percent till the end of 2020 in order to stimulate automotive demand in the country.
Over in Thailand, the Federation of Thai Industries (FTI) stated that car production in the kingdom fell to the lowest in 30 years in April, as a result of the pandemic. Whereas sale of cars was at 30,109 down 65 percent year-on-year due to the drop in people's purchasing power. The export of automobiles in the kingdom was at 20,326 units, down 67.7 percent, according to media reports.
Employment
Many people have lost their jobs amid the pandemic. According to the Asian Development Bank (ADB), COVID-19 will threaten the employment of 68 million workers across Asia if the outbreak goes on until September.
Local media have reported that some 50,000 people employed by car dealers and importers in Malaysia are at risk of losing their jobs if the COVID-19 crisis persists. Dealers can only survive up to two months during the crisis without sales, while continuing to fork out around RM150 million (US$35 million) in operational expenditure monthly to pay for salaries, utilities and rentals. 
Malaysia was one of the worst-performing markets in Southeast Asia with sales falling over 26 percent to 106,000 units in the first quarter of 2020. This was perhaps due to the country's Movement Control Order (MCO), or partial lockdown which was enforced mid-March. Sales dropped by almost 60 percent in March to around 22,000 units. Unfortunately, no vehicle sales were recorded in April as there was no vehicle production and all dealers in the country were closed.
Post-COVID-19
Wuhan, China started loosening its virus restrictions in March and as of 3 April, almost all car showrooms were re-opened. Media reports there have stated that the event was greeted by a new wave of motivated customers, and the volume of cars sold are gradually increasing in the country.
Could the automotive industry in ASEAN bounce back after restrictions are lifted in a post pandemic world?
Malaysia is hopeful. 
Datuk Aishah Ahmad, president of the Malaysian Automotive Association (MAA) told local media that a proposal had been submitted to the government in April on measures for the automotive industry after the MCO is lifted. 
"We have submitted a proposal to both, MOF (Ministry of Finance) and MITI. Among the measures proposed are easier hire purchase approvals, and lower taxes or duties for at least until end of this year. We have also requested for the calculation of the open market value (OMV) of a vehicle to be reverted to the previous formula, so that the duties imposed for locally assembled cars do not increase," she told a local news agency.
The used car market is also projected to grow as the economic slump will result in people being cautious and buying more used cars because they are cheaper. The automotive sector in Malaysia resumed operations just last month.
Related Articles:
Electrifying Times For Automotive Industry