While Cambodia might be pulling out all the stops to develop its smart cities, the lack of an integrated master plan is hampering these efforts.
The ASEAN Smart Cities Framework defines a smart city as one that harnesses technological, digital solutions and innovative, non-technological means to address urban challenges – continuously improving people's lives and creating new opportunities.
Envisioned in April 2018 as a platform to support the creation of technologically advanced urban areas in the region, the ASEAN Smart Cities Network (ASCN) has three Cambodian cities in its initial list of 26 pilot cities from across Southeast Asia – Phnom Penh, Siem Reap and Battambang.
Despite collaborations with the region's best tech minds in Vietnam, Singapore, Korea and Japan, Cambodia's best intentions may go to waste unless it creates coordinated plans and policies and implements proper guidelines and regulations.
Poor planning, few investors
The lack of zoning or building code requirements are among the issues hampering smart city development in Cambodia. Residential and industrial areas are developed in the same neighbourhoods in some parts of Phnom Penh, with factories built next to schools and homes and waterways used as dumping grounds by businesses.
Tous Saphoeun, an architecture professor who also works with the Cambodia Ministry of Land Management, Urban Planning and Construction, told Cambodian media last year that city officials may have thought a smart city program only involves upgrading certain parts of a city as opposed to the city as a whole.
Speaking during a seminar titled 'Smart Cities and The Future of Urban Development' in Phnom Penh in June, Guillaume Massin, managing director of DFDL – a law firm which specialises in the Mekong region – noted that there is still ambiguity regarding funding for smart city projects and whether the funding would be led by the government, private sector or public-private partnerships (PPPs).
Pointing out that there were no rules for financing in place, Massin also told local media that lack of regulations and access to finance are keeping most investors away – except the Chinese. 
However, earlier this week the Cambodian government announced it had approved US$5.2 billion worth of investments in the first half of this year, claiming that the 48.5 percent year-on-year increase is a sign of investors' growing confidence in the country.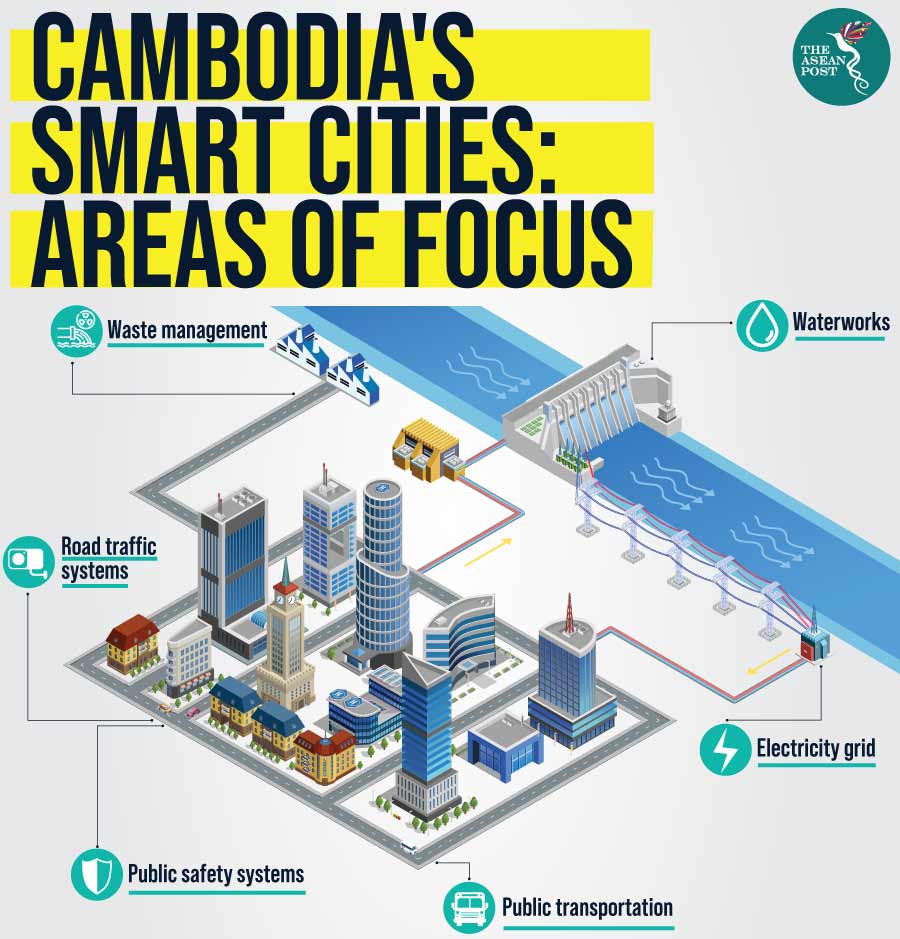 Source: Various
Foreign tech know-how
Meanwhile, a recent meeting between the Phnom Penh Municipal Council and Ho Chi Minh City Party Committee saw urban planners from both cities agreeing to work together to solve shared problems such as traffic congestion, waste management, pollution and crime – the latest in a string of foreign countries offering smart city assistance to Cambodia.
Cambodia and Korea agreed to cooperate and turn the port city of Sihanoukville into a smart city as far back as 2016. Leveraging on Korea's expertise, the two governments agreed to build state-of-the-art water management, transportation and energy infrastructure in Sihanoukville based on Korean technology.
In March, Singaporean cryptocurrency and blockchain developer Pundi X confirmed it will be working with Cambodia to build a one square kilometre smart city in Phnom Penh which will utilise blockchain to run the electricity grid and road traffic systems.
At an urban development forum in Phnom Penh in February, Japan's vice-minister of Land, Infrastructure, Transport and Tourism told participants that his country would help Cambodia create smart cities that avoided the mistakes of Japan's early development in areas such as housing, traffic and environment.
Improved governance, effective institutions
A sustainable environment is one of the three outcomes of the ASCN alongside a competitive economy and high quality of life.
However, as the ASEAN Smart Cities Framework notes, integrated master planning and development is crucial in enabling governments to create and manage the various urban issues affecting the progress of the three outcomes.
Amidst a dynamic political, economic and social environment, the drawing up of long-term plans and blueprints allows cities to meet their needs in a sustainable manner with principles such as adoption of a long-term view; productive decision-making; as well as robust monitoring and evaluation.
The World Bank suggests that Cambodia strengthens its institutions and governance to enable more coordinated and efficient urban development.
In its report titled 'Urban Development in Phnom Penh' released in December 2017, the World Bank noted that Phnom Penh and other cities will continue to develop in an uncoordinated and fragmented manner unless there is improved governance and effective institutions. 
"Well-planned cities allow the socio-economic benefits of urbanisation to be fully harnessed and can create vibrant, liveable, urban spaces," said Judy Baker, World Bank Lead Economist and one of the report's authors. 
"This is fully possible for Phnom Penh, but it will be a long-term process and will require a strong commitment from government, citizens and the private sector."
While the World Bank has recommendations on how to realise the long-term vision of Phnom Penh's Master Plan 2035, the fact that it has never been released to the public is perhaps the best indication of the challenges that lie ahead.
Related articles:
Does Sihanoukville belong to China?