2020 is proving to be a challenging year. Livelihoods, businesses and government operations have all been affected by the coronavirus pandemic which has claimed over one million lives worldwide. Other than the COVID-19 pandemic, other disasters and natural catastrophes have also ravaged human communities and those of other species. 
Some of the natural disasters we have seen so far this year include Australian bushfires, devastating floods in Indonesia's capital Jakarta, the eruption of the Taal Volcano in the Philippines, the locust plague which damaged crops in East Africa, Pakistan and Lao PDR, and multiple earthquakes and cyclones, among others.
Currently, ASEAN member state Cambodia is battling flash floods which has killed at least 16 people. 
Heavy rains since early October have caused unprecedented deadly floods and landslides, with more rain expected across Cambodia in the coming days. 
According to Khun Sokha, spokesman for the National Committee for Disaster Management, flash floods have hit 17 provinces which has affected around 100,000 people resulting in 10,000 people having to be evacuated.
Other than that, an estimated 24,666 houses, 39,462 hectares of rice fields, 34,188 hectares of subsidiary crops and 54 schools have also been severely impacted by the disaster.
Some residents have laid the blame on authorities for reclaiming land by filling up important lakes which acted as flood conduits for Phnom Penh. 
"Sometimes people need to cross the dirty water up to waist level. This was caused by the authorities in Phnom Penh filling up an important lake," claimed Lay Sreymeth, a resident of the Chak Angre Krom commune.
"Flooding in the villages and communities where we live happens every year but they are getting worse. This year the floods seem to be more severe, having a huge impact on our lives and travel. You have to wade through the water, it causes rashes and is unhygienic," said Chan Thavy, a resident of the Chak Angre Loeu commune.
In conjunction with National Day of Disaster Management yesterday, Cambodia's premier Hun Sen has asked all citizens to be vigilant and to strengthen awareness of disaster risk reduction.
"[Dealing with] the uncertainty and unpredictability of climate change is only a matter of consolidating efforts to manage the disaster, starting with the participation of individuals and families," he said.
The Ministry of Water Resources and Meteorology (MOWRAM) in Cambodia has also announced that two tropical storms, Nangka and Saudel, are to hit the kingdom which threatens more floods and destruction.
Unfortunately, Cambodia is not the only country in Southeast Asia to be struggling with floods and storms. Fellow member state Vietnam has also reported 36 fatalities and 12 missing persons over the past few days due to floods and landslides triggered by heavy downpours.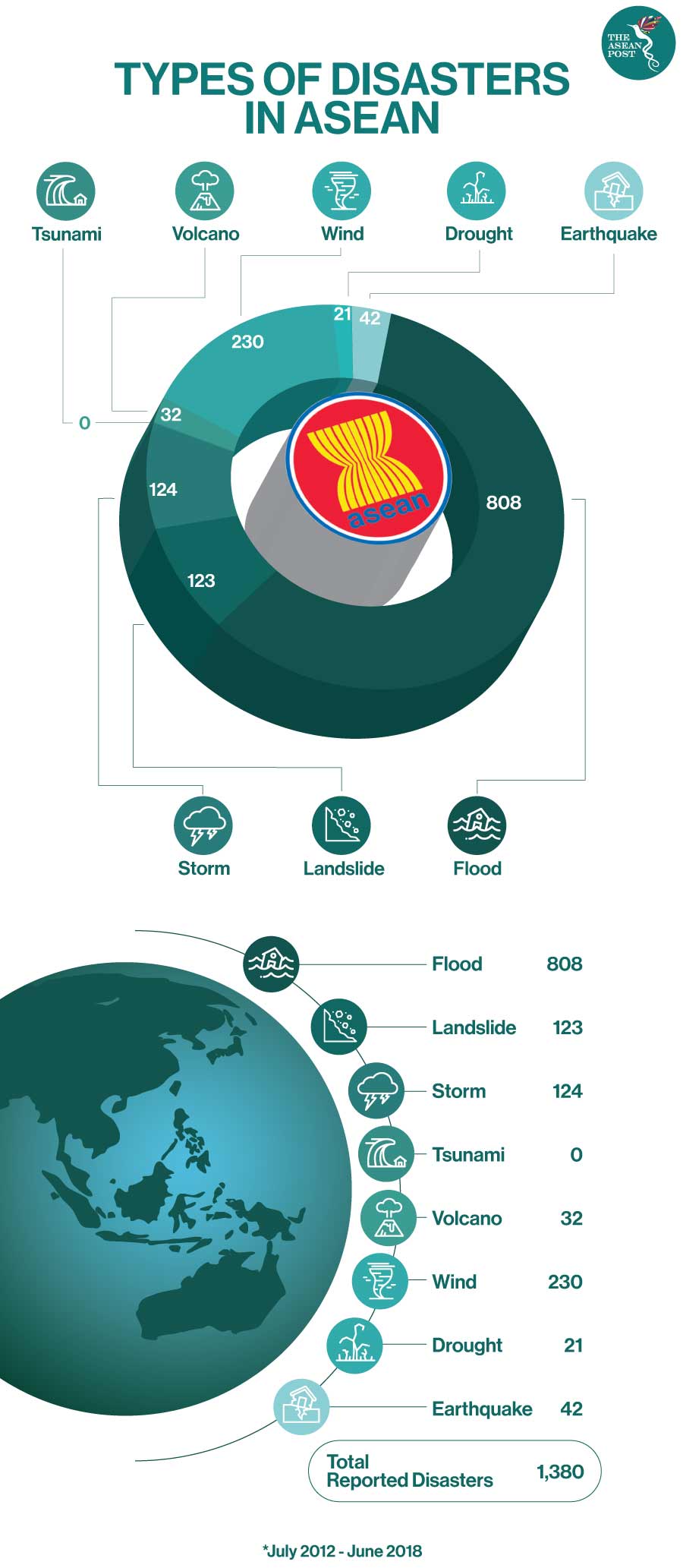 Rise In Climate Disasters
The United Nations (UN) recently stated that there has been a "staggering" rise in natural disasters over the past 20 years and the climate crisis is to blame.
A report by the UN Office on Disaster Risk Reduction (UNDRR) found that there were 7,348 recorded disaster events worldwide in the last two decades. Floods accounted for more than 40 percent of disasters – affecting 1.56 billion people, followed by storms at 28 percent, earthquakes (eight percent) and extreme temperature (six percent). 
Approximately 1.23 million people died – around 60,000 per year – with more than four billion affected in total. In addition, data from the report also indicated that poorer nations experienced higher death rates – more than four times that of richer nations.
These two decades of disaster also resulted in US$2.97 trillion in losses to the global economy.
Researchers have urged political and business leaders to take meaningful action to mitigate the impact of climate change and to stop the planet from turning into "an uninhabitable hell for millions of people."
"But the sad fact is that we are wilfully destructive. And that is the conclusion of this report; COVID-19 is but the latest proof that politicians and business leaders have yet to tune into the world around them," said Mami Mizutori, Chief of the UNDRR.
"It really is all about governance if we want to deliver this planet from the scourge of poverty, further loss of species and biodiversity, the explosion of urban risk and the worst consequences of global warming," she added.
Related Articles:
Locust Plague: Crisis Within A Crisis