Much has happened this year. From 2019-2020 Australian bushfires – also known as the Black Summer – to intense heat with severe drought conditions developing in multiple Asian countries and of course, the COVID-19 pandemic which has taken over half a million lives worldwide. 
Conspiracy theorists citing the Mayan calendar and even the Bible claim that the end of the world is upon us. One of the passages that has been shared online among these theorists is about a locust plague – which was mentioned in biblical stories.
Locust infestations are nothing new and far less interesting than 'doomsday' conspiracies. But they are detrimental to crops and could affect food security. There were locust plagues throughout the world in the 1920s, 1930s, 1940s, 1960s, 1980s and the early 2000s. 
"As long as humans have recorded history, locusts have been affecting our livelihood," said Hojun Song, an entomologist at Texas A&M University. 
Nevertheless, climate change could make the plagues worse.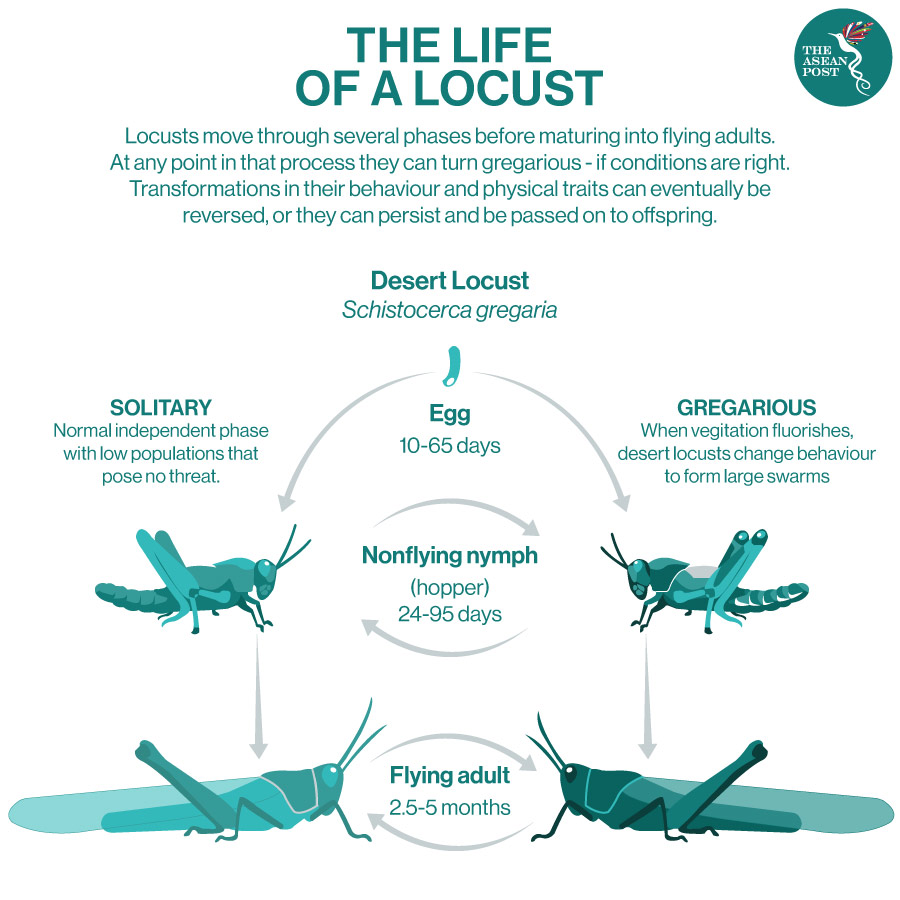 Earlier this year, locusts – a type of grasshopper which form enormous swarms that spread across regions, descended upon East Africa. As of mid-April, the World Bank reported that 23 countries have been affected; nine in the wider East Africa region, 11 in North Africa and the Middle East and three in South Asia. 
On 30 June, it was reported that the crisis had hit Lao PDR's Phongsaly province located in the extreme north of the country. Local media reported that nearly five hectares of dry season rice and other crops had been destroyed by locusts. The damage caused by the insects is estimated to be around LAK24,885,000 (US$13,890). 
This is not the first case of a locust plague in Lao. It was reported that back in 2017, the Northern provinces of Huaphan, LuangPrabang, Oudomxay, Phongsaly and Xieng Khuang were invaded by locusts. A few months before that at the end of 2016, authorities reported that locusts had laid eggs in 640 places in an area of more than 9,000 hectares. 
This year's locust infestations in Ethiopia and Somalia were the biggest in 25 years. 
Shakeel Khan, sector specialist for the Food and Agriculture Organisation (FAO) of the United Nations (UN) in Pakistan said that global warming had extended the locusts' breeding period, which has led to damage on an unprecedented scale.
According to the World Bank, climate change is a key driver of the current locust outbreak. The organisation stated that unusual weather conditions generated strong cyclones and heavy rains in the Arabian Peninsula that triggered higher than normal vegetation growth – ideal conditions for locusts to feed on and surge.
"Rising sea temperatures are expected to lead to more extreme rainfall – creating enabling conditions for hatching and breeding. Cyclones that disperse the swarms are getting stronger and more frequent," noted the World Bank in its latest response on the locust crisis.
Food Security
Locusts are ferocious eaters. The swarms only want to find new food, feast and breed.
"They're not coming to harm us," said Hojun Song. "They're coming to take advantage of the resources they see as their food."
The FAO stated that a swarm of just one square kilometre can consume as much food as 35,000 people would eat in a single day. 
"When they do descend, they can have almost total devastation," explained Rick Overson of Arizona State University's Global Locust Initiative. 
"They can cause 50 percent to 80 percent of crops to be destroyed, depending on the time (of year)," he added.
Unfortunately, many of the countries slammed with the current locust crisis are already hampered by other crises such as recessions, natural disasters, poverty, conflicts – and now, the COVID-19 pandemic.
Within the East African region where the outbreak is severe, 24 million people are food insecure and eight million are internally displaced. The locusts further threaten their food security and their ability to access pasture for livestock, said the World Bank. These impacts on the food cycle could devastatingly jeopardise livelihoods and further push people into deep poverty. 
Prevention
During the locust outbreak in Lao three years ago, officials from the agriculture and forestry offices worked with the Ministry of Agriculture and Forestry, local authorities and villagers to control the insect population by destroying eggs and spraying pesticides, reported local media. The government of China also equipped Lao's Agriculture Department with over 20 vehicles, 1,100 machines, 1,000 protective suits and other equipment that year to fend off the invading swarms.
This year, the World Bank said it is coordinating closely with the FAO, other partner organisations and countries to develop "integrated pest management plans and to support countries to undertake safe and effective control operation."
2020 has presented numerous challenges for governments, nations worldwide and especially vulnerable groups. Taken together – the COVID-19 outbreak and the locust plague – these two crises have the potential to generate the perfect conditions for famine, disease and increased poverty, stated the World Bank.
Related Articles:
Ensuring Food Security In The COVID-19 Era