While consumers across ASEAN are excited about 5G's promise of faster home broadband speeds and mobile internet connections, it is the technology's low network latency and power consumption that offers a variety of opportunities for businesses.
Globe Telecom in the Philippines rolled out Southeast Asia's first 5G broadband service in select areas of the country in June, partnering with telecommunications giant Huawei to give the world's largest community of social media users a home broadband service that is now the fastest in ASEAN.
About 20 times faster than 4G, everything from instant high-definition movie streaming to cloud gaming will be less than seconds away once 5G is commercially available across the rest of the region in the next few years. Businesses, meanwhile, can unlock increased value from Internet of Things (IoT) applications, artificial intelligence (AI), advanced robotics and a multitude of other uses.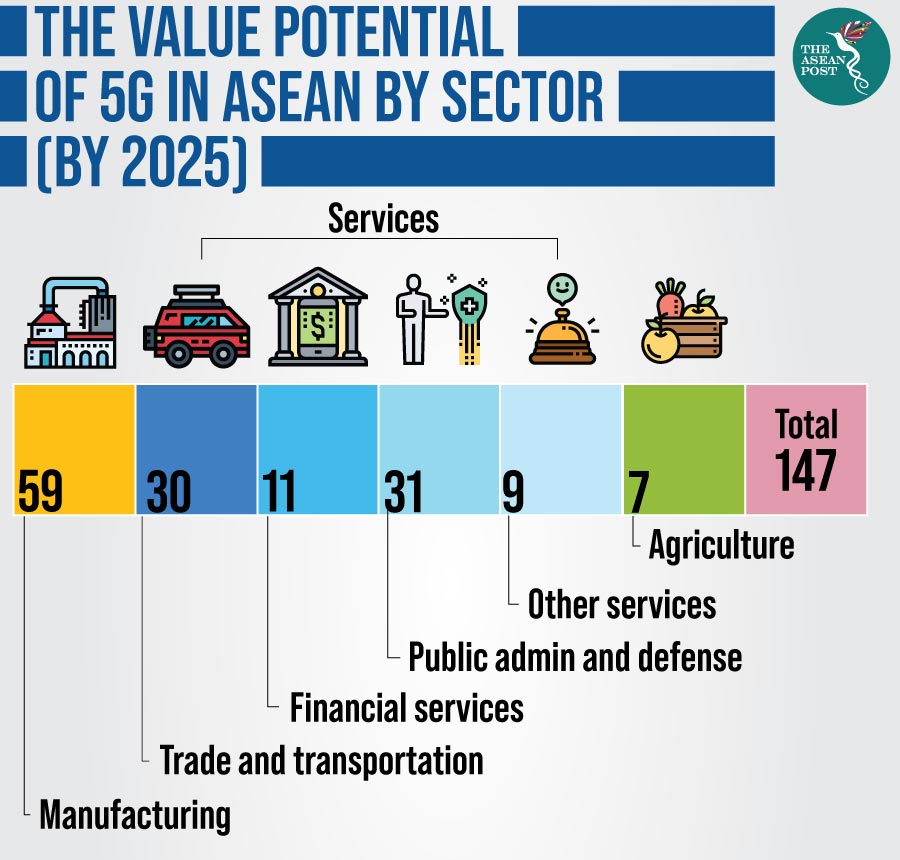 Source: A.T. Kearney
A recent report from consultancy firm A.T. Kearney predicted that this increased value will be worth around US$147 billion for ASEAN businesses by 2025 – with US$81 billion of that additional revenue gained through the growing use of AI in industries such as trade, transport and financial services.
With 10 times less latency than 4G, machines will be able to communicate with each other seamlessly thanks to 5G – and the increased use of IoT in manufacturing processes could boost the industry's income by as much as US$59 billion. Agriculture, meanwhile, may stand to earn US$7 billion more due to 5G's impact on advanced robotics.
The report titled '5G in ASEAN: Reigniting Growth in Enterprise and Consumer Markets' estimates that 5G could add six to nine percent to consumer revenues, and 18 to 22 percent to enterprise revenues, by 2025.
ASEAN's largest economy, Indonesia is expected to capture the biggest share – followed closely by Malaysia, Singapore, and Thailand. However, operators will likely have to invest about US$10 billion into the region's 5G infrastructure by 2025 to deliver this value.
Infrastructure
As opposed to the current telecommunications infrastructure based on towers, 5G networks are made up of thousands of small cells integrated to lampposts or other structures.
However, the high cost associated with 5G deployment means that certain areas – mostly rural – may not have the necessary infrastructure unless governments provide subsidies.
While he predicts that 5G is set to be the "transformational tipping point" that will accelerate businesses' global market reach and reshape the competitive landscape, CP Gurnani, Managing Director and CEO of Indian information technology (IT) company Tech Mahindra, stressed that infrastructure such as antennas, base stations and fibre-optic cables all need to be in place before 5G can be widely adopted.
In a note on the World Economic Forum's (WEF) website, Gurnani said governments and regulatory bodies will need to monitor advances and make it easier for telecommunication companies to invest in upgrading technology, and policies will have to be enacted to enable new revenue models like data monetisation and content management.
Regulatory and liability considerations for advanced automated features such as remote surgery, remote healthcare, vehicle-to-vehicle communication and public safety will also have to be addressed.
Valuable spectrum
While coordination from governments, regulators, operators and enterprises will be required to ensure 5G lives up to its full potential in ASEAN, the slow availability of 5G services and the resulting sub-optimal network rollout is the biggest challenge the bloc has to overcome.
In ASEAN, valuable spectrum is being occupied for military and government use – in addition to spectrum already used by satellite networks and broadcast television.
"To identify the best way forward, regulators will need to create a roadmap for spectrum availability sooner rather than later," said the report's co-authors, Hari Venkataramani and Nikolai Dobberstein.
"Even if spectrum and other regulatory support were readily available, the adoption and delivery of use cases remain uncertain," they added.
'5G is just a tool'
Among the use cases Venkataramani and Dobberstein expect to lead the way in unlocking 5G's value in ASEAN industries include the remote monitoring of production assets in manufacturing, tracking materials and products in the logistics sector, and monitoring livestock or production in agriculture. In the medium to long term, remote robotics and assistive robots in manufacturing, collaborating robots in retail, and autonomous drones in service industries are a few examples of advanced use cases.
However, the implementation of these uses cases must be balanced against issues such as increased cybersecurity fears, concerns about the integrity of devices and equipment, and the risks that IoT networks with large populations of inter-connected devices pose.
With several barriers still in place, 5G's short-term future in ASEAN remains as a complementary technology to 4G as opposed to a replacement. And despite cornering the 5G market, Huawei – the world's largest telecommunications company – have warned the public not to get too excited.
"5G is just a tool," said Huawei's founder and CEO, Ren Zhengfei, in a recent interview.
"Its value and usefulness are exaggerated. We don't think it'll contribute as much to society as some have imagined."
Related articles:
How 5G can transform Southeast Asia
Showcasing IIOT to ASEAN and beyond