Last week, Royal Cambodian Armed Forces (RCAF) deputy commander-in-chief Lieutenant General Hun Manet ordered a crackdown on corruption in his forces. This included officials demanding money from potential recruits in order to secure the latter jobs.
"The selection of commanders and chiefs of staff requires a committee to evaluate and ensure transparency and efficiency in the selection process, and the evaluation is conducted in two to three phases," he was quoted as saying while speaking at a ceremony to appoint the new Preah Sihanouk provincial military commander, adding that the selection process must be transparent and fair.
"There were some people saying that you need to spend US$100,000 (in exchange for a position as a commander or chief of staff), so I am investigating. If there is such a case, please report it to me or to the Anti-Corruption Unit or the Supreme Council, because it is strictly prohibited."
Hun Manet's pro-action against corruption is certainly welcomed and, so far, he seems to be making good on his word. Just recently, a personal assistant within the RCAF was arrested for allegedly receiving payment in exchange for a job. 
Critics, however, may not be too happy with Hun Manet being at the helm of an operation against corruption.
In 2016, international non-governmental organization (NGO), Global Witness launched a report entitled "Hostile Takeover" which it says was based on "data-driven investigations" into corruption in the Kingdom. According to the NGO's report, family members of Prime Minister Hun Sen are amassing vast personal fortunes in the country's private sector.
"Members of Prime Minister Hun Sen's family have business interests spanning the majority of the country's major industries. While 40 percent of Cambodians live below or close to the poverty line, the Hun family have a combined wealth estimated to total between US$500 million and US$1 billion," it said.
The conflict here, at least to critics, is easy to see: How can a member of one of the, allegedly, most corrupt families in Cambodia, call for a crackdown on corruption? While there is very little information on whether Hun Manet himself is corrupt or has partaken in any of his family's alleged corrupt acts, the irony is difficult to miss. 
Piling on top of all this is the fact that not long after Cambodia's election last year – a controversial election widely believed to have been rigged – Hun Sen had publicly suggested that his eldest son, Hun Manet, could succeed him as leader of Cambodia.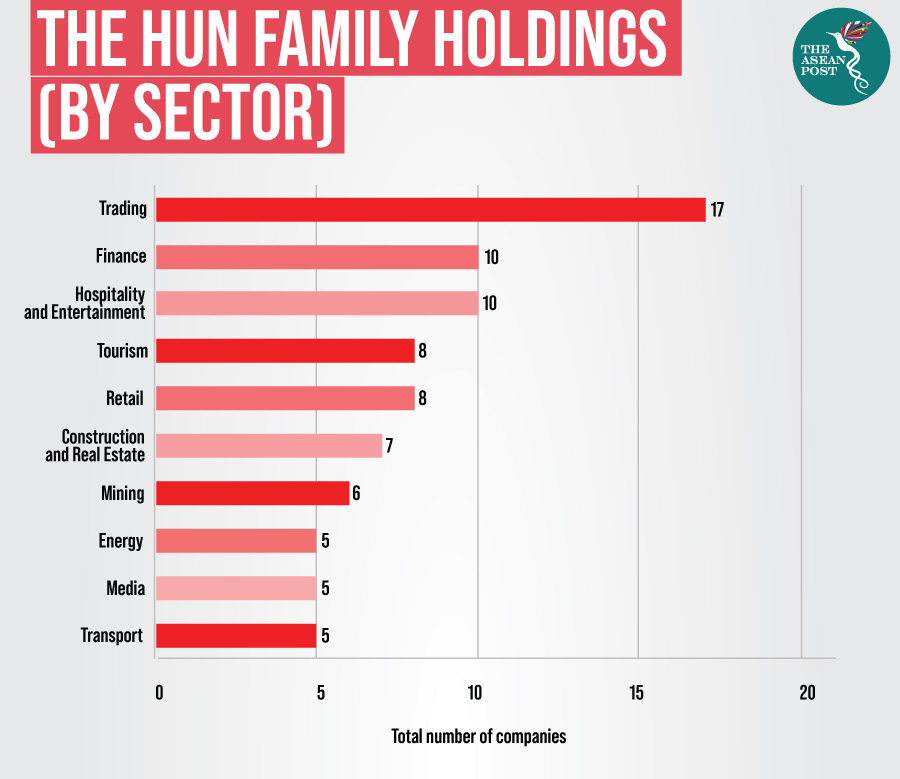 Source: Global Witness
Hun Manet, clean?
In June 2018, Human Rights Watch (HRW) published its "Cambodia's Dirty Dozen: A Long History of Rights Abuses by Hun Sen's Generals". Manet, being relatively new to the higher echelons of the Cambodian military, was not included in the list of 12 senior generals whom the human rights group accused of being the backbone to Hun Sen's "abusive and authoritarian" regime.
Hun Manet, however, did rise through the ranks on 30 June 2018, weeks before the parliamentary elections. Hun Sen appointed Hun Manet into higher military positions: acting chief of the joint staff and acting chief of the armed forces. Observers assume this was to groom him to become the next leader but are also worried that this may mean further militarisation of Cambodian politics.
"After the end of Hun Sen, there would likely be a grouping of senior military with Hun Manet as a figurehead," Paul Chambers, a lecturer at the College of ASEAN Community Studies at Naresuan University in Thailand, was quoted by the media as saying.
Meanwhile, Global Witness' report does not directly connect Hun Manet to any companies but links him by marriage to major firms. The country's Commerce Ministry's registry states that Pich Chanmony, Hun Manet's wife, chairs seven companies including Brands Management, which has franchises for bubble tea outlet Chatime, burger joint myBurgerLab and Thailand's Boat Noodle chain. She also gets a slice of the consumer goods market as the exclusive supplier and retailer for South Korean multinational LG Electronics.
Regardless of whether Hun Manet is himself corrupt, he (1) holds a powerful position that could enable corruption, and (2) is associated with people who are also in powerful positions, some of whom have been accused of corruption. This, to critics, makes him unfit to lead any operation to combat corruption whether or not he is indeed sincere, and whether or not combating corruption in Cambodia is a much-welcomed effort.
Related articles: 
Nepotism in Hun Sen's Cambodia