Thailand recently witnessed, what is considered by many, to be the largest street protest in more than five years (before the military coup of 2014). Thousands of people gathered on the skywalk linking the National Stadium and Siam Bangkok Mass Transit System (BTS) stations, chanting "Prayut get out" at an anti-military demonstration on Saturday. Heading the protest? None other than former MP, Future Forward Party (FFP) leader, Thanathorn Juangroongruangkit.
Thanathorn says the rally was to demonstrate public anger at what he calls the injustice inflicted on him and the FFP. The protest had been organised just three days after the country's Election Commission voted to ask the Constitutional Court to dissolve the FFP for alleged campaign finance violations.
Fortunately, the anti-military rally could have been considered peaceful despite a minor skirmish between protesters and police in the afternoon. Although Thai police claim that no permit was granted for the rally, they did not intervene. In less than an hour the rally was over.
Thailand Prime Minister Prayut Chan-o-cha dismissed Saturday's rally as a "personal matter", referring to Thanathorn's legal problems. However, Thanathorn says he isn't quite finished just yet.
During the street protest, Thanathorn told demonstrators that the rally was only the beginning of actions against Prayut's government. He threatened to "bring people to the streets," referring to the "Wing Lai Lung" (Run to Oust the Uncle) event, a running event planned for 12 January.
"We're just here today as a test run. Prayut, don't be afraid yet. The real thing is next month," he was quoted as saying.
Thanathorn lent 191 million baht (US$6.3 million) to the party in January this year. The loan was documented and signed off by party officials. Section 66 of the Act prohibits a donation of more than 10 million baht (US$330,923) to a party by any individual in any one-year period. The FFP however, says it was a loan and not a donation. If found guilty, Thanathorn and 14 other party executives could be banned from politics for at least five years.
Whether or not the charges against him and his party are legitimate, the FFP have now found themselves in a disadvantageous position, being pushed out of parliament with a string of cases being heard by the Constitutional Court.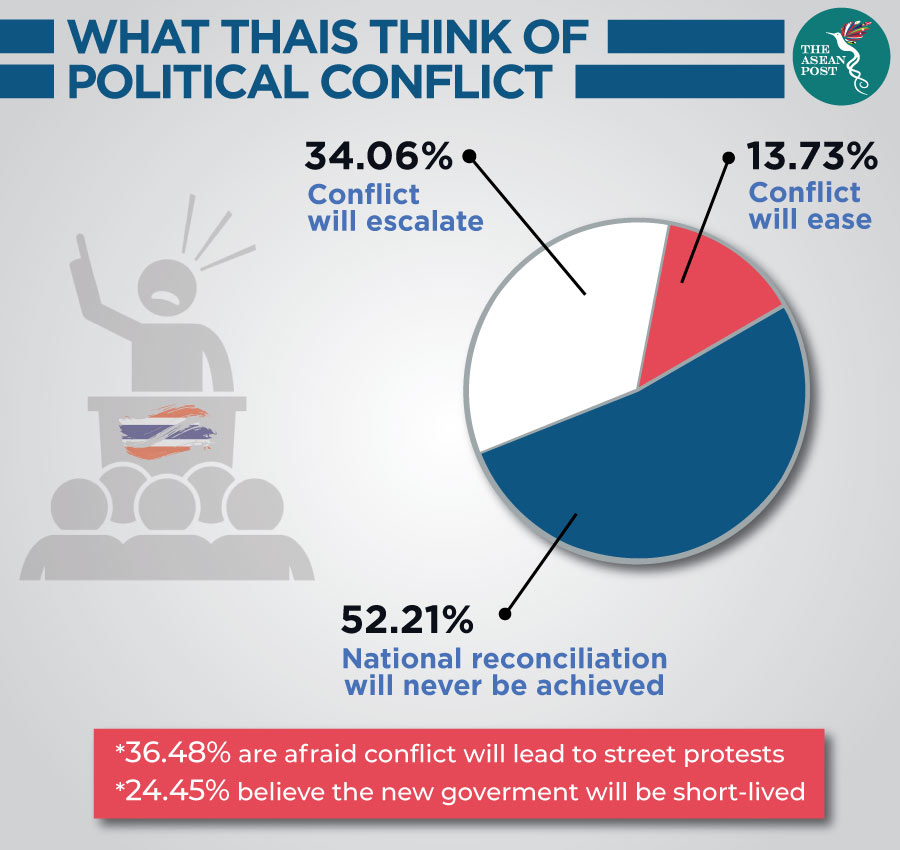 Protests
Most would agree that peaceful protests are an important aspect of a vibrant and healthy democracy. In Thailand, however, things have been known to get scary. 
Earlier this year, before the country's latest election, the Suan Dusit Rajabhat University in Bangkok, Thailand, discovered that the majority of Thais believe that political polarisation will continue even after the country's new government is in place and that the problem will not be resolved easily because it is deeply entrenched in Thai society. This is based on findings from Suan Dusit's latest poll which sought to gauge the opinions of 1,107 people between 22 and 25 May on the subject of "The People and Their Wait for the New Government". 
Asked about political conflict before and after the formation of the new government, 52.21 percent of respondents believe that national reconciliation will never be achieved because the divisions have been deeply entrenched for a long time, while 34.06 percent believe that the conflict would escalate because none of the parties in the conflict would accept each other.
Another important finding was that, of those polled, 36.48 percent were afraid that the conflict might lead to street protests and 24.45 percent believe the new government would be short-lived.
There is reason to fear street protests as, more often than not, these protests have been catalysts of the numerous military coups the country has faced. On top of all that, not all political protests Thailand has witnessed have been as peaceful as the recent FFP protest. 
What is even more scary is that just two months ago, in October, army general Apirat Kongsompong accused some politicians, academics and "old communist elements" of using "hybrid warfare" to undermine the country and the high institution.
He also slammed a politician who met Hong Kong student activist Joshua Wong after the Chinese embassy issued a statement accusing a Thai politician of contacting a group involved in the ongoing protests in Hong Kong. Apirat did not name the politician but showed a photo of the Hong Kong activist and another person whose face was removed.
However, on Mr Wong's Facebook account, the photo clearly shows that the individual with Mr Wong is none other than Thanathorn.
In response, the media quoted FFP secretary-general, Piyabutr Saengkanokkul as saying that Apirat was meddling in politics and instigating hatred by attempting to paint those with more progressive views as enemies of the state.
"The speech reinforced conflicts and divide. As we've seen during the Cold War, people labelled as communists became enemies of the state, marked for elimination by any means. You're trying to evoke another Cold War in this country when there isn't one," Piyabutr said, referring to Thailand's 1976 Thammasat University massacre.
It is unlikely that any Thai – politician or otherwise - would want to see another massacre. And surely many Thais would not want to see another coup happening so soon. If Thanathorn decides to go ahead with 12 January – and it seems most likely he will – then hopes are that he will ensure things go peacefully. 
Related articles:
The slow death of democracy in Thailand