Recently, the Suan Dusit Rajabhat University in Bangkok, Thailand, discovered that the majority of Thais believe that political polarisation will continue after country's the new government is in place and that the problem will not be resolved easily because it is deeply entrenched in Thai society. This is based on the findings of Suan Dusit's latest poll which sought to gauge the opinions of 1,107 people between 22 and 25 May on the subject of "The People and Their Wait for the New Government". 
Asked about political conflict before and after the formation of the new government, 52.21 percent of respondents believe national reconciliation will never be achieved because the divisions have been deeply entrenched for a long time, while 34.06 percent believe that the conflict will escalate because none of the parties in the conflict will accept each other.
Another important finding was that, of those polled, 36.48 percent are afraid that the conflict might lead to street protests and 24.45 percent believe the new government will be short-lived. While some may call this pessimistic, in truth, who could blame them?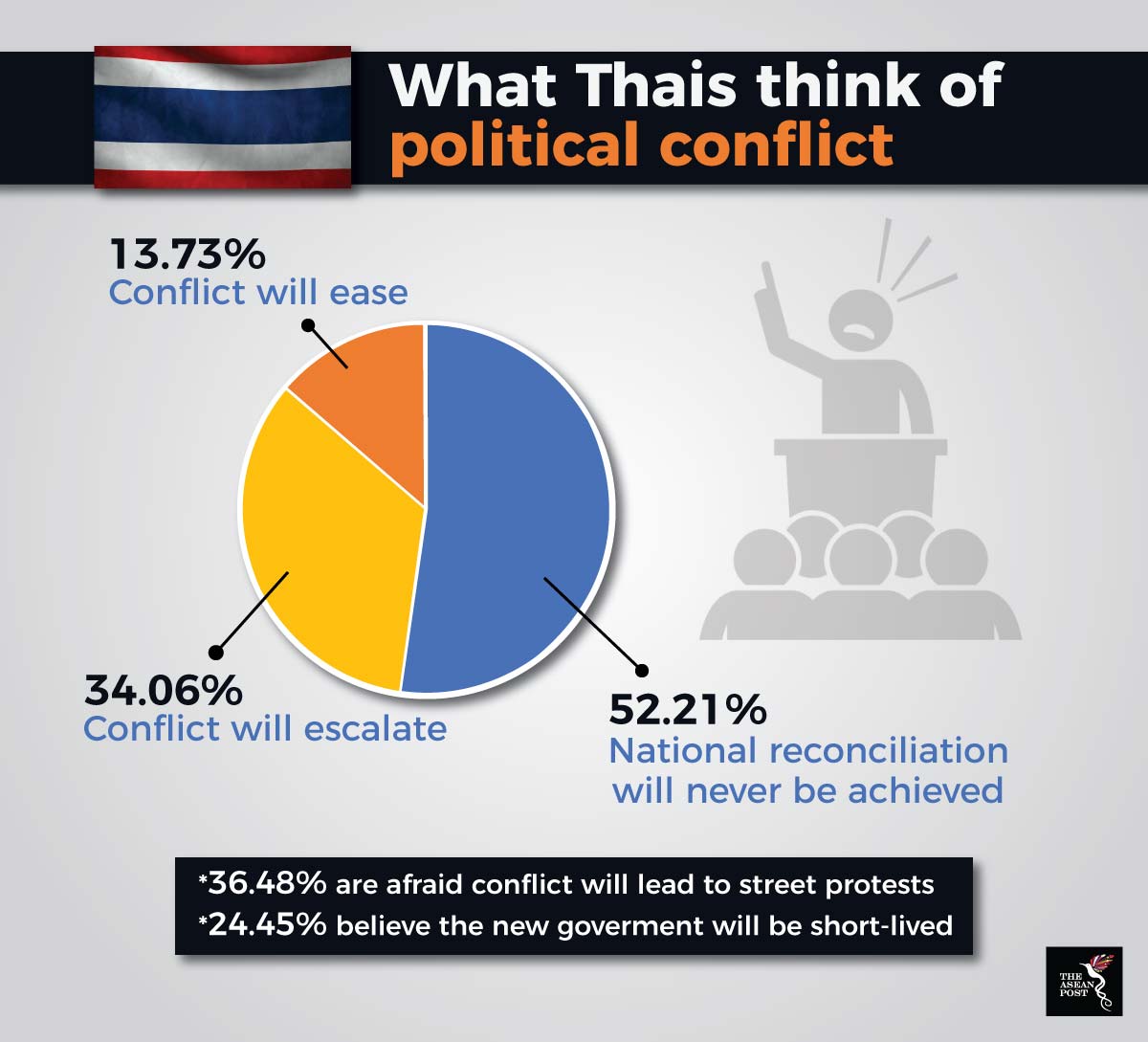 Source: Suan Dusit Poll
A country of coups
Following Thailand's latest coup in 2014, Paul Chambers, a professor at Chiang Mai University's Institute for South-East Asian Affairs, was quoted by international media as saying that there have been almost 30 coup attempts in Thailand (whether successful or not) since 1912.
Max Fisher, an American journalist based in Washington, United States (US) and columnist in the field of political science and social science, noted in an article back in December 2013 that Thailand has had more coups than any other country.
And so, this air of pessimism was something that Suan Dusit was aware of even before the 24 March election. In an opinion survey conducted between 26 February to 2 March, Suan Dusit also found that most Thais believe there is a high possibility of political conflicts following the election. 
The poll asked Thais whether political conflicts similar to those seen before the takeover of the country's administration by the National Council for Peace and Order (NCPO) are likely to return without effective preventive measures in place. 68.1 percent of respondents said the possibility was high; 26.9 percent were uncertain, saying that this would depend on the ability of the new prime minister in handling the situation; while 5.1 percent said the chance of political unrest returning was slim, as the NCPO still has abundant power under Section 44 of the interim constitution.
What Thais want
It goes without saying that Thais do not want to see another military coup happening anytime soon, even if they don't believe there's much chance of their wishes coming true.
In the recent Suan Dusit poll, respondents were also asked about their messages for members of parliament (MPs) and senators. Asked about their messages to the MPs, 51.25 percent of those who responded expect that the MPs will not be corrupt and will perform their duties honestly; 30.23 percent expect they will keep their promises and 27.05 percent want them to stop bickering and unite.
As for messages to the new senators, 44.32 percent of those polled want senators to be honest, fair and keep their promises, 32.22 percent want them to treat public interests as a top priority and 31.68 percent want them to work hard and use their expertise for the good of the public.
So far, the current political unease in Thailand has remained largely contained and nothing near the magnitude of a military coup seems to be in sight but, as most Thais know, democracy is always on shaky ground in the Land of Smiles. What were to happen if the NCPO is not happy? What if the race to form the new government goes on for too long? Are those opposing the junta and incumbent Prime Minister Prayut Chan-o-cha merely delaying the inevitable? And what if they delay for too long and the NCPO gets impatient? These are all questions that only time can give the answers to, but most Thais do not see a light at the end of the tunnel.
Related articles: