Muslims around the globe will be celebrating Eid-ul-Fitr this week, marking the end of Ramadan (fasting month). In today's smartphone dominated world, the experience of Eid can be further enhanced with a wide range of apps, offering numerous ways of bringing families and friends closer for the holiday season. 
According to the Masterplan on ASEAN Connectivity 2025 report, digital technologies in ASEAN could potentially be worth up to US$625 billion by 2030 (eight percent of ASEAN's gross domestic product or GDP), which may be derived from increased efficiency, new products and services.  
There is a sea of apps available to tech-savvy Muslims to help them perform their religious duties during the month of Ramadan. There are apps that help calculate prayer times, pay for charities easily, direct Muslims to Mecca and even point out halal (permissible by Islam) food establishments. There are also hundreds of Koran apps that help users memorise the holy book with translations and audio recordings.
Appsflyer 2019 Market Insights reported that during Ramadan, people in Malaysia, Indonesia and Singapore increasingly turn on their phones for shopping, information or simply diversion. The report further revealed that Indonesia still leads in app installs growth rate across verticals, growing to 26 percent in 2018. Shopping apps revenue growth changes considerably before, during and after Ramadan, while travel apps register the most consistent and strongest revenue growth, together with social and messaging apps. 
In 2017, Waze Data tracked traffic in Indonesia and Malaysia and saw that Ramadan was the busiest traffic period in both countries. Waze also found that Muslim communities in Indonesia and Malaysia depended on its technology to avoid traffic jams and roadblocks to reach home in time to celebrate Eid with their loved ones and family. 
This year, more than one million vehicles are expected to enter the northern state of Kelantan in Malaysia during the Eid period, as reported by State Police Chief, Hasanuddin Hassan. "The balik kampung (homecoming) rush is expected to continue until a few days before Raya," he added. 
In Malaysia, traffic increases by up to 25 percent, only to peak on the following week-end. During the whole month, Indonesian "Wazers" drive up to 45 percent more daily during Eid.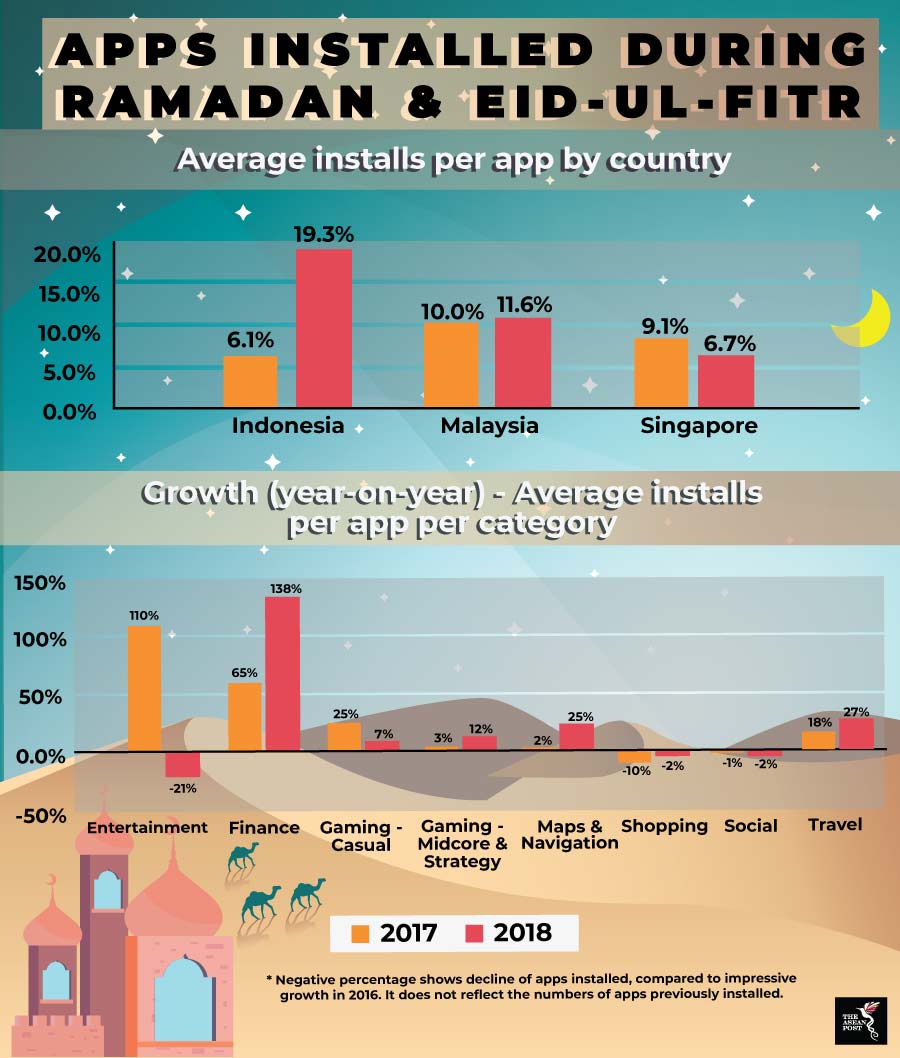 Source: AppsFlyer, 2019 App Market Insights Report
Traditions affected
Tools and gadgets available are only as good (or bad) as how they are utilised. The divide between the older and younger generations and how they interact with technology is fast closing as technology has successfully penetrated every stratum of society. However, technology continues to be blamed for divisions within families, where individual privacy is keeping relationships less open.
Another challenge to the family dynamic is the tech-influenced lingo of young people. Grandparents and the elderly struggle to understand this new lingo, making communication between the generations even harder.
Technology is also posing ethical conundrums for Muslims, with debates on how it should and shouldn't be allowed to impact one's lifestyle and religion. Seyyed Hossein Nasr, a celebrated Iranian scholar has warned Muslims to not "be naïve and think it (technology) is simply neutral." He is not calling for a boycott of technology, rather he implores Muslims to be critical of technology, its values and objective.
In the past, greeting cards were used to wish friends, family and acquaintances a happy Eid. However, Eid wishes today are mostly done on WhatsApp, a popular messaging app. This change is not entirely bad, as it helps reduce paper wastage. 
Healthy relationship with technology
The silver lining to technology is how easy it is for families to stay in touch with loved ones during Eid-ul-Fitr. Skype, FaceTime, WhatsApp and a myriad of other video call apps offer a level of communication that phone calls and text messaging simply cannot give. 
According to Google Internal Data 2017, food traditions are really important during Ramadan and Eid, illustrated by the 220 percent increase in food related search queries during Ramadan in Indonesia and a 140 percent hike for the same searches in Malaysia. Recipes and video tutorial searches spiked on YouTube with a 35 percent increase in Indonesia and a 28 percent increase in Malaysia. Recipe apps are important during Eid for those planning to host open houses.
Google also reported that Indonesian Muslims stocked up on data packages to stay connected throughout the holiday season because they travel home to rural areas with limited cellular access. Indonesians also buy video data packages a week before the holidays so they can call and wish loved ones for Eid. 
Social media platforms have an expanded network of cross-generational connections helping families of all ages to continue to strengthen their bonds and keep each other updated online. Some even share information of their daily routine and Eid traditions with curious non-Muslims. Friends are updated during the long holidays through social media, while some even create their own websites and blogs as a way to share pictures and important family milestones. Pictures taken can then be deposited to the Cloud for safekeeping.
Technology provides families with an endless array of entertainment options too. Favourite movies, music and games are also available through streaming services and mobile apps. This year, Smule Indonesia, a musical mobile app that lets users interact, sing and collaborate with fellow singers, will be celebrating Eid-ul-Fitr with "Smuleans" by inviting them to join in and sing songs that evoke spiritual journeys and bring back memories of reconnecting with friends and family.
Adaptive technology is making it possible for people with disabilities to enjoy the Eid celebration as well. The app 'Deria Takbir' converts real-time sound waves into visual and haptic (touch) feedback, allowing the hearing-impaired to listen to the early morning chants of the Eid prayer.
Even as technology alters every facet of daily life, the core practices of Eid-ul-Fitr have not changed, as it still requires one to visit the mosque for early morning prayer, visit families and friends and enjoy a delightful meal. Yet, for many celebrating, technology is a blessing. 
Related articles:
Shopping trends for Eid-ul-Fitr