Millions of Muslims around the globe started fasting yesterday as the month of Ramadan began on Friday (24 April). Nevertheless, with the COVID-19 virus looming worldwide, the celebration this year is significantly different than in prior years. As governments are urging their citizens to self-isolate and gathering bans have been imposed in several countries to contain the virus – typical Ramadan traditions such as the tarawih prayers held in mosques and mass iftar (breaking of fast) are now restricted.
Despite the rather sombre Ramadan celebrations this year, technology has further enhanced the experience of Ramadan and Eid-ul-Fitr with a wide range of apps, offering numerous ways of bringing families and friends closer for the holiday season.
According to the Masterplan on ASEAN Connectivity 2025 report, digital technologies in ASEAN could potentially be worth up to US$625 billion by 2030 (eight percent of ASEAN's gross domestic product or GDP), which may be derived from increased efficiency, new products and services.  
There is a sea of apps available to tech-savvy Muslims to help them perform their religious duties during the month of Ramadan. There are apps that help calculate prayer times, pay for charities easily, direct Muslims to Mecca and even point out halal (permissible by Islam) food establishments. There are also hundreds of Koran apps that help users memorise the holy book with translations and audio recordings.
Appsflyer 2019 Market Insights reported that during Ramadan, people in Malaysia, Indonesia and Singapore increasingly turn on their phones for shopping, information or simply for diversion. 
In 2017, Waze Data tracked traffic in Indonesia and Malaysia and saw that Ramadan was the busiest traffic period in both countries. In Malaysia, traffic increases by up to 25 percent, only to peak on the following week-end. During the whole month, Indonesian "Wazers" drive up to 45 percent more daily during Eid-ul-Fitr, which is the celebration to mark the end of Ramadan.
However, with the current restricted movement and travel curbs enacted in both countries, things might be different this year where the usual sea of cars will disappear, leaving only empty roads to greet this year's Eid.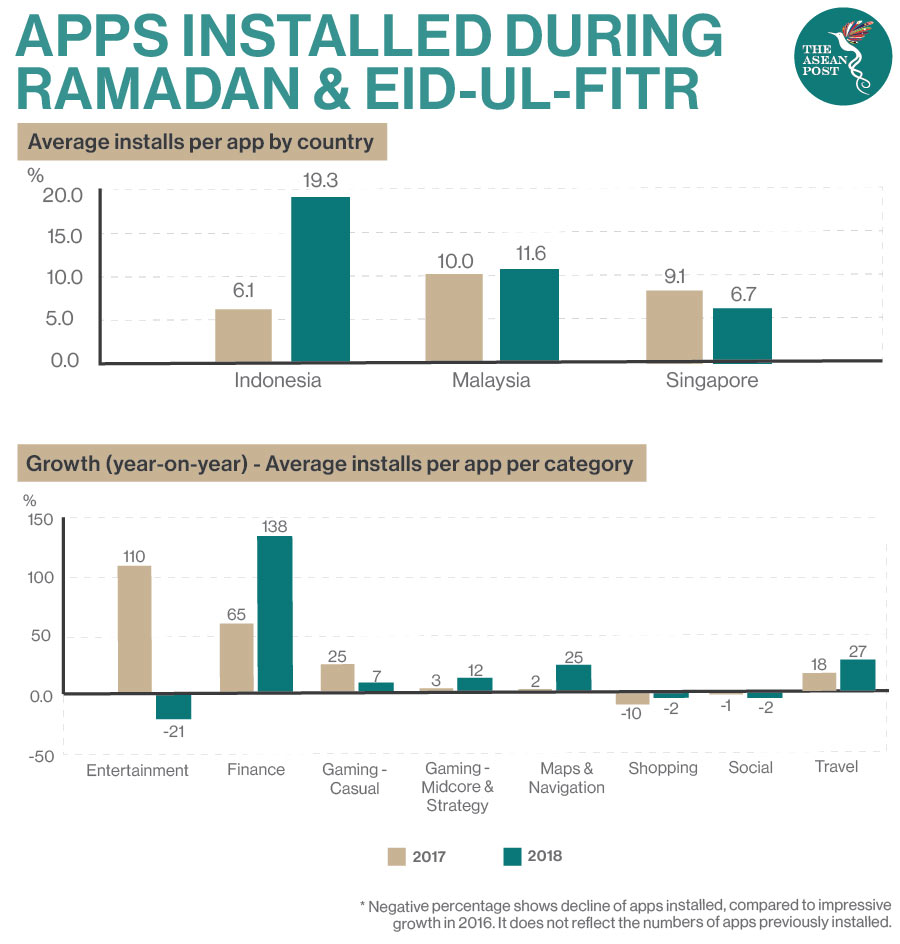 E-Bazaars
According to Google Internal Data 2017, food traditions are really important during Ramadan and Eid, illustrated by the 220 percent increase in food related search queries during Ramadan in Indonesia and a 140 percent hike for the same searches in Malaysia.
In Malaysia, one of the biggest traditions that is much celebrated in conjunction with the fasting month in the country is its Ramadan bazaars. Ramadan bazaars are typically carried out nationwide with thousands of people visiting numerous stalls in bazaars to buy food and local delicacies to break their daily fast. Several states in Malaysia have announced recently the cancellation of such bazaars for this year's Ramadan festivities.  
According to the Malaysian Association of Malay Hawkers and Small Businessmen (GPPPKMM) –which represents around 35,000 Ramadan bazaar traders in the country – many traders, unfortunately, have already forked out tens of thousands of ringgit (the local currency) in preparation for business during Ramadan.
However, thanks to technology, these businesses can now be conducted online, in what is popularly termed, e-bazaars.
In Selangor, a state in Malaysia, the state government has agreed to allow e-bazaars to operate for Ramadan while assuring that social distancing will be implemented. 
"Through e-bazaar, there will be no walk-in purchases, but we will have central kitchens for meals collection, where pick-up and delivery will be done by e-hailing riders," said Amiruddin Shari, Selangor's Chief Minister. 
Healthy Relationship With Technology
The silver lining to technology at this time of crisis is how easy it is for families to stay in touch with loved ones during Ramadan and Eid-ul-Fitr. Skype, FaceTime, WhatsApp and a myriad of other video call apps offer a level of communication that phone calls and text messaging simply cannot provide. 
Social media platforms have an expanded network of cross-generational connections helping families of all ages to continue to strengthen their bonds and keep each other updated online. Some even share information of their daily routines and Eid traditions with curious non-Muslim friends and colleagues. Friends are updated during the long holidays through social media, while some even create their own websites and blogs as a way to share pictures and important family milestones. Pictures taken can then be deposited on the Cloud for safekeeping.
Amid the current pandemic, the core practices of Ramadan have not changed, as it still requires one to fast and increase their Islamic duties such as praying and reading the Koran. For many celebrating this year, technology is truly a blessing. 
Related articles: