As of 14 April, almost two million people around the world have been infected with the deadly new COVID-19 coronavirus. In Southeast Asia alone, over 20,000 confirmed cases have been reported with close to a thousand fatalities recorded. The pandemic, which first emerged in the city of Wuhan in China has negatively impacted livelihoods, local industries and the global economy in general. To contain the spread of COVID-19, numerous countries across the world have implemented drastic measures such as citywide lockdowns and travel curbs. It was reported that an estimated three billion people are currently under lockdown over virus fears.
The pandemic lockdowns have significantly changed the way people live their lives. Groceries are now bought online while work and study are carried out remotely. 
According to e-commerce aggregator iPrice Group, a few product categories have seen a surge in demand among consumers since movement controls were imposed in several ASEAN member states. Based on a statement from iPrice Group, computer equipment is "selling like hot cakes" on e-commerce sites. It was also reported that the most in-demand gadget appears to be the webcam.
"Demand for this item increased by a whopping 624 percent in Vietnam and by 82 percent in Singapore this March. Similarly, keyboards were also found to be 264 percent and 137 percent more searched for in Vietnam and Singapore, respectively," noted the iPrice Group. 
As people in many nations are now working remotely from home, and students are learning online – it's no wonder that computer equipment is very much in demand.  
Schools were among the first institutions to be shut down when the virus first appeared in Southeast Asia. While Malaysia and Singapore have shuttered their schools and higher education institutions, learning still continues – virtually. 
This new reality has forced a crash course for online learning strategies and technology for students and educators alike. 
Online Lectures
According to Malaysian science teacher, Norhailmi Abdul Mutalib, there has been a surge in the number of views for the free online content on his blog since the country enacted its movement control order (MCO) on 18 March. 
"I get some 10,000 daily views but it has spiked to 35,000. Articles on online quizzes, science experiments and topic notes, which students can use to study at home, are popular," he told local media. 
It was reported that some institutions have also implemented synchronous learning, where teachers conduct lectures in 'live sessions' with their students online. These online lectures are also recorded and distributed to students who weren't able to join the live sessions.
Based on a 2018 McKinsey article titled, 'True Gen: Generation Z and its implications for companies,' Gen Z is the cohort born between 1995 and 2010. A majority of current students are of this group. Gen Z is also the first cohort to have internet technology readily available to them at a very young age, with some observers calling them digital natives. Therefore, online distance learning shouldn't be much of a problem when it comes to Gen Z.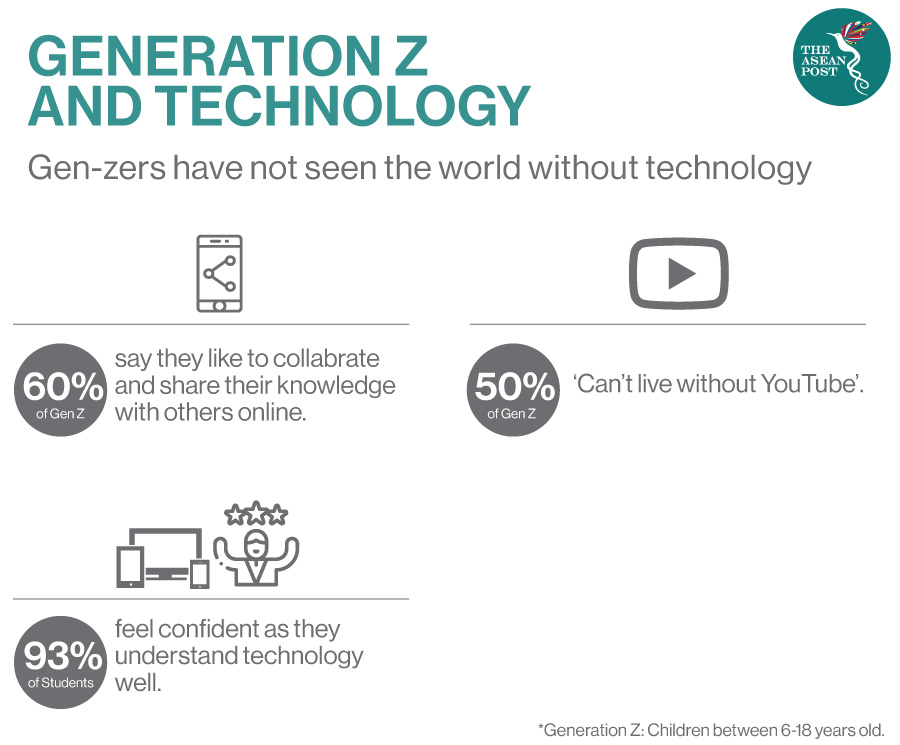 Nevertheless, despite tech savvy students and the convenience that comes with technology in making education accessible anytime and anywhere – there are still a few challenges to remote learning. 
According to local media reports, teachers in Singapore have been suspended from using popular video-conferencing app, Zoom, for online classes after hackers allegedly made lewd comments during a virtual class. The country of five million which has seen a soar in COVID-19 cases at nearly 3,000 infections as of 14 April, recently imposed a 'circuit breaker' where schools and companies were ordered closed, in hopes of flattening the curve. 
In the earlier mentioned incident, the home-based class involving teenage girls was invaded by two online intruders who showed the girls obscene images and made lewd remarks.
Albeit the unpleasant event, Aaron Loh from Singapore's education ministry stated that virtual learning will still continue, but without the Zoom app.
Other than that, there are a few other drawbacks when it comes to virtual learning than just hackers and 'online trolls'. 
According to Professor Dr Abdul Karim Alias, Director of the Centre for Development of Academic Excellence (CDAE), Universiti Sains Malaysia (USM) – the top three challenges of remote learning are; experience and skill of educators in using online systems and online applications; the state of readiness of the infrastructure, for example, internet connectivity, bandwidth and devices; and the evolving mindset of both, educators and students.
"Changing mindsets is perhaps the most difficult challenge – especially among educators who have been resistant towards adopting technology and online learning," he explained to local media.
Despite some of these challenges, education must go on – even during this time of crisis. The pandemic has opened a gateway for students and educators to further experiment with different methods when it comes to learning and teaching.
Could remote learning be the future of education?
The World Bank has listed a few recommendations to authorities in order to ensure students continue learning remotely and efficiently. These include creating a virtual helpdesk to support caregivers, educators and students; developing short-and long-term remote learning plans and organising content to align with existing curricula. 
Related articles:
Online Shopping: The New Reality