While shopping online isn't something new, the current health crisis brought about by the COVID-19 pandemic has changed the way people are now purchasing their necessities. The coronavirus pandemic, which first emerged late last year in the city of Wuhan in China, has infected more than one million people worldwide. Numerous countries have imposed drastic measures to contain the virus. These strategies include citywide lockdowns and travel curbs. With restricted movement control and lockdowns implemented across ASEAN member states such as Singapore and the Philippines– many are starting to buy items online, now more than ever.
According to a study by Google, Temasek and Bain & Company, e-commerce in Southeast Asia was worth US$38 billion in 2019 and is expected to grow rapidly. 
"Southeast Asia has become the new battlefield for e-commerce platforms and the competition will only heighten," said Yong Kai Ping, chief executive of the Selangor Information Technology & E-commerce Council (SITEC) in Malaysia.
Based on analysis by market research institute GfK titled 'China Consumer Sentiment Study' last February, over 40 percent of consumers have increased their frequency of buying online in China as citizens were confined to their homes over virus fears. This contributed to a surge in online shopping and home deliveries. 
This trend could also be seen happening in Southeast Asia.
E-commerce giants such as AliExpress, Lazada, Tokopedia, Shopee, Qoo10 and ZALORA are not unheard of across the region. Items such as gadgets and furniture among many others can be found for sale on these sites and on their respective apps simply by clicking on the Search bar. Recently, fashion e-retailer ZALORA has even added an 'Essential Supplies' category on its site which comprises of sanitisers, groceries and menstrual supplies as consumers in most countries in the region have been advised to stay home and practice social distancing. 
These strict measures have even caused many to shop for their groceries online.
Media reports have claimed that Southeast Asia's grocery market will be worth US$309 billion by 2021. RedMart, HappyFresh and Honestbee are some of the biggest players in the online grocery delivery market in the region. With the current COVID-19 pandemic, supermarkets such as Tesco and Cold Storage have also jumped on the bandwagon and are relying on their delivery services as many regular customers have opted to order their groceries and necessities online. It was reported that even traditional wet market grocers have taken to online channels to hawk products and conduct online auctions.
What Are People Buying?
According to e-commerce aggregator iPrice Group, there are five product categories that have seen a surge in demand among consumers since the COVID-19 pandemic lockdown. Based on data from three ASEAN member states – Singapore, Vietnam and the Philippines – some of the products that have been "selling like hot cakes" include gym equipment and computer equipment. 
Based on the iPrice Group report, search activities for dumbbells increased by 80 percent in the Philippines within only the second half of March. This could possibly be the result of the country's largest island, Luzon going under lockdown since 17 March. The lockdown is scheduled to end on 30 April. 
As people in many nations are now working from home over virus fears, it's no wonder that computer equipment is very much coveted. The most in-demand gadget appears to be the webcam, with Vietnam recording a whopping 624 percent increase in sales for the item. The sale of webcams in Singapore also shot up by 82 percent in March, according to the iPrice Group.
Other products that have gained popularity online include condoms – which has increased by 401 percent and 67 percent in Vietnam and Singapore, respectively – as well as vitamins and gaming consoles. 
There are also products that have been decreasing in demand since the COVID-19 coronavirus appeared. Stackline, a retail intelligence firm analysed e-commerce sales and compiled a list of declining e-commerce categories in the United States (US). The list compared sales on sites from March 2019 and March 2020.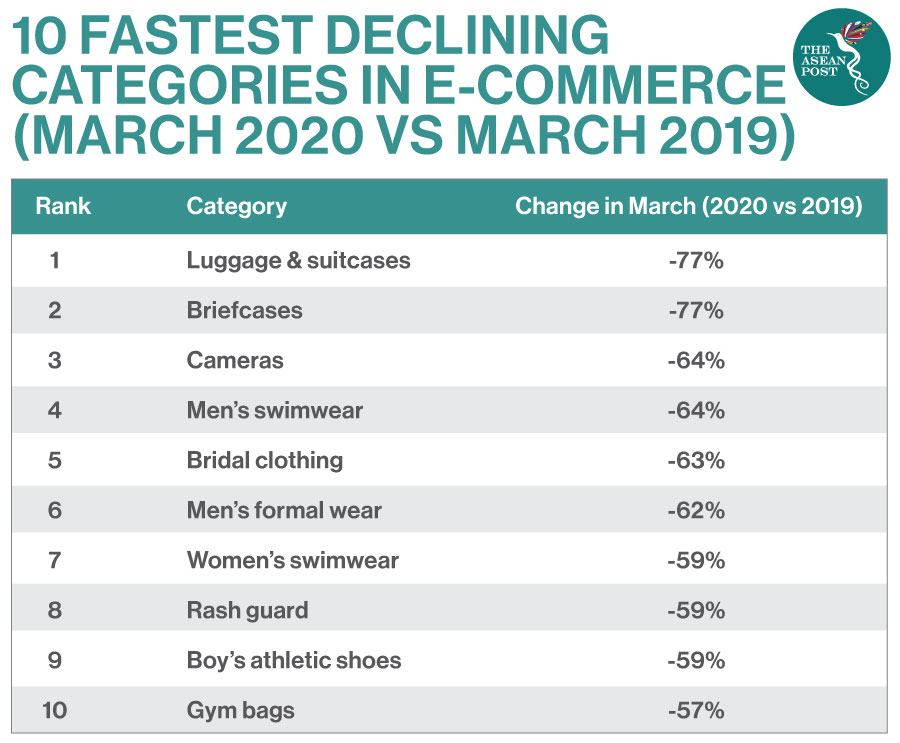 Although the data is for e-commerce sites across the US, perhaps the Southeast Asian region could also experience a similar trend whereby restricted travel curbs have made travel items such as luggage and swimwear less desirable. Other than that, with the ban on mass gatherings implemented in ASEAN member states, bridal clothing could also receive less attention than it did previously. 
With employees allowed to work-from-home and members of the public avoiding non-essential trips to shopping malls, the spike in online shopping is likely to continue as long as the COVID-19 virus is around.
Related articles:
The rise of e-commerce in Indonesia