In Southeast Asia, e-commerce is big business, with Singapore, Malaysia, the Philippines, Indonesia and Thailand generating US$14.8 billion in online sales throughout 2016. According to a 2019 study from Facebook and Bain & Company, ASEAN's digital consumers' spending will triple by 2025.
Within the e-commerce sector, online retailers are already embracing artificial intelligence (AI) applications such as chatbots, to deliver a more personal experience for shoppers online. 
According to a 2018 article by Rene Millman titled 'Adoption of AI booming in Southeast Asia,' the adoption rate of AI in the region grew to 14 percent in 2018. The article, citing an IDC report 'Asia Pacific Enterprise Cognitive/AI Survey,' revealed that 37 percent of companies would put AI adoption plans in place in the next five years. Based on the report, Indonesia leads in AI strategy with 24.6 percent of organisations already adopting the technology, followed by Thailand (17.1 percent), Singapore (9.9 percent), and Malaysia (8.1 percent). 
Across the region, AI technology is primarily driven by improved business insight, the sheer volume of accessible data, easy availability of computational power and storage, new algorithms and a community mindset ready to embrace AI. The report also found that the most significant barriers to AI adoption in the region are lack of skills and knowledge (23 percent) and the high cost of solutions (23 percent). 
Natural language 
A chatbot is a domain-specific conversational interface that uses the messaging platform, social network or chat solution for its conversations. Chatbots help online sellers deal with customer requests more efficiently by automating parts of the interaction. Chatbots can come in a simple form, where keywords are scanned from customers' inquiry to deliver pre-packaged answers, while more sophisticated chatbots are powered by AI and machine learning (ML). 
AI chatbots can use natural language processing to create responses and conversations and actively learn from conversations they have with customers. Kata, an Indonesian start-up, uses natural language processing to power their chatbots that speak and understand the Indonesian language to improve customer engagement.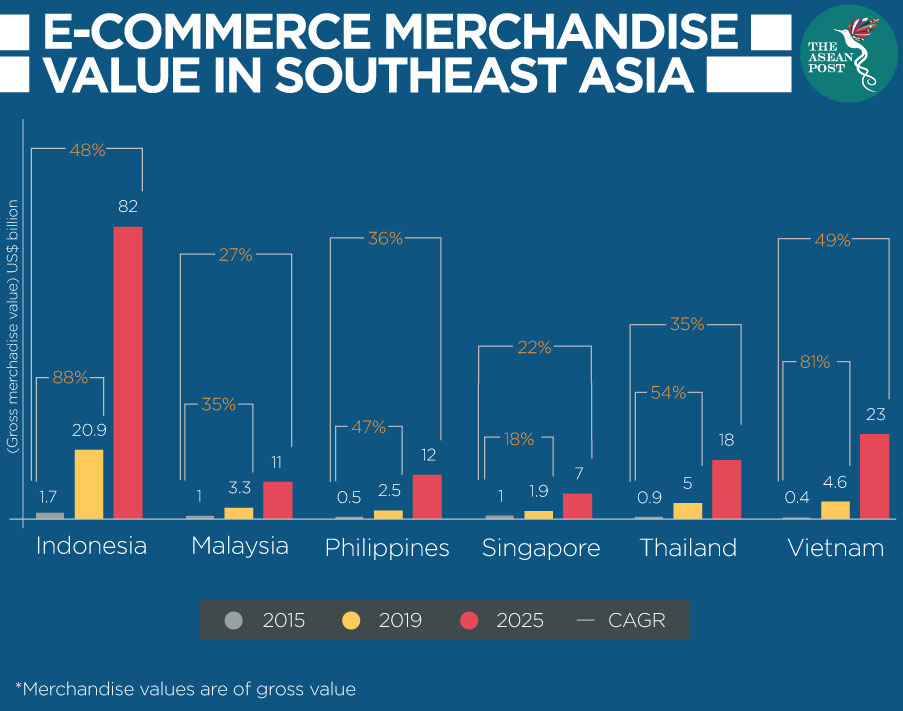 By 2020, 25 percent of customer service and support operations will integrate chatbot technology, according to Gene Alvarez, managing vice president at Gartner, a research and advisory company. He said that chatbots "should enrich the customer experience, help the customer throughout the interaction and process transactions on behalf of the customer."
Shopping experiences
Besides the 24 hours a day, seven days a week availability that chatbots can provide, there are other benefits of using chatbots in e-commerce businesses.
Chatbots can reduce the manual labour cost of a customer service team as they require less personal support while giving efficient customer assistance. 
Chatbots also collect data to understand the needs and preferences of customers, allowing online retailers to personalise product pages and build customer loyalty. Retail giant H&M's chatbot asks customers some questions about their style and offers products accordingly. With this, customers can easily navigate through the brand's massive catalogue of products. 
AI chatbots also enable retailers to increase both, the number of customers and the average amount they spend by creating personal and convenient shopping experiences. Unfortunately, customers are impatient, based on research from HubSpot's 'Consumer customer support survey' in 2018. The report found that a customer's patience wears out after 10 minutes, with 90 percent said that an 'immediate' response is essential when they have a customer service question. Deeply integrating AI into chatbots can quickly provide accurate answers to customers.
However, businesses must also know when to refer questions to a human. Although chatbots can hold conversations just as fluently as humans, there will be some questions a chatbot may not have an answer to.
Another disadvantage of chatbots is that efficient machine learning algorithms are only as good as the available data. When bots are created to mirror and learn from users, there are chances that the AI can also embody the prejudices of society. Microsoft created Tay, a Twitter bot, that was supposed to learn and talk to other Twitter users in order to become more human. After human interaction, Tay became a racist and could not be used as a Microsoft's AI representative. 
While chatbots are handy when it comes to serving customers and providing answers to common questions, it should be underlined that bots cannot replace humans in performing complex assignments. Well, not yet for now.
Related articles:
E-commerce spending expected to triple in ASEAN