Digital consumers in ASEAN will be spending three times as much in 2025 according to a new study from Facebook and Bain & Company.
The joint study by the social media giant and global management consultants released this week found that while consumers in Southeast Asia spent US$125 on average on online purchases in 2018, that sum is expected to more than triple to US$390 in 2025.
Highlighting increasing choices, better internet access and rising affluence as factors that will continue to drive more spending online, the report also predicted that Southeast Asia will be home to around 310 million digital consumers by 2025 – in comparison to 250 million in 2018 and just 90 million in 2015.
Titled 'Riding the Digital Wave: Southeast Asia's Discovery Generation', the study surveyed 12,965 respondents across ASEAN's six biggest economies – Indonesia, Malaysia, Philippines, Singapore, Thailand and Vietnam – and interviewed more than 30 CEOs and venture capitalists in the region in an effort to learn about how the behaviours of today's digital consumers are reshaping online spend in the region.
More than 90 percent of Southeast Asians connected to the internet primarily through their smartphone last year, and this connectivity – along with a rise in incomes – has ushered in a new horizon of opportunities for e-commerce players. 
E-commerce has overtaken online travel to become the biggest sector in ASEAN's internet economy according to this year's edition of the e-Conomy Southeast Asia report released by Google, Singaporean sovereign wealth fund Temasek and Bain & Company earlier this month.
No longer looking at e-commerce as a platform to hunt for discounts on big-ticket items such as electronics, today's digital shoppers are increasingly going online to purchase lower-cost daily items such as groceries, clothes and personal care products.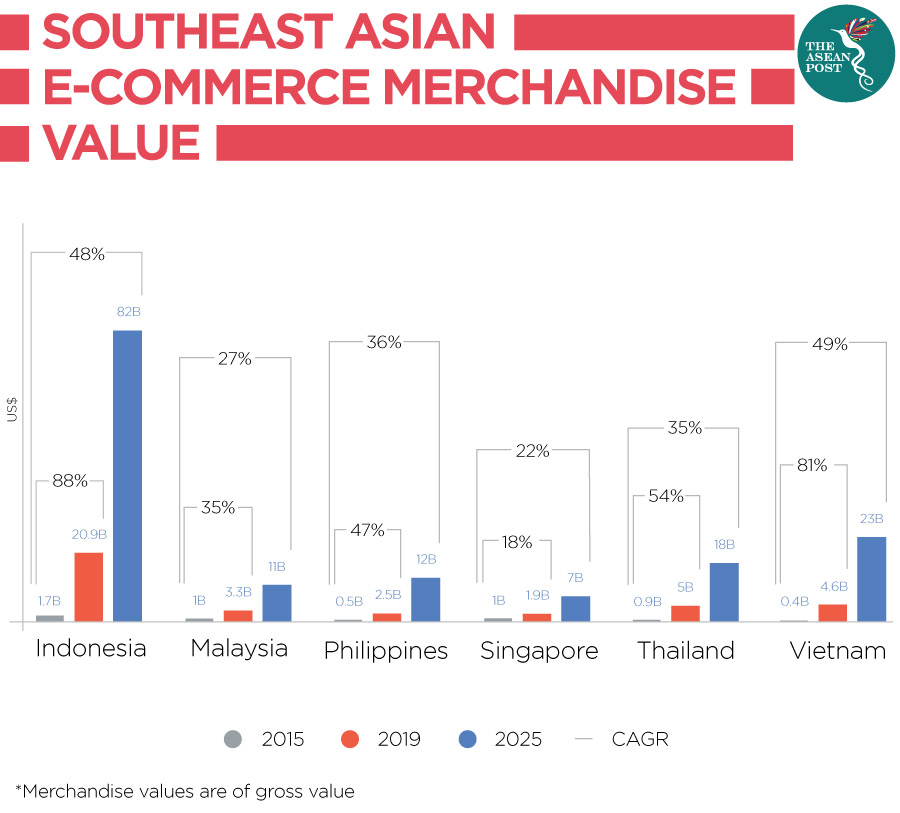 The value of ASEAN's e-commerce has expanded seven times in just four years, rising from US$5.5 billion in 2015 to over US$38 billion in 2019. The sector is on track to exceed US$150 billion by 2025 – US$50 billion more than projections made over a year ago – on the back of stronger-than-anticipated growth.
More choices
However, the addition of new companies and the rapid development of existing players is changing the e-commerce landscape in Southeast Asia – ultimately offering consumers more choices.
As this week's report noted, 67 percent of respondents said they do not know exactly what they want to purchase before they shop online and over 40 percent have tried an online store they have never heard of in the past year.
In Singapore alone, 75 percent of respondents said that they are either open to other brands or will buy from multiple brands when shopping online.  
"There is no longer just one way to shop and nobody shops the same way twice," said Sandhya Devanathan, Country Managing Director, Facebook Singapore.
"The key takeaway is that designing for discovery is absolutely crucial, given that customers engage with a business through multiple channels at the same time," she added.
With millions of products on offer, the report also found that customers in ASEAN window-shop across 3.8 online platforms on average before settling on a purchase decision – making loyalty programs and marketing campaigns the key to attracting and retaining customers.
Loyalty, strategy 
The study indicated that respondents with a loyalty programme were 1.5 times more likely to promote a platform than those without a loyalty programme. 
Loyalty members were also 45 percent more likely to make recommendations across categories, 25 percent more likely to have higher purchasing frequencies across categories and 20 percent more likely to have higher spending across categories.
Two of Southeast Asia's leading e-commerce brands, Shopee and Lazada employ various strategies to increase user interaction and drive sales. Between them, the two online shopping giants had a combined total of 374 million regional visitors (desktop & mobile web) in the second quarter of 2019 based on a recent report by e-commerce aggregator, iPrice Group and app analytics platform, App Annie.
While Lazada's Birthday Sale Party in April and Ramadan & Raya Sales for Muslim-majority countries like Indonesia and Malaysia helped drive traffic to its website and app for the second quarter of this year, Shopee chose a different approach – creating events such as concerts to further push the brand.
Shopee even hired football superstar Cristiano Ronaldo to appear in one of their promotional advertisements knowing fully well the pulling power of the pop culture icon. 
While there is clearly room for e-commerce in ASEAN to keep expanding, a lot of this potential growth hinges on the right strategies and business models.
With regional e-commerce players going all out to battle for leadership in each of their geographical markets, consumers across ASEAN can expect to enjoy more value, choice and convenience.
Related articles:
E-commerce set to dominate the region in 2019
Southeast Asia's internet economy booming